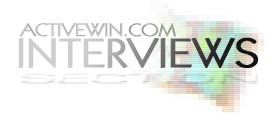 Interview with Jeremy Clark, Product Manager: Macromedia Flash 5
ActiveWin.com: How long was Macromedia Flash 5 in development? What were some of the beginning goals at the project start?
Jeremy Clark: The development cycle was about a year for Flash 5.
The goal from the beginning was to shape the program in two ways. First, to make it more approachable - easier to learn for beginners and easier to work
with other web design programs like FreeHand, Dreamweaver and
Fireworks. The second was to raise the bar of what could be done
with Flash, so that once people were able to get into the program
and learn it, give them the power to grow and really make the most
of it. As part of this we exposed our internal scripting model and created ActionScript as a full-fledged object-oriented language modeled after JavaScript. This gives web developers a lot more options when
adding advanced interactivity to their site, but not at the expense of the designers - there are two ways to add scripting, one which is a simple drag-and-drop interface with pull-down menus to change the
command options, but also a text-editing mode that traditional
scripters are comfortable with.
ActiveWin.com: What was the funniest moment you remember during development?
Jeremy Clark: That would probably be in the midst of our development when we received boxes of "Flash 5" - energy bars and protein drink mixes for the team from http://www.flash-5.com. They actually tasted quite good!
ActiveWin.com: What does Macromedia Flash 5 have over it's competitors?
Jeremy Clark: What does Macromedia Flash 5 have over it's competitors?
Macromedia Flash is actually in a pretty unique position, as we created and
defined this market space and there has not been any major
competition yet. We have been developing both the Flash authoring tool and the Macromedia Flash Player, for almost four years now, and it has quickly
become the de-facto standard for vector graphics and animation on the Web.

Over 96% of people on the web can see Flash content without
having to download any playback technology, more than any other
media type on the Web. We have over half a million Macromedia Flash developers, thousands of which attend conferences such as the successful Flashfoward2000 conferences in San Francisco and New York.
ActiveWin.com: What new features and improvements does Flash 5 have over the previous version?
Jeremy Clark: Macromedia Flash 5 sports a newly enhanced
Macromedia user interface, making it even easier to use alongside
some of our other web publishing tools such as Dreamweaver,
Fireworks and FreeHand. As part of that, users can now define
their own custom keyboard shortcut sets, or save their panel layouts in predefined sets as well. We added native FreeHand file import to
ease the workflow between the two programs. On the creative front,
we added a new bezier pen tool for technical illustrators to compliment
the existing natural drawing tools we're known for, and we added
draggable guides and improved our object selection model. On the
advanced side, as I mentioned we created ActionScript as a powerful new scripting language within Flash, and we also adopted such industry
standards as XML data transfer and support for HTML-formatted dynamic text.
ActiveWin.com: How has the new version of flash been accepted by web developers and IT professionals worldwide?
Jeremy Clark: We've had a very warm reception from the web
development community and received great reviews from the press
as well. Web designers have expressed their excitement about the
improved user interface and creative tools, and the web developers/IT professionals have been particularly vocal about their support for
the standards like XML and the JavaScript-like language. The reception
can also be judged by the great demand for books on Flash 5 - there
are over 35 books that we know of coming out in the next month or
two, and that's just for North America.
ActiveWin.com: Is Macromedia Flash 5 easy-to-use for amateur developers? What kind of
help and tutorials does Flash offer for new users?
Jeremy Clark: Yes, Macromedia Flash is not just for experts. We have built-in lessons that launch when you install the product as well as samples and tutorials. We increased our documentation four-fold, with over 800 detailed pages including two manuals: "Using Flash" and a separate "ActionScript Reference Guide." We recently launched the Macromedia Exchange for Flash
(http://www.macromedia.com/exchange/flash), a web site where Flash users can download free extensions to the product in the form of samples, Smart Clips, code snippets, tutorials and more.

Lastly I should mention that we're currently running some Holiday
specials where customers can receive $50 off Macromedia University
training courses and a free advanced online training course
from DevX and eHandsOn. More on these specials can be found at
http://www.macromedia.com/software/flash/special/promotions.
ActiveWin.com: Do other Macromedia products, such as FreeHand, work in harmony with
Flash 5? How do these products further improve the use of Flash 5?
Jeremy Clark: With Flash 5, we tightly integrated FreeHand by adding
support for importing native FreeHand documents. We maintain the
integrity of the original file, including all of the layers, guides, and
colors, as well as mapping over any items in FreeHand's symbol
library to the Flash library, and even mapping pages in a
multiple-page FreeHand document to different scenes in a Flash
movie. You can also now launch and edit Macromedia Fireworks
when editing any bitmaps in the Flash movie, and once you're
finished editing the file in Fireworks, you simply click the "Done" button in Fireworks 4 and it will save the changes and take you back to
your Flash movie. Macromedia is very focused on integrating our
web publishing tools to provide a smooth workflow for our users.
ActiveWin.com: Were there any features you would have liked to include in this version
but couldn't?
Jeremy Clark: Well, that happens to us with each version, as it does with every software company. We've got a great vision of what we'd like to add to Macromedia Flash and what our users want us to add. It's always a tough challenge to prioritize these features and choose the ones that will make the most impact that can be completed in time. But the features we weren't able to squeeze into Flash 5 may very well see the light of day in a future release.
ActiveWin.com: Do you have anything else to add?
Jeremy Clark: Thanks for the opportunity to talk to your
readers about Macromedia Flash. If you want to find out more
about the authoring tool, visit www.macromedia.com/flash.
If you want to see some amazing sites people are making
with Flash and our other web tools, I encourage you to visit
www.macromedia.com/showcase, or entertain yourself for
hours at www.shockwave.com.
---
Links



Return To The Front Page