DirectX
ActiveMac
Downloads
Forums
Interviews
News
MS Games & Hardware
Reviews
Support Center
Windows 2000
Windows Me
Windows Server 2003
Windows Vista
Windows XP



News Centers
Windows/Microsoft
DVD
Apple/Mac
Xbox
News Search



ActiveXBox
Xbox News
Box Shots
Inside The Xbox
Released Titles
Announced Titles
Screenshots/Videos
History Of The Xbox
Links
Forum
FAQ



Windows XP
Introduction
System Requirements
Home Features
Pro Features
Upgrade Checklists
History
FAQ
Links
TopTechTips



FAQ's
Windows Vista
Windows 98/98 SE
Windows 2000
Windows Me
Windows Server 2002
Windows "Whistler" XP
Windows CE
Internet Explorer 6
Internet Explorer 5
Xbox
Xbox 360
DirectX
DVD's



TopTechTips
Registry Tips
Windows 95/98
Windows 2000
Internet Explorer 5
Program Tips
Easter Eggs
Hardware
DVD



ActiveDVD
DVD News
DVD Forum
Glossary
Tips
Articles
Reviews
News Archive
Links
Drivers



Latest Reviews
Xbox/Games
Fallout 3

Applications
Windows Server 2008 R2
Windows 7

Hardware
iPod Touch 32GB



Latest Interviews
Steve Ballmer
Jim Allchin



Site News/Info
About This Site
Affiliates
Contact Us
Default Home Page
Link To Us
Links

News Archive
Site Search
Awards



Credits
©1997-2012, Active Network, Inc. All Rights Reserved.
Please click here for full terms of use and restrictions or read our Light Tower Privacy Statement.


---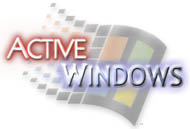 [ Search | Mail Us News | News Archive | Contact | Logo Merchandise | Poll Archive| Community ]
News Date: Monday 30th August 1999
Today's Top Headlines: ICQ 99b 3.18 - Site News
---
News Date: Sunday 29th August 1999
Today's Top Headlines: Vizact - Site News
Site News
Time: 18:08 EDT/23:08 GMT Source: ActiveWindows Posted By: Alex H

Once again another Sunday goes by without much news breaking on the internet. It is a shame because there isn't much else to do on a Sunday. Just a quick reminder of the Active Windows Community that is there, so you can post your views and ideas on the message board. We are also selling the Mouse Mats which can still be bought for a low price, so go get one now!

Vizact public area on Ultimate OS server
Time: 17:52 EDT/22:52 GMT Source: E-Mail Posted By: Alex H

The Ultimate OS have added a public area where people can showcase their pages made with the Microsoft program, Vizact. Check it out here.

Microsoft to restart European Net service
Time: 17:47 EDT/22:47 GMT Source: News.com Posted By: Alex H

Microsoft will relaunch its MSN Internet service in Europe in the next 12 to 18 months, the company's head for Europe told the newspaper Welt am Sonntag. "We will start MSN anew in most European countries," Bernard Vergnes was quoted as saying, adding that the relaunch was expected within 18 months. More information would be available in October, Microsoft Germany chief Gregory Gordon told the paper.

Microsoft had about 30,000 online customers in Germany last year when it discontinued the service as many clients were defecting to the opposition, Welt am Sonntag said.

Microsoft has spent millions to beef up its MSN service, which has stagnated at about 3 million users while rival America Online races ahead, having topped 18 million customers earlier this month.
---
News Date: Saturday 28th August 1999
Today's Top Headlines: C&C2 Review - IE5 flaw - Virtual Machine Patch
---
News Date: Friday 27th August 1999
Today's Top Headlines: MS International Football - VJM - Winamp
---
News Date: Thursday 26th August 1999
Today's Top Headlines: Winamp
---
News Date: Wednesday 25th August 1999
Today's Top Headlines: Intellimouse Explorer
---
News Date: Tuesday 24th August 1999
Today's Top Headlines: Neptune - DirectX
---
News Date: Monday 23rd August 1999
Today's Top Headlines: Compaq & MS
---
News Date: Sunday 22nd August 1999
Today's Top Headlines: Site News
---
News Date: Saturday 21st August 1999
Today's Top Headlines: Excel - Office - MS Media
Microsoft patches Excel security holes
Time: 05:00 EDT/10:00 GMT Source: ZDNet Posted By: Alex H

Microsoft Corp. Friday released a patch to close a security hole found in the database drivers for Excel 97 and Excel 2000. The problem in Excel 97 was discovered by a computer programmer in Spain, Juan Carlos Garcia Cuartango, who notified both NTBugTraq and Microsoft in late July.

The security hole in Excel 97 is a vulnerability in the ODBC driver of the Jet database engine and allows a user to create malicious code in a spreadsheet that will plant viruses and delete files, according to Redmond, Wash.-based Microsoft (Nasdaq:MSFT). Opening an affected spreadsheet attached to an e-mail message or linked from a Web site triggers the vulnerability in the ODBC drivers.

Microsoft does multimedia in slow motion
Time: 04:58 EDT/09:58 GMT Source: News.com Posted By: Alex H

At Microsoft's computer graphics laboratory, they are running out of back burners. Often characterized by internal squabbling, Microsoft's various groups working on 3D graphics technology for the PC and the Web have delivered more confusion and delay than product to market in recent years. And the fates of their various efforts are often so nebulous that Microsoft's employees, partners, and customers cannot agree whether they are living, dead, or, in the words of one insider, left "just twitching."

Hanging in the balance is control over technologies that proponents have long promised would revolutionize computing online and off. To date, however, they have yielded little to the average consumer. The challenge for Microsoft and its competitors in the computer and Web graphics market is to maintain the technological upper hand in anticipation of widespread consumer demand that has yet to materialize.

Within Microsoft's graphics world there are three technologies in various states of limbo. They are Fahrenheit, a project to fuse parts of Microsoft's and SGI's graphics programming interfaces; Chromeffects, a set of technologies to bring graphics common on personal computers to the Web; and Talisman, a graphics chip architecture.

All three of these technologies, like many in the same category that have never seen the light of day, have emerged and then foundered in a swift, quixotic market for computer and Web graphics. In addition to facing elusive demand, Microsoft has had to contend with smaller firms that have been able to maneuver around Microsoft in getting their products to market at cheaper prices and with lighter bandwidth demands.

Microsoft has not been alone in its struggle with multimedia graphics technology; just yesterday, Intel said it is abandoning its graphics chip business.

Sun buying Microsoft Office competitor
Time: 04:56 EDT/09:56 GMT Source: News.com Posted By: Alex H

Sun Microsystems is finalizing a deal to buy Star Division, a maker of a software suite similar to Microsoft Office, and it appears that it is off on a second attempt for desktop glory.

A deal to purchase Star Division was signed August 11, and an announcement is expected August 31, sources familiar with the plan said. Star Division makes two types of its StarOffice software, one type that runs on Linux, Solaris, Windows, OS2, and Mac OS, and the other, a thin client version of the software that runs on Java-enabled devices. The purchase price for Star is unknown at present.

Assuming the deal doesn't go awry, the acquisition of the German company would put Sun into more direct competition with longtime foe Microsoft. Microsoft's office suite is dominant on computers running Windows and Mac OS, whereas Sun's strength has been not with end-user software but with server hardware and software.
---
Read more of the past months news in our News Archive for Ju

ly and Previous August News.

Do you have any Windows based news? Just Remember To Get In Touch!

Current Top Downloads

Microsoft Media Player 6.4


MSN Messenger


ICQ 99B Build 317
Tweak UI For Windows 98 SE


DirectX 6.1


Netmeeting 3.1
Windows 98 Spinning Globe Background