News Date: Friday 29th October 1999
Today's Top Business Headlines:
Do free ISPs really get used?
Time: 04:20 EDT/09:20 GMT News Source: ZDNet Posted By: Matt Sabean

There's already 1.5 million subscribers in the United States. Signing up and not using could spoil the ad revenue model.

The free ISP business appears to be booming, with 1.5 million subscribers in the United States and significant growth expected over the next few years, according to market research firm Jupiter Communications.

But how many of these subscribers actually use their free services? "The number of free ISP accounts will definitely skyrocket, but active use will be a different story. As with the free e-mail phenomenon, you can sign up for lots of them, but you don't have to use them every day," says Zia Daniell Wigder, analyst for Jupiter.

As a result, subscribers aren't loyal to any single free ISP, which undermines the advertising-based revenue model that the free ISPs are so eagerly trying to build.

Music execs threaten to kill MP3 sites
Time: 04:15 EDT/09:15 GMT News Source: ZDNet Posted By: Matt Sabean

Group plans to shut down illegal music sites and delete almost 1 million unauthorized files worldwide.

The global music industry on Thursday outlined plans for a coordinated attack on Internet piracy, taking action against hundreds of outlaw sites in more than 20 countries.

The International Federation of the Phonographic Industry (IFPI) said its strategy was aimed at paving the way for artists and record companies to deliver music electronically and legally around the world.
---
News Date: Thursday 28th October 1999
Today's Top Business Headlines:
MP3.com, Listen.com to sing each other's praises
Time: 05:53 EDT/10:53 GMT News Source: News.com Posted By: Matt Sabean

Digital music pushers Listen.com and MP3.com will try to drive traffic to each other's Web sites under a deal the companies will announce today.

Coming off a healthy initial public offering, MP3.com, which hosts tracks by more than 31,000 artists, is beefing up its partnerships to keep a grip on its position in the thriving Net music arena, which includes MyPlay, RioPort, and EMusic, companies that allow users to play, store, or buy digital music tracks.

This month MP3.com also will launch MP3radio.com, a network of music portal sites that it will build with Cox Interactive Media.

The marketing partnership between MP3.com with Listen.com is just the latest in a series of similar deals for both companies. Reminiscent of the way Yahoo and America Online built their businesses through premier placement and cross-marketing deals, the music sites will display references to each other and their respective directories.

Britannica.com launch, take two
Time: 04:30 EDT/09:30 GMT News Source: ZDNet Posted By: Matt Sabean

Its first launch buried by an avalanche of users, encyclopedic site preps to try again Monday.

Britannica.com, the online arm of legendary Encyclopaedia Britannica, will re-launch its highly promoted Web site on Monday. The site was taken offline Oct. 19, barely 24 hours after its initial launch, due to a site overload.

"The good news is we have wonderful demand," said Kent Devereaux, senior vice president of product development for Britannica.com. "The bad news is we need to ramp up our hardware much quicker than we ever anticipated."

Devereaux said the decision to take down the newly launched site was made because "the level of service was not acceptable."

NSI not liable for domain-name trademark woes
Time: 04:15 EDT/09:15 GMT News Source: Computer World Posted By: Matt Sabean

Network Solutions Inc. can't be held liable for registering domain names that may infringe on another company's trademark, a federal appeals court said this week.

The Ninth U.S. Circuit Court of Appeals in San Francisco said that NSI's role in registering domain names differs little from the mail-delivery services offered by the U.S. Postal Service. "NSI does not supply the domain-name combination any more than the Postal Service supplies a street address by performing the routine service of routing mail."

The opinion stems from a 1996 lawsuit filed by Lockheed Martin Corp. in Bethesda, Md., over third-party registrations of "Skunk Works," the name of Lockheed's famed aircraft design and construction laboratory, where prototypes of the nation's first jet fighters were developed.
---
News Date: Wednesday 27th October 1999
Today's Top Business Headlines: EBay
---
News Date: Tuesday 26th October 1999
Today's Top Business Headlines: Dell - Compaq
Compaq in memory chip deal with Micron
Time: 04:05 EDT/09:05 GMT Source: News.com Posted By: Matt

Compaq Computer today said it agreed to a five-year deal for Micron Technology to supply its memory chips.

While not exclusive, the agreement makes Micron the largest supplier of memory chips to Compaq.

Sources close to Compaq valued the deal at more than $20 billion, although some analysts questioned if that number was too high. Boise, Idaho-based Micron, the largest memory maker in the United States, posted losses in five of its last six quarters.

Micron representatives told Warburg Dillon Read analyst Dave Bujnowski the deal was worth multiple billions of dollars over its five-year term. The deal appears to commit Compaq to buying a certain percentage of its memory chips from Micron, not an absolute number of chips, Bujnowski said.

Dell topples Compaq in U.S. market share
Time: 04:00 EDT/09:00 GMT Source: News.com Posted By: Matt

Dell Computer has pushed aside Compaq Computer for the top spot in PC market share--at least in the United States.

The so-called direct sales PC manufacturer has stolen the leading role in the world's largest market away from the longtime front-runner for the first time, according to studies to be released today by market research firms International Data Corporation and Dataquest.

Dell edged out Compaq in the U.S., according to final second-quarter numbers released by IDC last month. But Dell widened the margin in the third quarter, grabbing the top spot for the first time from both market-research firms.

Compaq held on to the No. 1 spot worldwide, but analysts predicted that Dell soon would push its Texas rival aside in that category too.
---
News Date: Monday 25th October 1999
Today's Top Business Headlines: Symantec - Apple

Time: 17:49 EDT/22:49 GMT Source: News.com Posted By: Matt

Excite@Home today said it would acquire popular online greeting card site Blue Mountain Arts for about $780 million in cash and stock, hoping to accelerate the adoption of its broadband strategy.

Blue Mountain is the 14th most-trafficked Web property, according to research firm Media Metrix. It also ranks third among e-commerce sites, behind Amazon.com and eBay. With the holiday season just around the corner, Excite@Home said it would make an additional payment of up to $270 million in stock contingent upon Blue Mountain reaching traffic and other performances goals.

The two companies said the demographics of Blue Mountain users are consistent with those of people who subscribe to residential broadband services, adding that broadband is ideal for Blue Mountain's interactive greeting cards and e-commerce offerings. The companies said their users tend to be older, more experienced, and heavy home Net users.

The acquisition comes amid mounting competition in the online greeting card market. Another player, Egreetings, filed for an initial public offering earlier this month. Meanwhile, as traffic has flattened or dropped off lately among the portals, the sites are always looking for ways to differentiate themselves.

Time: 17:35 EDT/22:35 GMT Source: News.com Posted By: Matt

Just days after its release, Apple's Mac OS 9 operating system is drawing controversy.

Apple's latest operating system hit stores this weekend, with some retailers holding "Midnight Madness" sales. Priced at $99, the new software includes enhanced search technology, new security and password features, and other improvements.

Today, an existing trademark infringement lawsuit filed against the company was updated to include the new operating system. New York-based Imatec is claiming that the ColorSync 3.0 technology in Mac OS 9 infringes on patents held by the digital imaging firm.

Apple declined to comment on the specifics of the suit. "We don't comment on pending litigation," a company spokesperson said. "But we believe the claims are without merit."

Imatec filed a $1.1 billion lawsuit against Apple in February 1998, alleging that the Mac operating system infringed upon patents first filed by Imatec's president, Hanoch Shalit. Both companies have finished the discovery phase of the case, and the trial is expected to start in the next few months.

Time: 17:29 EDT/22:29 GMT Source: News.com Posted By: Matt

Antivirus software maker Symantec sees the future of software, and it's not going to arrive in a shrink-wrapped box.

The company today announced plans to rent its software over the Internet. Symantec will make its antivirus and security software available to Internet service providers (ISPs), application service providers (ASPs), and portal sites, which, in turn, will offer the software to consumers and businesses online.

With the move, Symantec joins a growing field of software makers--including Oracle, SAP, PeopleSoft, and Intuit--who are entering the software rental business, a market that International Data Corporation predicts will grow to $2 billion by 2003.

The software makers believe the nascent application hosting market will explode as businesses choose to save money by renting their software--from email to financial applications--online. Software companies and ISPs that enter the market will not only provide the applications, but will manage a customer's networks, saving businesses from adding the staff needed to carry out the work of updating and maintaining software.

Time: 04:07 EDT/09:07 GMT Source: News.com Posted By: Matt

Hitting cybercasinos where it hurts, a major credit card company is taking steps to block its 11 million customers from making illegal bets on the Net.

Providian National Bank, the sixth-largest Visa card issuer in the United States, said it will deny approval for most online wagers made by its customers.

"People who use credit cards to gamble on the Internet present a higher credit risk to a lending institution, and there also is a more significant fraud risk with Internet gambling transactions," Laurie Cole, Providian's vice president of corporate communications, said in explaining the bank's decision.

"Providian was evaluating the Internet gambling issue and has decided to decline to authorize transactions on its credit cards that we can identify are originating from Internet gambling sites," she added.

The decision comes as the company recently settled a lawsuit with a Net gambler and as online gambling comes under scrutiny by lawmakers on Capitol Hill.

Time: 04:04 EDT/09:04 GMT Source: Nando Info Tech Posted By: Matt

The trend toward cheaper personal computers may come to an abrupt end this holiday season. Analysts are expecting computer costs to jump significantly because of a shortage of parts.

PC prices could climb as much as 20 percent this fall because of a dramatic decrease in the number of memory chips, also known as RAM, available on the world market.

"What people will see is that for the same amount of money they will be getting less machine," said Rob Enderle, vice president of mobile and desktop technology at the Giga Information Group, a Norwell, Mass.-based market research firm.

Last month's earthquake in Taiwan pushed prices upward as suppliers struggled to meet burgeoning demand for low-cost computers heading into the busy electronics selling season. Taiwan accounts for 12 percent to 15 percent of the world's supply of memory chips.

Time: 04:00 EDT/09:00 GMT Source: Yahoo! News Posted By: Matt

In a case likely to be watched closely by Internet retailers, Amazon.com Inc. Friday said it filed suit against rival barnesandnoble.com Inc. for allegedly infringing on patented online shopping technology.

In a complaint filed in U.S. District Court in Seattle, Amazon.com, the biggest online retailer, alleged barnesandnoble.com "meticulously copied" its proprietary "1-Click" express checkout system, which was granted a U.S. patent late last month.

The lawsuit raised eyebrows among intellectual property experts and industry analysts because by one estimate half of all online retailers use some type of express shopping mechanism to speed checkout for returning customers.

"I looked at this incredulously," said analyst Paul Hagen of Forrester Research. "It's like patenting taking orders over the telephone. My gut tells me this will go nowhere."

Barnesandnoble.com called the suit "a desperate attempt to retaliate for our growing market share."
---
News Date: Friday 22nd October 1999
Today's Top Business Headlines: Internet

Time: 19:52 EDT/00:52 GMT Source: InternetNews Posted By: Matt

Online postage finally became a reality Friday with Stamps.com's formal launch.

The company, whose service was recently approved by the U.S. Postal Service after a year of filed testing, claims more than 100,000 customers have pre-registered.

"Stamps.com has taken a very simple need -- postage -- and leveraged the widespread adoption of the Internet to fulfill that need," said Stamps.com (STMP) Chief Executive Officer John Payne.

"Stamps.com Internet postage is truly a revolutionary service for home office and small office users looking to save time and be more productive in their business."

Requiring no additional hardware or fees, Stamps.com offers clients easy access and flexibility to get their postage online by downloading free software and setting up an account. They may then print postage for any type of mail, including first class mail, Priority Mail and Express Mail.

Time: 18:45 EDT/23:45 GMT Source: News.com Posted By: Matt

Apple Computer said today the latest operating system for its Macintosh family of computers, beefed up with special Internet features, will hit store shelves this weekend.

The new Mac OS 9 operating system will carry a suggested retail price tag of $99 and will include Sherlock 2, Apple's Internet search and shopping tool that lets users find and compare products online, the company said.

"Mac OS 9 is the best Internet OS ever," Apple's interim chief executive officer Steve Jobs said in a statement. "With great new features like Sherlock 2, we think our customers are going to love Mac OS 9."

Time: 18:39 EDT/23:39 GMT Source: CNN Posted By: Matt

Marine Corps computer technicians were at work overnight Friday, improving security, after the Corps headquarters at the Pentagon was hit by a "worm virus," a Marine Corps source told CNN.

The Thursday afternoon attack infiltrated only "unclassified" computer systems, according to the source, and affected Microsoft programs only. Computer systems containing sensitive or "classified" information were not affected, he said.

The Marine Corps computer warriors were working with computer experts from Symantec Corp. to defeat the virus and retrieve lost files.

The attack left Marines around the Pentagon looking at blank pages where documents had once resided. Symantec installed Norton Anti-Virus software for the Marines.

Community Update
Time: 05:06 EDT/10:06 GMT Source: ActiveWindows Posted By: Matt

Just another reminder about signing up for our ActiveWindows Community on MSN.

It allows you to chat with us in our chat room or via our message board. It also lets you post your own screensavers and backgrounds for other ActiveWindows readers to download.

We are currently the largest Windows site on the MSN community list.

Combo Players Do CD and DVD
Time: 04:22 EDT/09:22 GMT Source: Wired News Posted By: Matt

Here's a merger that most PC owners won't disagree with -- the first players that can solve all of their CD and DVD needs.

Many high-end PCs have been coming with two drives for the past year; one CD rewritable (CD-RW) drive, and one DVD drive. By combining the CD-RW laser diode with the DVD-ROM/CD-ROM reader into one unit, Ricoh and Toshiba free up a drive bay and drive connection.

"This is the next logical step of integration in the CD-ROM and DVD marketplace," said Wolfgang Schlichting, research manager for removable storage research at International Data Corp., in Framingham, Massachusetts. "Now consumers don't have to make a choice between recordability and being able to play back DVD titles."

"The major benefit to the consumer is saving the bay space," said Takayuki Kuroshima, marketing and business development manager at Ricoh's Disc Media and Systems Center in Tustin, California. The combo unit lets people support CD-ROM while being ready for future DVD-ROM growth, he said.

Having two drives in the PC has its advantages if you want to do CD copying, said Schlichting, but an all-in-one unit makes more sense. "I predict many of the current DVD-ROM and CD-RW players will offer a combo product and it will be a popular next step in extending the [optical storage] product line," said Schlichting.

The Ricoh drive is the same size as a standard DVD or CD player, and can read DVDs at 4X speed and CD-ROMs at 24X speed. The drive can also write CDs at 6X speed, and can rewrite at 4X speed.
---
News Date: Thursday 21st October 1999
Today's Top Business Headlines: Sun

Time: 17:39 EDT/22:39 GMT Source: News.com Posted By: Matt

America Online is catching the latest wave in Internet chat, and the result could spell disaster for some innovative start-ups and Web site chat communities in general.

This summer, two firms launched with products that let users see who else with the software is visiting a particular Web site and then chat with them. Both Gooey, from Tel Aviv-based Hypernix, and Odigo, from New York-based NovaWiz, promised to make Web surfing a less solitary experience and create groups of people with a shared interest: the Web sites they visit.

The idea caught on with users; since its June launch, Gooey has amassed 250,000 registrations, Odigo 150,000.

But a significant cloud appeared on the horizon last month when ICQ, a wildly popular chat and messaging client acquired by AOL last year, launched a trial version of a similar technology. Dubbed ICQ Surf, the "alpha" software has attracted 48,000 trial users since launching September 22. A "beta," or more polished trial version, is due "soon," according to ICQ.

ICQ has 44 million registrations, according to AOL. One person can register multiple names, however, so the number of people using ICQ is probably only a fraction of the 44 million total.

Time: 04:05 EDT/09:05 GMT Source: News.com Posted By: Matt

Sun snapped up NetBeans, a Java development tool firm based in the Czech Republic. Sun also launched a $200 million investment fund to entice programmers to build Web applications using its "write-once, run-anywhere" Java technology.

Sun follows in the footsteps of Oracle and other firms in creating its $200 million investment fund. Sun plans to invest in start-ups that will promote Java technology, Sun executives said.

Sun has been in the market for additional software development tool makers for some time now. Sun said today's acquisition fills a hole in its product portfolio; it's Sun's second tools acquisition in the past two months.

In August, the company purchased Forte Software for $540 million. That acquisition was completed today. Combined, the purchases give Sun the software tools that programmers need to develop e-commerce applications, Sun executives said today. NetBeans will be targeted at developers who are creating and experimenting with small-scale Web applications, and Forte's software tools will be aimed at large-scale applications that use application servers.

With today's move, Sun is also in a better position to compete against Microsoft, IBM, Oracle, and dozens of others in the burgeoning e-commerce software market, said analysts. Before, through the Sun-Netscape Alliance, the company sold application servers that run the software and perform the transactions in an e-commerce Web site. But the company didn't have the tools to build the software.

Time: 04:00 EDT/09:00 GMT Source: News.com Posted By: Matt

Gearing up for holiday shopping, a coalition of independent bookstores plans to launch an online bookstore next month, but observers wonder whether the site will be too little, too late.

BookSense.com, sponsored by the American Booksellers Association, will provide links to independent bookstores across the nation, allowing many of them to establish a much-needed Web presence.

The site, however, will be hard pressed to make a dent in a market that's dominated by the likes of Amazon.com, Barnesandnoble.com, and Borders, many industry observers say. E-commerce giant Amazon has established dominance in the online book business since launching in 1995. Barnes & Noble's Web store also has become one of the largest sellers online--even though the company is still criticized for setting up shop late, opening in 1997.

The president of the American Booksellers Association, Richard Howorth, acknowledged that BookSense.com will face tough competition.

"We are extremely late coming to the game," Howorth said. "But we're not really playing the same game Amazon is playing."

Unlike Amazon, BookSense.com plans to implement a "clicks-and-mortar" strategy, where users can interact with booksellers either online or in their physical stores. It also intends to become a source of online marketing for the independent bookstores, helping them retain customers and draw in new ones.
---
News Date: Wednesday 20th October 1999
Today's Top Business Headlines: AOL - Encryption Export Rules

Time: 18:40 EDT/23:40 GMT Source: News.com Posted By: Matt

America Online will invest $800 million in PC maker Gateway as part of a far-ranging deal to jointly market products and services.

The pact, a first between the two companies, calls for the development of a cobranded online software store. In addition, the companies will jointly market high-speed Internet services and information appliances, among other initiatives

In turn, AOL service will be marketed alongside Gateway.net, Gateway's Internet access service. AOL will also "share in the economics of Gateway.net," the companies said in a joint statement.

As part of the agreement, America Online said it will invest $800 million in Gateway over the next two years, in a combination of cash and equity securities. Gateway will receive $180 million in AOL stock and has agreed to spend $85 million to market Gateway products and services with America Online's brands.

"We look forward to working with Gateway across a full range of initiatives, including the joint development of next-generation devices and other products and services, including broadband, that will make the medium more accessible and more valuable to consumers," said Bob Pittman, America Online's president and chief operating officer.

The deal will open significant opportunities for both companies. AOL has not directly participated in the wildly popular "PC-ISP" deals under which consumers buy bundled computers and Internet service, typically for a substantial discount. Instead, these deals have involved Prodigy, UUNet, Earthlink, and CompuServe, which is owned by AOL.

Time: 17:49 EDT/22:49 GMT Source: News.com Posted By: Matt

America Online today reported earnings that beat Wall Street estimates after a quarter marked by strong subscriber growth and robust revenue.

The online giant earned $184 million in net income, or 15 cents per diluted share, compared with a profit of $50 million, or 4 cents a share, in the year-earlier period. Financial analysts expected the company to earn 13 cents a share, according to First Call consensus estimates.

AOL added 1.1 million new subscribers worldwide during the quarter, as well as 378,000 new CompuServe subscribers. That gives AOL 18.7 million proprietary members and 2.2 million CompuServe members worldwide.

Total revenue reached $1.5 billion for the quarter, swelling 47 percent since the same period last year. Of the total, $350 million came from advertising, commerce, and "other" revenue.

AOL also reported that members spend an average of 55 minutes online every day.

Time: 17:40 EDT/22:40 GMT Source: News.com Posted By: Matt

Encyclopaedia Britannica is learning how to be an Internet company the hard way.

Its Web site, Britannica.com, which launched yesterday, has been suffering from a network lag that began yesterday afternoon. Users trying to enter the site have been greeted with a "no response" message, with only brief windows available to enter the site after repeated tries.

Britannica.com released a statement this morning explaining the outage. It claimed its servers have been on the fritz because of the flood of new users trying to access the site.

"The tremendous response to Britannica.com has created a tidal wave of activity on our site, and we are working hard to make the site available as quickly as possible," Don Yannias, chief executive of Britannica.com, said in a statement.

The company yesterday announced it would place its entire 32-volume set, which sells for $1,250 in print, on the Internet for free. The site would also include news feeds from newspapers, articles from magazines, and a Web search directory compiled by its editors.

Web site outages have become all-too-common problems. Internet heavyweights such as America Online and eBay have both suffered high-profile outages that have incensed users and caused both companies to invest heavily in upgrading their network.
New cyber attack method surfaces
Time: 04:05 EDT/09:05 GMT Source: ZDNet Posted By: Matt

Over the past six weeks, U.S. network servers have come under assault by a fundamentally new style of computer attack, said experts here at the National Information Systems Security Conference.

Known as "distributed coordinated attacks," this new style is particularly good at defeating present-day defenses against those intent on stopping Internet traffic to a particular company or Internet service -- a result known as denial of service.

"It's possible to detect the attack, but it is very hard to block it" using current software, said Thomas Longstaff, senior technical researcher for Software Engineering Institute at Carnegie Mellon University, during a panel presentation Tuesday.

A garden-variety denial-of-service attack uses a single server to attempt to tie up a network's connection, denying its users access to or from the Internet. Distributed coordinated attacks, however, use hundreds or thousands of servers co-opted by a malicious programmer to tag-team a single server. Because so many servers are used, each attack can be camouflaged as a legitimate connection attempt, making it difficult for the victim's intrusion software to identify that it is under attack and impossible to identify just who is attacking.
U.S. encryption export rules may be revised
Time: 04:04 EDT/09:04 GMT Source: News.com Posted By: Matt

The Clinton administration is considering relaxing export limits on computer source code for data scrambling programs, in a possible move acknowledging the growing importance of Linux, a top export official said today.

Undersecretary of Commerce William Reinsch said the administration had originally intended to maintain current export limits on source code, or instructions written by a computer programmer that can be compiled into a computer program.

But after the administration announced it would significantly relax many of its limits on already compiled computer encryption programs, high-tech companies complained that retaining the source code limit was unworkable, Reinsch said in a telephone interview.

"We are now reviewing that," Reinsch said. "It's on the table as area where we might make a revision."

Revised encryption export rules will be released by December 15, he said, with any possible changes for source code export likely included at that time.

Encryption, which uses mathematical formulas to scramble information and protect it from prying eyes, is now included in everything from Web browsers and email programs to cable television set-top boxes and handheld computers.
---
News Date: Tuesday 19th October 1999
Today's Top Business Headlines: Gateway - E*Trade - Blue Mountain - AOL

Time: 18:38 EDT/23:38 GMT Source: ZDNet Posted By: Matt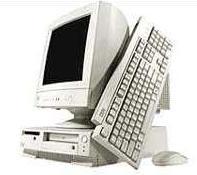 Big Blue says it will take Aptivas off the retail shelves and sell them online only -- until it figures out how to make them profitable.

"Once we come up with a formula, we will be back," said Guarino, the spokeswoman for the company's Personal Systems Group, which oversees sales of IBM personal computers and includes business PCs, ThinkPad notebooks and more-powerful PC servers.

Armonk, N.Y.-based IBM is trying to differentiate its products from other low-priced consumer models in the United States and shift a greater percentage of its business to direct sales over the Web, as rival PC maker Dell Computer Corp. (Nasdaq:DELL) has done.

Guarino stressed that Aptivas continue to sell well through retail outlets internationally, where pricing dynamics differ.

IBM, the world's largest supplier of computer hardware, software and services, has struggled in recent years to turn a profit in the PC business that it helped to pioneer two decades ago. In 1998 its PC business lost about $1 billion, and in the first half of 1999, it lost $239 million.

Time: 17:36 EDT/22:36 GMT Source: News.com Posted By: Matt

Gateway will today announce a series of services designed to appeal to small businesses, reflecting the industry's growing need to maximize "after-sale" revenues.

The PC manufacturer will begin offering more flexible support for growing companies, according to Gateway's executives. The new initiatives include loaner programs, assistance in designing corporate computer networks, and implementing software throughout client computers on a network.

The moves would place Gateway in the middle of the PC industry's effort to boost services and support programs as a means of attracting small and medium-sized businesses. The huge--and largely untapped--market is estimated at about $50 billion in the United States and close to $140 billion worldwide, and sales to small and medium-sized businesses are growing faster than the overall information technology market, according to market research firm International Data Corporation.

Support is traditionally a low-profit business because of the high cost of paying service personnel to answer calls. But online support is increasingly embraced by PC companies since it is relatively inexpensive.

Rival PC makers are also hopping on the bandwagon. Dell, for example, recently introduced a support plan which uses Internet-based system diagnostic tools to detect and fix computers without phone support. The company has also added natural language search technology to its online support database.

Time: 04:06 EDT/09:06 GMT Source: News.com Posted By: Matt

Apart from whatever Y2K might bring, the New Year may hail a fortune for one lucky person.

E*Trade will announce tomorrow that the online brokerage house plans to give away $1 million to the person who accurately guesses what the Dow Jones Industrial Average close will be on New Year's Eve 1999.

A growing number of investors are turning to the Internet to conduct research and gather financial data before placing trades through their online trading accounts. The online trading sector has been growing by leaps and bounds in recent years.

The winning entry must name the closest price to the actual closing price of the blue chip index within the one-hundredth decimal place.

The company said its new eMillionMania promotion is aimed at giving individual investors an opportunity to show up Wall Street analysts.

E*Trade said the contest is open from now through November 28 or until 10 million entries are received, whichever comes sooner. People can enter to win regardless of whether they are E*Trade account holders, and no purchase is necessary. Entries can be submitted at eMillionMania.com, and only one entry per person will be accepted.
Blue Mountain in talks to sell site
Time: 04:04 EDT/09:04 GMT Source: ZDNet Posted By: Matt

The company that owns one of the most highly trafficked sites on the Internet -- a free greeting-card service called Bluemountainarts.com -- is in talks with a number of companies to sell the Web site for about $1 billion.

According to people close to the situation, the leading candidate to acquire closely held Blue Mountain Arts Inc.'s Web site is likely to be eToys Inc. (Nasdaq:ETYS) Currently, eToys, Pasadena, Calif., has a market capitalization of about $8 billion. Others who have looked at the site, according to these people, include CMGI Inc. (Nasdaq:CMGI), Andover, Mass., and Excite@Home Corp. (Nasdaq:ATHM), Redwood City, Calif. The deal is likely to be an all-stock transaction. While the talks are advanced, there is no certainty that a deal will be reached, according to the people.

People familiar with eToys' thinking said the company is very interested in the potential of the Blue Mountain Arts site, which could expose its other products to a broader range of customers. eToys has mostly been focused on selling a range of gifts to families, and Blue Mountain Arts fits that demographic with a folksy image. But the people said eToys officials are worried about recently intensified competition in the greeting-card sector, which has hurt Blue Mountain's traffic, and could be an impediment to any deal.
AOL Plans Major Digital City Expansion
Time: 04:00 EDT/09:00 GMT Source: InternetNews Posted By: Matt

The success of its city guides in 60 metro areas around the country prompted America Online Inc. Monday to extend its Digital City local content sites to more than 200 cities over the next few months.

The markets have not yet been determined, the company said, but will be chosen based on population size and rankings as travel destinations. The new sites are slated to launch in spring 2000.

Like the current Digital City properties, content will include entertainment and tourism information, personal ads, auctions, yellow pages, classified ads and local news, as well as a guide to the area's dining spots, movie times, sporting events and children's activities.

"Local is one of the fastest-growing uses of the Internet," said Ted Leonsis, president of AOL (AOL) Interactive Properties, which oversees Digital City. "Our expansion into 200 markets nationwide will bring Digital City's award-winning local content and services to more people than ever before -- helping them save time and get the most out of the communities they live in, visit and are passionate about."

Digital City goes up against some heavy hitters in the local content sector. Microsoft's (MSFT) Sidewalk hosts localized content for a variety of cities, as does CitySearch, which last year merged with Ticketmaster (TMCS) to be a power player in the industry.
---
News Date: Monday 18th October 1999
Today's Top Business Headlines: Palm - Y2K - Internet
Palm sets sights on corporate customers
Time: 17:58 EDT/22:58 GMT Source: News.com Posted By: Matt

On the eve of the first day of its annual developer's conference, Palm Computing today announced several new products geared at attracting large corporate customers.

The news comes as the company prepares for its PalmSource developer's conference, which kicks off tomorrow in Santa Clara, California. At the event, new licensees like TRG and Handspring will show off their new Palm clones, and third party software developers will demonstrate new security and connectivity products.

At the top of the list is Palm Computing's suite of "enterprise" or business-focused software and products designed to make it simple for companies to purchase and support PalmPilot handhelds for their employees.

Toward that end, Palm today announced Palm HotSync server software, the Palm ethernet cradle, and new classes and services to help companies implement the products.

PalmPilots share information with the desktop PC using the HotSync software and cradle, which connects the computer to the handheld. Palm has expanded the concept to fit larger companies with a client-server network.

One Third Of UK Firms Already Hit By Y2K -Report
Time: 06:09 EDT/11:09 GMT Source: ZDNet Posted By: Matt

Almost one in three large companies in Britain has already experienced millennium bug problems, a survey published Monday showed.

Campaigning group Taskforce 2000, in a joint report with disaster recovery company Adam Associates, said 31 percent of Britain's top 1,000 companies by turnover had already been hit by Y2K-related problems.

Of the 1,000 firms surveyed, 84 percent are preparing for possible power failures, 86 percent for loss of telecoms links and 97 percent for systems failures.

"This is a clear indication that the possibility of infrastructure failure is a major concern and that companies are taking action to offset it," said Robin Guenier, executive director of Taskforce 2000.

Prix fixe? Not on the Net
Time: 05:50 EDT/10:50 GMT Source: ZDNet Posted By: Matt

Shopping online and don't like the price you see? Don't worry -- on today's Internet, a fixed price is a thing of the past.

Fixed prices, which have been the mainstay of consumer purchasing for at least 100 years, have been giving way online to all manners of dynamic pricing schemes. Auctions, reverse auctions, group buying, even bartering are all options available to consumers who want to have more control over how much they pay.

"The Internet enables what were previously isolated consumers to either band together or have much better information than they ever had before," said Dan Schulman, president and COO of Priceline.com Inc, (Nasdaq:PCLN), whose company lets consumers name the price they're willing to pay for things like airline tickets. "What you're seeing is the pricing system being turned upside down, with more and more power being transferred to the consumers."

Community Updates
Time: 04:04 EDT/09:04 GMT Source: ActiveWindows Posted By: Matt

Just another reminder about signing up for our ActiveWindows Community on MSN. It allows you to chat with us in our chat room or via our message board, it also lets you post your own screensavers and backgrounds for other ActiveWindows readers to download. We are currently the largest Windows site on the MSN community list.

Olympic committee files cybersquatter lawsuit
Time: 04:00 EDT/09:00 GMT Source: News.com Posted By: Matt

The Salt Lake Organizing Committee (SLOC) for the 2002 Winter Olympics sued to bar others from using Internet domain names that include the committee's title.

In papers filed in the U.S. District Court in Delaware, the SLOC said that unauthorized use of its trademarked names robs it of part of the games' $1.34 billion budget. Accused in the cybersquatting suit are Branjack Incorporated, Brandon Walker, Regina Cephas, Afro-American Inner City Youth, and four Internet domain names, including Saltlakecitygames.com.

According to the lawsuit, investigators for the SLOC found vacant offices, dead telephones, and lapsed or nonexistent incorporation records at addresses listed by defendants in Delaware, Nevada, and Georgia.

The domain names were registered by the defendants with Network Solutions, which requires that names not be used that "interfere with or infringe upon the rights of any third party," court papers say.

The Committee alleges that the defendants engaged in cybersquatting by registering "the Salt Lake Domain Names with the specific intent of selling those names either to the SLOC or the highest third-party bidder."
---
News Date: Friday 15th October 1999
Today's Top Business Headlines: Volkswagen - Intel - AOL
---
News Date: Thursday 14th October 1999
Today's Top Business Headlines: Apple - Trojan Virus - High Speed Internet
---
News Date: Wednesday 14th October 1999
Today's Top Business Headlines: Internet
---
News Date: Tuesday 13th October 1999
Today's Top Business Headlines: Y2K - NetObjects - Internet
---
News Date: Monday 11th October 1999
Today's Top Business Headlines: AOL - Internet
---
News Date: Friday 8th October 1999
Today's Top Business Headlines: Visor - IBM - Internet
---
News Date: Thursday 7th October 1999
Today's Top Business Headlines: AT&T - AOL
---
News Date: Wednesday 6th October 1999
Today's Top Business Headlines: AOL - Disney - Reuters
---
News Date: Tuesday 5th October 1999
Today's Top Business Headlines: Travelocity - Y2K - IRS - Internet
---
News Date: Monday 4th October 1999
Today's Top Business Headlines: Amazon - Internet - ICQ
---
News Date: Friday 1st October 1999
Today's Top Business Headlines: Internet - AT&T - NBCi
---
Read more of the past months news in our News Archive for August and September News.
Do you have any Windows based news? Just Remember To Get In Touch!


Microsoft Media Player 6.4


MSN Messenger


ICQ 99B
Tweak UI For Windows 98 SE


DirectX 7


Netmeeting 3.1
Windows 98 Spinning Globe Background