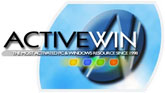 Activating The Ultimate Windows Resources
www.activewin.com
---
* Today's Top Stories *
---

Microsoft reveals Beautiful Game UK dev competition
Microsoft has announced a new competition that will give UK games developers a chance to better show off their work through Windows app stores. The Beautiful Game contest is open to all UK games developers that publish new games on Microsoft Windows 8 or the Windows Phone Store, or port their existing titles over to theses marketplaces. Each game entered will be showcased on the Store.
---

Microsoft Wants To Serve Political Ads With User Data
Xbox Advertising offers behavioral targeting to advertisers in the U.S. and in the U.K, helping advertisers reach audiences based on their game play activity. For example, in the U.S. we have standard behavioral targeting based on a consumer's interests in the following segments: Action/Shooter, Racing, Sports, Kinect, and Music. Users must have played any game falling into one of these genres to be included in the targeting segment. In the U.K., we provide targeting by Action/Shooter, Racing, and Sports segments. Early testing indicates that a more targeted campaign will drive higher CTRs (in recent trials we have seen CTRs that are > 30% higher). (CTR= click through rates).
---

Microsoft holding contest to send 10 people to attend their 2014 E3 media briefing
E3 2014 is still three months away but Microsoft is already planning to announce quite a few Xbox One games at their annual media briefing before the video game trade show begins in Los Angeles. Today it was announced that Microsoft plans to pick five winners to attend their 2014 media briefing, to be held this year on June 9th.
---

Microsoft's Surface Power Cover set to ship next week
Microsoft said Monday that its productivity-enhancing Surface Power Cover will begin shipping in a few days—and the extra battery life will cost you a couple hundred bucks. Specifically, the Power Cover will cost $199 when it begins shipping on March 19, according to a Microsoft Store listing. The keyboard accessory will work with the Surface 2, the Surface Pro, and the Surface Pro 2. Like the name suggests, the Power Cover includes a secondary battery, designed to extend the tablet's battery life further. A spokesman for Microsoft declined to specify the exact capacity of the onboard battery, but the Microsoft product page says that it will weigh in at 0.55 pounds. It will also lack the back-lit keys that the other Surface keyboards include.
---

Should Microsoft allow almost half a billion PCs to become potential prey for hackers?
While Microsoft would like all eyes on the upcoming Windows 8.1 Update 1 release, but what many of us are focused on is the fact that Windows XP will soon hit the end of support date. Windows XP is a ticking timebomb for Microsoft. This that the operating system – which was first released at the turn of the millennium – is dead and gone? Think again. Estimates suggest that there are some 488 million PCs in the wild running the aging operating system. That's a shade under half a billion PCs in all.
---
* Site Updates *
---
The New ActiveWin 3.0 Is Coming!
Yes it's nearly here, we've been working behind the scenes on the brand new and rather excellent looking ActiveWin 3.0, the site will contain even more news than ever before, be customisable far more than any other regular news sites and will hopefully take peoples breath away.

Comments On Our PDA Layout
We hope you get some enjoyment out of our new look PDA web page and are able to view it across a range of different devices. If you are having any problems or just have a few suggestions, e-mail us by clicking the header above.

Pocket PC Site Ideas
We are on the lookout for new ideas for our Pocket PC area. If you have any ideas for content or bits and pieces you would like to see appear here then let us know via e-mail to byron@activewin.com

* ActiveWin Pocket PC Site Links *
---
Contacts
For your convenience, this is a list of the people to contact with the according to the category you choose. If you don't get a reply from one person for some time, try e-mailing one of the others.
Pocket PC Links
Visit various other Pocket PC Enabled websites. These sites have been chosen by us due to them being designed specifically for Microsoft's Pocket PC. If you have a site you would like us to check out e-mail us.
---
© 2005 by ActiveNetwork. All rights reserved. Designed by Designer Dream