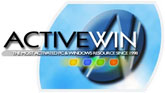 Activating The Ultimate Windows Resources
www.activewin.com
---
* Today's Top Stories *
---

Microsoft's new Outlook app for iOS and Android syncs all your email together
First Microsoft opened up Office to iOS and Android users, and now the company is adding its Outlook email service to the list of apps you can use on the two most popular mobile operating systems. The new Outlook app takes many cues from the Acompli app on which it is based to bring all your email together in one place, along with calendars, contact lists, and documents.
---

Windows 10 deep-dive review: Finally, a unified operating system
The second preview release of Windows 10 begins to flesh out Microsoft's vision of an operating system that bridges the gap between traditional PCs and touch-based tablets -- something it failed at dismally in Windows 8. More than that, the new release reveals a single operating system that shape-shifts according to the device it's running on, be that a PC, a tablet or a phone.
Several new features and design elements refine Windows' overall look and feel; they also show off a significant addition, the Siri-like digital assistant Cortana. All in all, this version of Windows 10 is still not a finished operating system, but it's shaping up to be a winner.
---

Microsoft's decision to ditch Surface is a long-overdue mercy killing for Windows RT
For too long it was the metaphorical unwanted litter of kittens tied in a sack just waiting for someone to ditch it in the river. Windows RT is dead, having enjoyed a cancer-ridden 'life' for longer than many people expected. Microsoft announced that it is no longer going to manufacture Surface devices, all but signing the death warrant for Windows RT.
---

Microsoft Releases Final Office Apps for Android Tablets
Back in early January, Microsoft finally made the Office preview for Android tablets openly available for most owners of Android slates. But this week Microsoft comes back and unleashes the final tablet version for Microsoft Word, Microsoft Excel and Microsoft PowerPoint.
To be able to install the Office suit on your Android tab, you'll need your device to run Android 4.4 KitKat or later, which is supported by an ARM processor fitted with up to 1GB of RAM. Microsoft Office for Android Tablets is compatible with slates with 7-inch or larger screens.
---
* Site Updates *
---
The New ActiveWin 3.0 Is Coming!
Yes it's nearly here, we've been working behind the scenes on the brand new and rather excellent looking ActiveWin 3.0, the site will contain even more news than ever before, be customisable far more than any other regular news sites and will hopefully take peoples breath away.

Comments On Our PDA Layout
We hope you get some enjoyment out of our new look PDA web page and are able to view it across a range of different devices. If you are having any problems or just have a few suggestions, e-mail us by clicking the header above.

Pocket PC Site Ideas
We are on the lookout for new ideas for our Pocket PC area. If you have any ideas for content or bits and pieces you would like to see appear here then let us know via e-mail to byron@activewin.com

* ActiveWin Pocket PC Site Links *
---
Contacts
For your convenience, this is a list of the people to contact with the according to the category you choose. If you don't get a reply from one person for some time, try e-mailing one of the others.
Pocket PC Links
Visit various other Pocket PC Enabled websites. These sites have been chosen by us due to them being designed specifically for Microsoft's Pocket PC. If you have a site you would like us to check out e-mail us.
---
© 2005 by ActiveNetwork. All rights reserved. Designed by Designer Dream