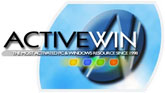 Activating The Ultimate Windows Resources
www.activewin.com
---
* Site Contacts *
For your convenience, this is a list of the people to contact with the according to the category you choose. If you don't get a reply from one person for some time, try e-mailing one of the others.
---
Current Staff Contacts:

Robert Stein
bobstein@activewin.com
Byron Hinson
byron@activewin.com
Alex Harris
alex@activewin.com
Matthew Sabean
matt@activewin.com
Chad Myers
chad@activewin.com
Cliff Palmer
liff@cponline.org
Jonathan Tigner
jt@activewin.com
Brian Kvalheim
brian@activewin.com
Todd Richardson
todd@activewin.com
David Gasior
david@activewin.com
William Sossamon
will@activewin.com
Stephen Koochis
stephen@activewin.com
Lin Jiaqi
linjiaqi@activewin.com
Adrian Latinak
adrian@activewin.com
---
* ActiveWin Pocket PC Site Links *
---
ActiveWin News in Pocket PC Format
From here you can read the latest headlines from our site directly on your PDA in our improved layout designed specifically for the Pocket PC.

Pocket PC Links
Visit various other Pocket PC Enabled websites. These sites have been chosen by us due to them being designed specifically for Microsoft's Pocket PC. If you have a site you would like us to check out e-mail us.
---
© 2004 by ActiveNetwork. All rights reserved. Designed by Designer Dream