Articles
Forums
Links
News
News Search
Reviews



News Centers
Windows/Microsoft
DVD
ActiveHardware
Xbox
Macintosh
News Search



ANet Chats
The Lobby
Special Events Room
Developer's Lounge
XBox Chat



FAQ's
Windows 98/98 SE
Windows 2000
Windows Me
Windows "Whistler" XP
Windows CE
Internet Explorer 6
Internet Explorer 5
Xbox
DirectX
DVD's



TopTechTips
Registry Tips
Windows 95/98
Windows 2000
Internet Explorer 4
Internet Explorer 5
Windows NT Tips
Program Tips
Easter Eggs
Hardware
DVD



Latest Reviews
Applications
Microsoft Windows XP Professional
Norton SystemWorks 2002
Hardware
Intel Personal Audio Player 3000
Microsoft Wireless IntelliMouse Explorer



Site News/Info
About This Site
Affiliates
ANet Forums
Contact Us
Default Home Page
Link To Us
Links

Member Pages
Site Search
Awards



Credits
©1997/2003, Active Network. All Rights Reserved.
Layout & Design by Designer Dream. Content written by the Active Network team. Please click here for full terms of use and restrictions or read our Privacy Statement.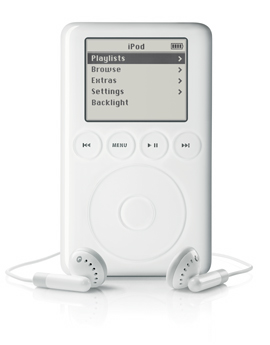 Apple iPod
Iíll admit that I have long been drooling over Appleís iPod since the first second generation iPod came out a few years ago. The new third generation iPod came out in May this year, and I have held back on my review so that I could make sure that I used it long enough to give a fair impression of it instead of the quick reviews that came out just after its release.
Storage
10GB
15GB
30GB
Battery life
Over 8 hours
Skip protection
Up to 25 minutes
Display
2-inch (diagonal) grayscale LCD with LED backlight
Ports
Dock connector, remote connector, stereo minijack
Charge time
3 hours (1-hour fast charge to 80% capacity)
Audio support for Mac
AAC (16 to 320 Kbps), MP3 (32 to 320 Kbps), MP3 VBR, Audible, AIFF, WAV
Audio support for Windows
MP3 (32 to 320 Kbps), MP3 VBR, WAV
Size
4.1 by 2.4 by 0.62 inches
4.1 by 2.4 by 0.62 inches
4.1 by 2.4 by 0.73 inches
Weight
5.6 ounces
5.6 ounces
6.2 ounces
Included accessories
Earbud headphones, AC adapter, dock connector to FireWire cable, 4-pin-to-6-pin FireWire adapter.
Dock, remote, carrying case, earbud headphones, AC adapter, dock connector to FireWire cable and 4-pin-to-6-pin FireWire adapter.
Optional accessories
Dock; earbud headphones and remote; carrying case; AC adapter; dock connector to FireWire cable; dock connector to USB 2.0 + FireWire cable(4); world travel adapter kit
Mac Requirements and Software
Apple computer with built-in FireWire port; Mac OS X v10.1.5 or later (Mac OS X 10.2 or later recommended); CD includes iTunes(7) for Mac OS X
Windows Requirements and Software
PC with built-in FireWire or USB 2.04, or Windows-certified FireWire or USB 2.0 card; Windows Me, Windows 2000 or Windows XP Home or Professional; CD includes MUSICMATCH Jukebox Plus 7.5 software
Documentation and Support
Electronic documentation, getting started guide and one-year limited warranty.

More Great Features
iPod provides these great features to keep you organized, on time, and having fun:

Play games
Thereís never a dull moment with the new iPod. In fact, iPod now includes Solitaire, Brick and Parachute, three popular games you can play anywhere ó a benefit youíre sure to appreciate the next time youíre standing in line or waiting for someone
Spin tunes On-the-Go
The new iPod lets you create On-the-Go playlists. So whether youíre commuting on the train, working out at the gym, or backpacking miles away from civilization you can queue up tracks anytime to fit your mood or situation.
Check your calendar
iPod supports vCalendar and iCalendar files, which can be exported by many applications, including Microsoft Entourage, Palm Desktop and iCal. Youíll never miss a dentist appointment again.
Keep your contacts
Say goodbye to clunky spiral bound address books. With support for industry-standard vCard files, iPod lets you store and access all your important contact information with the touch of a button.
Store text notes
With the notes reader, you can transfer text-based information to your iPod and read it on-screen. Now you can have the information you need ó from restaurant reviews to concert guides to news articles ó right at your fingertips.
Set your wake up call
The iPod is the perfect travel companion. It features a sleep timer, so you can fall asleep to your music. And with the iPodís new alarm clock, you can choose either an alarm tone or your favorite music to wake you up.
No one can deny that the iPod is one of the (well the) most stylish music players around. The compact minimalist design is superb and the touch sensitive buttons and scroll wheel work perfectly and manage to give it a futuristic feel. The only spoiler in design terms is that the back of the iPod suffers very badly from fingerprints and scratches, but nothing major if you take care of it properly.
Appleís iPod support most of the music formats around, the main two being MP3 and Appleís very own AAC (More about this later). There are currently three different models of the iPod available. The 10 GB,15 GB and the largest 30 GB version. The 15 and 30 GB versions ship with a docking bay for easier recharging, transferring of songs and for a simple holder of the iPod on your desk. The dock can be purchased separately for those of you who go out and pick up the 10 GB model.
As mentioned earlier, the iPod is fully rechargeable, if you have a Mac you can charge it via the firewire port, if you have Windows then you can either charge it via the Firewire port, although for transferring music, you can also purchase a high speed USB 2 cable to connect up to your PC. You can also charge up your iPod in a normal plug socket if you are out and about, or via a car charger.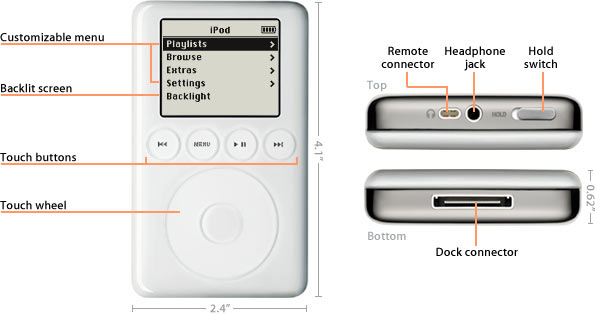 Since using the iPod I can say that the battery time tens to be just over 8 hours on a full charge. This isnít quite as good as anyone hoped, but for something as slim as this, it is pretty good. Battery time does depend on what quality music you play and also on whether you make use of the iPodís built in Equalizer. With the Equalizer left on playing when using a fully charged iPod, I tend to get just over 6 hours of playback from it.
Now onto the really important part, the music quality. To give you an idea of the music I have been listening to on my iPod here is my current full list of albums that I have on it here:
Alanis Morissette
Amy Studt
Avril Lavigne
The Bangles
Blake Babies
Blur
Bob Mould
Coldplay
The Corrs
The Dandy Warhols
The Darkness
David Gray
Dido
DJ Rap
Duran Duran
Electric Six
Evan Dando
Evanescence
Filter
Fiona Apple
Fred Schneider
Gene
Good Charlotte
Heather Nova
Idlewild
Linkin Park
Liz Phair
Muse
New Order
Nine Inch Nails
Rhett Miller
Saliva
Semisonic
Smashing Pumpkins
Sugar
Tracy Bonham
Train
Travis
Vanessa Carlton
Veruca Salt
The White Stripes
I have tried various formats like MP3, although I have to say that every song I have on my iPod right now is currently encoded into Appleís AAC format at 128kps, and to my ears it sounds just as good as MP3ís encoded at 192kbs. The playback is excellent with zero skipping thanks to the large buffer, which buffs 20 minutes of playback. Most of the music I have has been imported onto my iPod from CD via iTunes and encoded into the AAC format. The only problem I have with playback is that there is no option to have the tracks you have, play right after one another, in other words you get at least a second gap between songs, thus breaking up many CDís you have with tracks which flow into one another.
While I am praising AAC, Windows uses do not currently have the option to encode into AAC until Apple releases iTunes for Windows later in the year. But MP3 playback is just as good, but uses up slightly more space on your hard-drive and your iPod.
Not only does the iPod play music, it can double as a FireWire or USB 2.0 hard drive for your computer. This allows you to transfer files and applications from your computer to the iPod and take them with you wherever you go. iPod is smart enough to keep your data files separate from your music collection so that they will not be accidentally erased when you are updating your music.
How It Grades
Installation: 93%
Ease Of Use: 95%
Design: 95%
Playback: 94%
Options: 93%
Manual: 92%
Price: 85%
Overall: 92%
Transferring of your music to the iPod is a breeze, especially if you have a Mac and iTunes. Just playing your iPod into your dock launches iTunes and then transfers over any music you have added or updated in your music library. I have had a few problems with the Windows version, but that ended up being an operating system problem and not a problem on the iPodís part. The Windows software isnít as good as iTunes, but it does the job you need it to.
The iPod is still the worlds best selling MP3 music player, and rightfully so. Not only is the design second to none (Like most Apple products these days) the playback is also brilliant. Everything about the iPod screams quality. So if you can afford one, I canít recommend it much more than I have.