DirectX
ActiveMac
Downloads
Forums
Interviews
News
MS Games & Hardware
Reviews
Support Center
Windows 2000
Windows Me
Windows Server 2003
Windows Vista
Windows XP



News Centers
Windows/Microsoft
DVD
Apple/Mac
Xbox
News Search



ActiveXBox
Xbox News
Box Shots
Inside The Xbox
Released Titles
Announced Titles
Screenshots/Videos
History Of The Xbox
Links
Forum
FAQ



Windows XP
Introduction
System Requirements
Home Features
Pro Features
Upgrade Checklists
History
FAQ
Links
TopTechTips



FAQ's
Windows Vista
Windows 98/98 SE
Windows 2000
Windows Me
Windows Server 2002
Windows "Whistler" XP
Windows CE
Internet Explorer 6
Internet Explorer 5
Xbox
Xbox 360
DirectX
DVD's



TopTechTips
Registry Tips
Windows 95/98
Windows 2000
Internet Explorer 5
Program Tips
Easter Eggs
Hardware
DVD



ActiveDVD
DVD News
DVD Forum
Glossary
Tips
Articles
Reviews
News Archive
Links
Drivers



Latest Reviews
Xbox/Games
Fallout 3

Applications
Windows Server 2008 R2
Windows 7

Hardware
iPod Touch 32GB



Latest Interviews
Steve Ballmer
Jim Allchin



Site News/Info
About This Site
Affiliates
Contact Us
Default Home Page
Link To Us
Links

News Archive
Site Search
Awards



Credits
©1997-2012, Active Network, Inc. All Rights Reserved.
Please click here for full terms of use and restrictions or read our Light Tower Privacy Statement.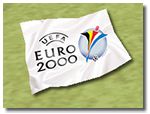 Product: UEFA Euro 2000
Company: EA Sports
Website: http://www.easportseuro2000.com
Estimated Street Price: £29.99
Review By: Byron Hinson
The Features
Just six months after the release of Fifa 2000 (One of my favorite games of all time )we have yet another version of the popular football (Soccer) game from EA Sports. This time they have based it around the Euro 2000 tournament which starts in June. So what is new?:
Exclusive Euro 2000TM License - This is the only videogame allowing consumers to experience the tension of the qualifying rounds, the celebration of the event, the colour and excitement in the crowds, official event logos and the mascot, all set in the real stadiums.
Distinctive Playing Styles - Each of the teams will have realistic distinctive playing characteristics, and favourite set plays. Also, team style will be described within Team Management, and so can be used as a tool for the user to plan a strategy for each match.
Game Modes - Play through qualifying as any of the 49 teams involved in that competition, including the playoffs for second placed teams. Then, move into the real tournament - the Finals. The last 16.
Play against some of the greatest teams to grace the turf - Platini's France and Van Bastens Holland amongst them.
Tactical Training section boasts a new feature allowing the user to practice against his own reserve team, whilst having them replicate the tactics and style of play of the next opponent in the competition.
Skill Drill allows the user to practice and learn the special moves that are necessary to unlock the toughened defences within the game.
Set Pieces - specialist set plays designed to punish dirty opponents. Over thirty plays are included in the game.
Experience the drama of the tournament for the first time: Real tournament structure and scheduling means that you will have to deal with injuries and suspensions through the tournament. Watch out for the "out of town scores" coming in from other key matches in your group.
Installation And Settings
Euro 2000 comes on the single CD-ROM, depending on how much hard drive space you have, you can do either a regular install or a custom installation. I recommend going for the custom one and selecting everything just in case you have the same graphic problems I have with the game.
The Gameplay
There is no simpler way of saying this...if you have played Fifa 2000, you have played Euro 2000 as well. There is really nothing new on the gameplay side apart from the inclusion of a new skill drill section which is a little too easy. The idea of the skill drill section is to show that you can perform a certain set of moves for your coach, for example you may be asked to cross in the ball and then do a header for a goal or say do a lob pass and then do a headed pass. It is a well put together part of the game, but as I said earlier it is a little too easy to complete.
The AI has managed to improve very slightly over Fifa 2000, players tend to run back from offsides a little better than before and some of the "certain goals" from corners have been fixed. One new problem I have seen so far in playing is that when you are say 2 goals ahead in a match, the opposition doesn't really make any real effort at attacking you more than they did before they went behind in the game.

On the multiplayer side, the game is yet again lacking internet play so you are stuck with a network or modem to modem games, I wonder how long it will be until EA finally add internet play as a feature.
Graphics, Sound & Music
Let me get one thing off my chest straight away, Euro 2000 does have some great new graphical effects such as better crowd animation, improved player effects like dirt on their kits but this has affected the frame rate in a very bad way at least for me and many other people who have started to play the game. The box clearly states that the minimum specs are a Pentium 166 and they recommend a Pentium 200 or above with one of their recommended graphics cards. So I was ready to go with my Pentium 450, 128mb ram and a G400 (Which EA recommend you play the game with), so you can imagine my and many other peoples horror when the game runs at around 10-15 frames per second no matter what resolution you set the game at.
Don't assume that I haven't tried everything to fix it either, different drivers, enabling triple buffering via the registry etc, nothing worked except for one thing...changing the games detail level down to zero, this made the game playable but it looked pretty bad to say the least. I could accept the lower frame rate and blame my PC if the game looked exceptional like say Quake 3 (Which still gives around 60 frames per second on my PC) but the fact that it doesn't makes it even worse.
The new faces that have been added to Euro 2000 and have been branded about as been great in some reviews and previews are nothing to write home about to say the least, I personally prefer the ones used in Fifa 2000. Sound and music are yet again excellent though, with John Motson and Mark Lawrensen both returning to do the voice over commentary and Des Lynam as the introducer to each game.
Final Comments
How It Grades
Originality: 60%
Gameplay: 65%
Story: N/A
Graphics: 80%
Cutscenes: 90%
Sound: 90%
Music: 90%
Manual: 75%
Interface: 76%
Multiplayer: 72%
Overall: 69%

As you can tell, I am very disappointed with Euro 2000 as I had high hopes for it after reading through a number of previews and the fact that Fifa 2000 is one of my most played games, but this is basically a slightly better looking version of Fifa 2000 just 6 months after that came out, and I can't really recommend readers to shell out £30 for a title that should be an add-on. That and the fact that the frame rate is dire not just for me but for many other users. A real shame especially as it will sell so well.
Specs & Package
Overall Score
69%
Version Reviewed
UK Version 1
Release Date
Out Now
In The Box?
1 CD
1 Manual
1 Reference Guide
The Good Points
Great Sound
Good Fifa 2000 Gameplay
The Bad Points
Almost Identical To Fifa 2000
Dire Frame Rate
Too Expensive
Similar To
Fifa 2000
Reviewers PC Setup
Pentium II 450
Windows 98 Second Edition
128 Meg SD-Ram
Matrox G400 32MB AGP Graphics Card
DirectX 7a
SoundBlaster Live! Value
17" LG Electronics Monitor
Microsoft Force Feedback Pro
Microsoft Game Pad Pro (USB)
Microsoft Digital Sound System 80
Microsoft Intellimouse Explorer

DVD TV Player - Pioneer DV-626D
Widescreen TV - Sony KV-28WS2U 28"
DVD-ROM: Toshiba SD-1202

PC Required
Windows 95/98
Pentium 133
32 mb ram
4x cd rom Drive
Mouse and Keyboard
640*480 video card with 2mb ram
Windows compatible sound device
100 mb free hard drive space