Product: Midtown Madness
Company: Microsoft Games
Website: http://www.microsoft.com/games
Estimated Street Price: £35/$40
Review By: Byron Hinson
The Features and The Basics
Microsoft hit us with yet another racing game, this time in the form of Midtown Madness. Combining racing, urban navigation and a large scale map to fully explore. As the player you main aim is to get to the end of the course before your opponents, this means driving through roads, shortcuts, neighborhoods and even smashing through some buildings. Here are run down of the games features:
Adrenaline-Pumping Gameplay - Midtown Madness is the first vehicular racing game to render a "virtual Chicago," including over a 100km of roads, city landmarks, pedestrians, changing weather conditions, a 'live' police system, dozens of shortcuts and hundreds of interactive objects (from working bridges to parking meters). Five types of racing scenarios, including Explore/roam, Waypoint, Blitz, Circuit and Online Cops & Robbers provide hours of gameplay.
Wide Assortment of Cars - Race in a cool collection of 9+ licensed vehicles - from exotic race cars to semi-trucks - each with incredibly accurate physics, damage modeling and unique strengths for navigating city streets.
Wide Open Racing - Midtown Madness features exciting racing scenarios with no fixed tracks to restrict you. Create your own best course with virtually unlimited shortcuts and routes through the city.
Multiplayer Capability - Challenge up to 8 opponents online via the MSN Gaming Zone (msn.zone.com) or race on your own against an intelligent AI in single play.
Installation and In-Game Options
Installation is simple - as it should be for a Microsoft title on Windows 98. Auto play begins and you decide where you would like the game to install and that is pretty much it.
Once loaded you are greeted with a few options:
Quick Race - Choose Quick Race to bypass most Setup steps and get right into the driverís seat. Just pick a vehicle and go!
Single Player - You have lots of options for all kinds of racing, including just cruising around the city!
Cruise option: Explore the city, become one with your vehicle, and practice up for some serious racing, without the pressure of the clock.
Blitz Races: Follow a trail of checkpoints and reach the Finish Line before time runs out. There are a bunch of different Blitz Races to challenge you!
Checkpoint Races: Take any route you want to clear all the checkpoints before your computer-generated opponents do the same. Choose from lots of cool Checkpoint Races!
Circuit Races: Finish laps as quickly as you can on charted courses through Chicago.
Multiplayer - When youíre in Multiplayer mode you can compete against your friends in Checkpoint Races, Blitz Races, and Circuit Races. And in Multiplayer Cruise mode, you can explore the city with your friends. These Multiplayer games are nearly identical to their Single Player counterparts.

The other advantage to Multiplayer is the special Cops & Robbers Match, in three variations: Free-for-all, Cops vs. Robbers, and Robbers vs. Robbers.
Race Records - Just what it says.
Youíve got lots of choices in both Single Player and Multiplayer games. In Single Player mode, you can choose between Checkpoint Races, Blitz Races, Circuit Races, and the Cruise mode. You can also set the difficulty level and create or load vehicle drivers complete with profiles. In Multiplayer, you can play lots of different types of games with other people.
Gameplay
Midtown Madness is all about getting to the end of each course by any means necessary and before you opponent. With each race you are able to select a different type of vehicle that will suit the environment around you, for example, if you want to have a vehicle which is likely to stay in one piece throughout the whole level then choose a bus, but be warned that it is damn slow.
To begin with there is a choice of two courses (There is only one map). Once you complete a course by finishing in a certain position (Usually the top three) then more courses and more vehicles are unlocked for you. Although I don't think this is the best decision for a racing game, it does help give you an added incentive to complete courses.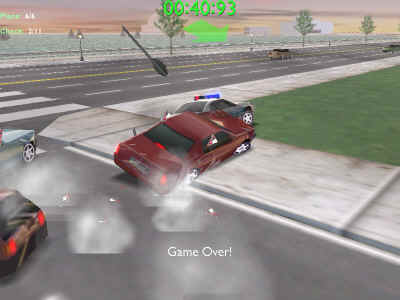 Racing in Midtown Madness is easy to get the hang of thanks to the first couple of courses really being training runs before the action really heats up later on. While racing around the city you come up against a number of city environments that try to slow you down, they include traffic: the cars actual follow the road laws by stopping at traffic lights and driving down the correct lanes.
Police who chase after you at every opportunity you give them, once they catch up with you they will do everything they can to smash you off of the road and then arrest you. In the event that you smash into any of the oncoming traffic then damage starts to show up on your vehicle, if you crash into enough cars then your vehicle will turn into a steaming wreak and your game will end.
The game is fast paced and fun throughout, you don't have to take specific paths to complete courses, it's pretty much a free for all.
Multiplayer
I've managed to play a few games of Midtown Madness over the internet, mainly via the Internet Gaming Zone. The first thing I noticed was that there is no other traffic in the multiplayer mode. Admittedly it could cause a little lag, but I'm sure an option to switch it on wouldn't have gone amiss. Cops & Robbers is fun, but not as good as old fashion racing.
Graphics & Sound
How It Grades
Originality: B-
Gameplay: A-
Story: D
Graphics: B+
Cutscenes: C-
Sound: B
Interface: A
Multiplayer: A-
Overall: A-
Midtown Madness doesn't have the most eye shattering graphics, lighting or special effects, but it does do the job it was brought in to do - show off the lock and feel of a real life city. Midtown Madness helps bring the city of Chicago to life on your PC, citizens, vehicles and buildings are all well designed and the differences in vehicle designs are clearly visible.
While the sound effects are pretty good throughout the games levels with smashes and horns all over the place, the commentator does get a little repetitive as always in these types of game. I was left a little disappointed with the CD streamed music, I just felt that it didn't go well enough with the game, which is a little strange as most Microsoft racing games have perfect music to go with the gameplay.
Final Comments
Midtown Madness just about has the perfect balance between realism and fun. There are a few minor quibbles due to the fact that you have to complete certain races before you can unlock other vehicles and courses but all in all another excellent racers from Microsoft...Roll on Monster Truck Madness 3.
Overall Score
88%
Version Reviewed
Version 1.0 UK
Release Date
Out Now
In The Box?
1 CD
1 Set of instructions
Reviewers PC Setup
Pentium II 450
Windows 98 Second Edition
128 Meg SD-Ram
Voodoo 2 - 8mb
DirectX 6.1a
SoundBlaster Live! Value
Toshiba SD-1202 DVD-ROM - 32x
17" LG Electronics Monitor
ATI 8mb XPert AGP Graphics Card
Microsoft Force Feedback Pro
Microsoft Freestyle Pro (USB)
PC Required
Pentium 200 with 3D Accelerator
32 MB of RAM
95 MB of available hard disk space
Quad CD-ROM drive
Microsoft DirectX 6.1 (Included)
DirectX Compatible Sound Card