Product: FrontPage 2000
Company: Microsoft
Website: http://www.microsoft.com/frontpage
Estimated Street Price: See Bottom Of Review
Review By: Byron Hinson
FrontPage Introduction
When people say that they use FrontPage to develop websites, they usually get laughed at. But the truth is, Microsoft's FrontPage program has been getting better and better over the past few years. With FrontPage 2000 you finally see many improvements to both the interface and raw HTML editing (It doesn't screw up your hand coding).
Who Would Use It? - The Basics
Microsoft FrontPage is designed for use by both business and home users who would like to create a website. You don't need a great knowledge of HTML to get started either, but a bit of knowledge in the very basics helps you out a lot.
To begin, FrontPage 2000 lets you create your own FrontPage Web on your hard drive. By clicking on File - New - Web you get a tab like the one below. For personal users who would like to create say a homepage, you just click on the Personal Web option and the FrontPage 2000 wizard guides you through the next few phases to setup a web on your PC, the web will include a folder of images, photos and a starting page for you to work on. For those of us who feel like can do pretty much all of this by themselves just click on the One Page Web and take it from there.
If you already have a folder on your PC you would like to turn into a FrontPage web then you can import a source directory of files from your local computer or network. You can also import a web from a Web server on your computer, on a network server, or from the World Wide Web.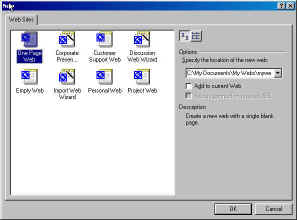 Obviously you don't have to go the whole hog and create a web on your PC or on the internet, if you just feel like creating a single page then FrontPage 2000 has a lot of other options of you.
By clicking on File - New - Page you get a tab similar to the one below. As you can see, FrontPage 2000 has many new page styles for you to choose from, they are very easy to work through once created. Information on how to edit them is shown on the actual page while you edit it.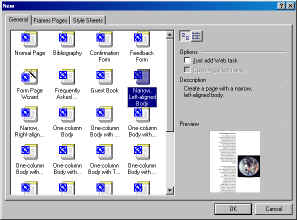 The Editor and The Explorer
The layout of the FrontPage 2000 has had quite an overhaul, not in terms of the way it looks, but because both the FrontPage Editor and the FrontPage Explorer have been combined into one. This is a far better way of doing things as it means you no longer get multiple windows opening up all over the place like previous versions.
The Explorer allows you to select and edit files, import, publish webs, create new webs and pages etc. It also allows you to drag and drop pages into different places on your web and have FrontPage 2000 automatically update links to that specific page so you don't have a load of broken links lying around your website. The site reports area that tells you how many broken links there are on your website now shows up slow loading pages, older files, component errors and unlinked files.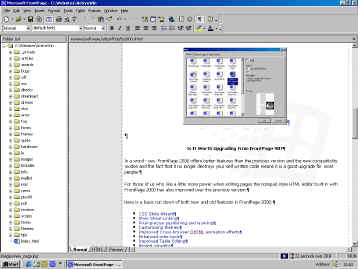 The editor doesn't have that many changes when you look on the surface, but when you go further into the options then you will start to notice a number of new features such as the compatibility mode (Shown below). This allows you to specifically target certain browsers and browser technologies, this means you can easily design a site for multiple browsers without wondering if everything will work ok in each one.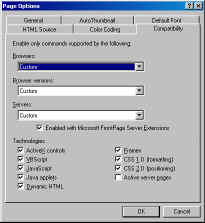 Is It Worth Upgrading From FrontPage 98?
In a word - yes. FrontPage 2000 offers better features than the previous version and the new compatibility modes and the fact that a new HTML source option tab allows you to set FrontPage 2000 to no longer destroy your self written code means it is a good upgrade for most people. For those of us who like a little more power when editing pages the notepad style HTML editor built in with FrontPage 2000 has also improved over the previous version.
Of course that doesn't mean that there aren't any problems or bugs, there are a few annoyances. Microsoft have for some reason decided to remove the options to "Save All" pages if you have been editing multiple pages, there is also an annoying <br> bug related to hyperlinks which can cause a large mess of links which shouldn't be there when doing no space breaks.
Here is a basic run down of both new and old features in FrontPage 2000:
CSS Style Wizard
Style Sheet Linking
Pixel-precise positioning and layering
Customizing themes
Improved Cross-browser DHTML animation effects
Enhanced color tools
Improved Table Editing
Nested subwebs
Target specific Web browsers (Version 3.0 Browsers), features, and servers
Background spell check underlines
Pre-built web components
Web server administration
Roaming user profiles
HTML source preservation
Quickly insert code
Show All Tags
Personalized HTML formatting
Online Help Improvements
HTML Terms In Help
Toolbar Customizations
Final Comments
How It Grades
Installation: A-
Interface: A
Ease Of Use: A-
HTML Features: B
Cost: B+
Overall: A
There are enough new features and fixes in FrontPage 2000 to warrant a purchase, it's ease of use and extensive wizards to help you through the chores of designing web pages will make it a godsend to those who don't have the time or money to spend ages designing web pages.
The new compatibility mode also offers a good enhancement to FrontPage making it far easier for users to design pages for nearly all browsers that are available today. I guess the real question is how long until the next upgrade to the FrontPage series? Oh and incase you were wondering, yes I wrote this review in FrontPage 2000.
Overall Score
91%
Version Reviewed
FrontPage 2000: Full Final Version
Release Date
June 1999
In The Box?
1 CD
PC Setup
Pentium II 450
Windows 98
128 Meg SD-Ram
Voodoo 2 - 8mb
SoundBlaster Live! Value
Toshiba SD-1202 DVD-ROM - 32x
17" LG Electronics Monitor
ATI 8mb XPert AGP Graphics Card
To Use Microsoft FrontPage 2000, You Need
PC with Pentium 75 MHz or higher processor
Microsoft Windows® 95 or later operating system, Microsoft Windows NT® Workstation operating system version 4.0 or later with Service Pack 3 or later, or Microsoft Windows NT® Server operating system version 4.0 or later with Service Pack 3 or later
For Windows 95 or Windows 98:
– 16 MB of RAM for the operating system, plus an additional 8 MB of RAM for FrontPage
For Windows NT Workstation version 4.0 or later:
– 32 MB of RAM for the operating system, plus an additional 8 MB of RAM for FrontPage
167 MB of available hard-disk space (Number indicates typical installation; your hard-disk usage will vary depending on configuration. Choices made during custom installation may require more or less hard-disk space.)
CD-ROM Drive
VGA or higher-resolution monitor; Super VGA recommended
Microsoft Mouse, Microsoft IntelliMouse®, or compatible pointing device
Additional Items or Services Required to Use Certain Features
9600 baud modem; 14,400 or higher-baud modem recommended
Multimedia computer required to access sound and other multimedia effects
Microsoft Mail, Microsoft Exchange, Internet SMTP/POP3, IMAP4, or other MAPI-compliant messaging software required to use e-mail features
Some Internet functionality may require Internet access and payment of a separate fee to a service provider and local charges may apply; some Internet functionality may require Web server software, which is available separately from Microsoft and other third-party vendors
Some database features require Microsoft Access or some other ODBC-compliant database
Microsoft Image Composer Requires
44 MB of available hard-disk space (Number indicates typical installation; your hard-disk usage will vary depending on configuration. Choices made during custom installation may require more or less hard-disk space.)
Optional: Windows-compatible tablet with mouse emulation for basic mouse support, or Windows-compatible tablet for Full Pressure support
Optional: TWAIN-compatible scanners or digital cameras
Pricing and Availability
Microsoft® FrontPage® 2000 will be available to the public in early June, 1999. Customers have several options as to how to purchase Microsoft FrontPage 2000:
| | |
| --- | --- |
| Version | Price |