Product: TitleDeko
Company: Pinnacle Systems
Website: http://www.pinnaclesys.com
Estimated Street Price: $99.00
Review By: Julien Jay
The Features
With the high spread of the processors' performance increase, many users are mounting their family or professional videos on their computers with high end and powerful software/hardware tools. What are the advantages, you'll ask? Well, you can easily capture and create a real customized video like pros with just a few mouse clicks. Changing sounds, adding titles, resizing videos, changing videos pictures, making special effects, animated added pictures in your videos. The computer video solutions are more powerful and easy to use than the traditional high end VCR or camcorders.
Most of the high-end video computer users use Adobe Premiere 5 software to create their own videos. However, Premiere 5.1c has got a big weak point: indeed the titles creation process is hard and not very creative as you can't animated them and you only have the choice of the Windows fonts for your titles. So, Pinnacle, your best video friend, has released a small plug in software for Adobe Premiere 5 or higher named TitleDeko. For an estimated price of $99 some may think it's expensive software, but in fact, with all the features that offer this software the price is reasonable.
Installation And Setup
Insert the Pinnacle TitleDeko CD, select your language and click OK. The setup runs and TitleDeko is installed in a few minutes. Obviously to use TitleDeko you should have Adobe Premiere 5 or higher installed first. Please note that as the updates are now released you should use to install Premiere 5.1c that will correct many bugs. Once the setup is finished you wont see any new shortcuts or program group in your start menu. Indeed as TitleDeko is a plug in you can only launch it from an Adobe Premiere project.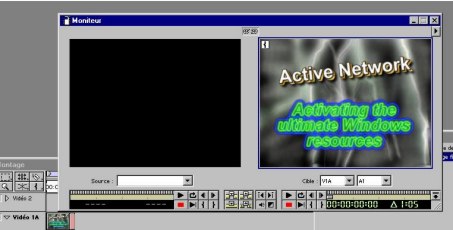 To run TitleDeko, start Premiere 5.1c, open one of your video project, click the project menu and select create and TitleDeko. The TitleDeko window will appear over the Adobe Premiere windows. The GUI of TitleDeko is correct and user-friendly even if it's got a old 'Windows 95 look' (the toolbar is not a flat one like in Office 97 for example) You simply have to choose your title style on the right pane of the window and you type your title in the center of the window. Then you can resize your title, change its style or its color, or even its font! Once your title is done simply push the F12 key to accept the title. The title file will be included in your 'project files' toolbar. Drag and drop the title file in your premiere video baseline. Now you can click on the play button of premiere and you'll see your title! What an easy and great way to add titles!
Features
Type your title or legend in TitleDeko. Now you can select all the title or just some letters of it with the advanced selection features. You can change the font size; font typeface and you can also apply bold, italic, or underline effects. A powerful feature allows you to align your text in the layout, as you want. A justifying feature is also available! The keypad will simplify your job to position accurate your text in the layout. Sure you can move or resize your text. You can even rotate it simply with just a mouse click! For your convenience, Pinnacle, has included a multiple level undo feature. Also you can change the spaces between individual letters or words. A find/replace feature allows you to search some words in your text. You can also bring forward or bring to front some selections. The shadow feature will enable you to add a virtual light to make a shadow effect. Finally you can add shapes (circle and rectangle) to your title layout.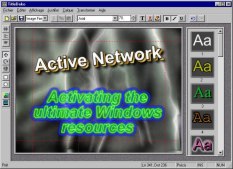 Not only TitleDeko creates titles but it has also got advanced features! You can add a background picture (*.bmp, *.jpg, *.gif, *.pcd) of your choice in any of your titles. Also you can add shadow backgrounds effects to every title you create. You can animate your title or rotate it as you want! More you can add your title by transparency on your video (but you'll have to select the alpha transparency in Premiere 5.1c). You can also create your own title styles! More you'll be able to select looks to apply to your texts! Also you can add borders of your choice to every file! Every title can be saved on your hard disk under the TDK own file format or under the Targa file extension! TitleDeko really woks great and will add a professional touch to your videos!
Glitches
We didn't experience any problems with TitleDeko except a minor bug: when you exit premiere and TitleDeko a little window named Pinnacle3d stays on your desktop. You'll also find on the TitleDeko CD, Pixélan SpiceRack video transitions effects. Indeed the CD include 300 transitions files that you'll be able to use in Adobe Premiere 5 to make your transition effects more beautiful. However we regret that unlike in Pinnacle FreeFX, Spicerack doesn't contain a preview plug-in that show user the difference between the 300 transitions effects! Worst spice rack hasn't got any setup! You should manually uncompress and copy the appropriate (indeed you've got 300 files for each predefined video sizes) spice rack transitions files on your hard disk and manually select it in Adobe Premiere (these transitions won't be list in the transitions dockable window of Premiere). The drawing feature of the titles can be sometimes a little bit slow. Finally, we regret that the titles can't be saved as BMP and can't be print to make storyboard.
Final Comments
How It Grades
Setup: 84%
Features: 89%
Compatibility: 92%
GUI: 80%
Effects: 95%
Overall: 88%
TitleDeko is the essential plug-in software for every video amateur. TitleDeko will really amaze you and your spectators, by adding pro effects to your videos! Don't forget that TitleDeko needs adobe Premiere 5 or higher to work properly. Also TitleDeko is included with some Pinnacle video capture cards such as the DC30 Plus and the DC50 models. Finally please note that the TitleDeko software included with the pinnacle studio range of products is slightly different that the TitleDeko stand alone software. Due to its low and reasonable price, there's really no reason to do not buy it, right now! You can order it by calling Pinnacle systems. A demonstration version is also available on the Pinnacle Systems' website.
Note: Pinnacle Systems has released a patch upgrading the version 1.206 to 1.220; the patch is available on their website.
Specs & Package
Overall Score
88%
Version Reviewed
Version 1.206
Release Date
Out Now
In The Box?
1 CD
1 Manual
1 Quick Reference
The Good Points
Nice Effects
Worth the Price

The Bad Points
Old Looking Interface
Similar To
N/A
Reviewers PC Setup
Pentium II 450
Windows 98 Second Edition
128 Meg SD-Ram
Matrox G400 32MB AGP Graphics Card
DirectX 7a
SoundBlaster Live! Value
17" LG Electronics Monitor
Microsoft Force Feedback Pro
Microsoft Game Pad Pro (USB)
Microsoft Digital Sound System 80
Microsoft Intellimouse Explorer
PC Required
Adobe Premiere 5 or higher