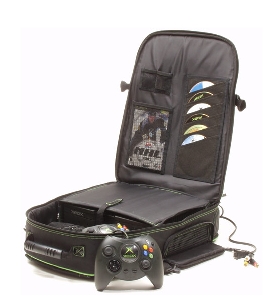 Introduction
Let's be honest now, the Xbox is huge. Whenever that argument comes up in a fanboy discussion, I always wonder how often people pick it up and carry it around. My Xbox has sat on the floor in the exact same spot since I got it. But for some people, of course, that isn't the case. And for those people who actually do carry the huge box around (why is it bad that it is big anyway?), the LASR GamePak for Xbox is a great way to carry your Xbox and games in a neat, organized way.
The GamePak for Xbox is a remarkable product. Essentially an Xbox backpack, it is made strong and sturdy. It has a huge number of features and little hidden extras. It is amazingly well thought-out.
Features
The GamePak for Xbox is crammed with features. It has a storage pouches for games, game manuals, controllers, wires, and even memory cards. One of the GamePak's best features is its zippered ventilation compartments. Whenever you want to play, just unzip the vents and you are set to go – with the Xbox still in the pack!
The GamePak will hold everything you need to play your Xbox while you are on the road. It has eight sleeves exclusively for your games and DVDs. LASR claims these are "non-scratch" pockets, but they seam a bit coarse. With the detail they have put into other aspects of the pack, however, it makes it hard to doubt their claim. The GamePak also has two mesh pockets for memory cards. In addition, it has a slew of specialty compartments for different Xbox accessories. It has places for two regular controllers built in, and more can be stored in the front pocket.
With the GamePak you can play the Xbox while it is still in its case. It has a zipable* back flap that allows you to thread all of your wires out the bottom of the backpack and hook up the Xbox to your TV and power source (and high speed modem, if you are a Live subscriber). The aforementioned vents make sure your Xbox doesn't overheat. When you need to go, just shove the cables into the pack, zip it up, and go!
Design
The GamePak for Xbox is built very sturdily. The actual Xbox unit is secured in three different ways. It has a rubber handle and strong shoulder straps. Its sides are reinforced with rubber. The actual material is very solid. The pack is black with green trim (because EVERYTHING relating to Xbox must have some green). It is very solidly built and doesn't feel cheap at all.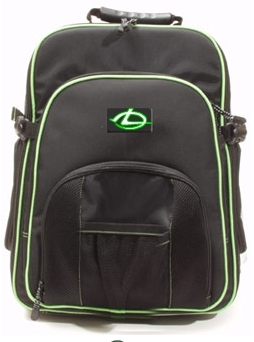 When you consider how much this is – loaded with an Xbox and games – is worth, you realize how important it is that the pack will hold it safely. The Xbox is held in place within the pack by a board with a strap to make sure it stays put. If you are playing your Xbox while it is in the GamePak, the strap gets in the way of the disk drive so you can't change games with it attached. LASR has assured us that the strap is no longer a problem in final version of the pack. The bag zips completely and the even has strong side buckles. I had no fear of the Xbox falling out.
The GamePak is fashionably and wouldn't look dorky if you were carrying it around your cool friends. If someone didn't know what it was, they would most likely assume it was just an oversized backpack (which is good because you won't have to worry about it getting stolen as much).
Final Comments
How It Grades
Features: 89%
Design: 85%
Durability: 90%


Price/Value:

91%


Overall:

89

%
The GamePak for Xbox is a great solution for transporting your Xbox and Xbox goodies. Of course, if you just have your Xbox lying on the floor all the time and rarely take it to friends it may not be worth the investment. However, if you do travel with your Xbox a lot, this is definitely the pack to get. It is very rugged and its features are well thought out. It is available at LASR's website and will be coming to other retailers soon.
Specs & Package
Overall Score
89%
Version Reviewed
GamePak for Xbox
Release Date
Out Now
The Good Points
Sturdy, Rugged design
Well Thought out
Decent Price
The Bad Points
With Xbox in, Heavy
*The word "zipable" was invented by Todd Richardson and may be used in accordance with the GPL.

Return To The Xbox Section