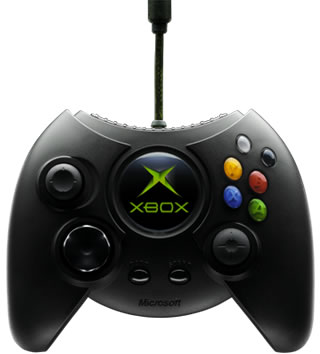 Product: Xbox Game Controller
Company: Microsoft
Website: http://www.xbox.com
Estimated Street Price: $39.99
Review By: Byron Hinson
The Features
Some people say that the controller which comes with the game console can make or break whether people enjoy there game playing. I guess in some extent that is true, Nintendo's N64 had a great controller..then the Playstation 2 had a very good one...now how will Microsoft's Xbox Game Controller fair?
Eight-way directional pad (D-pad)
Left and right analog sticks; left and right shoulder triggers
Six pressure-sensitive multicolored analog buttons
Dual slots for memory cards and other peripherals
Built-in "rumble" feature to increase gaming realism.
The controller also features a cord over 9.5 feet long to give gamers the freedom to sit nearly anywhere they want during gameplay.
Installation and Settings
Review Quotes
"I have noticed so far during hours of use is that my hands and fingers do not get as achy as they have done with the Playstation 2 controller"
I'm not quite sure what I have added this section because installation is simple. Plug in the Game Controller and you are done. Nothing more is needed. The Xbox has 4 controller ports which, unless you have the DVD Remote setup you will have at least 3 spare to use for the Game Controller.
The Controller Itself
The first thing you will notice with the Xbox game controller is just how much bigger and bulkier it is compared to any other consoles offerings. Is this a bad thing? Well for some people I'm sure it will be...why else would Microsoft have a different designed version for people in Japan? Personally it wasn't a problem for me, and the Game Controller fitted into my hands easily.
The main thing I have noticed so far during hours of use is that my hands and fingers do not get as achy as they have done with the Playstation 2 controller for example, I am guessing that the larger design of the Xbox Game Controller has helped prevent this. The controller took a little while to get used to, but once I had played DOA3 and Halo the controller became easy to master.
A great feature on the Xbox controller is how if you have someone walk past the Xbox console and pull the game controllers cord by accident, you would expect that the Xbox console would come crashing down with it. Well with these controllers it doesn't happen and believe me, I've already managed to test it by accident. At the bottom of the Game Controller cord is an Inline Release, this means that when you pull against the controller cord too much, the Inline Release splits from the console connection and thus this means that the console will not fall down and be damaged. Then once this has happened, all you need to do is to connect the inline release back into the Game Controller connector in the Xbox.
Tests
I've used the Game Controller on 6 different titles so far, each one lets you change the button layouts easily. The games I have tested it on are as follows:
Halo
DOA 3
Tony Hawk's Pro Skater 2x
Madden 2002
Project Gotham Racing
Dave Mirra 2002
I have been letting a number of other people use the Game Controllers to test them out more, the only ones who have had problems with it so far are younger children 6+ who's hands don't grip the large controllers so well. This leads me to hope that Microsoft will also release their smaller sized Game Controller that they have designed for Japanese use in to the US and Europe.
Some of the titles made good use of the "Rumble" feature built into the Xbox Game Controller. This is basically simple force feedback styles, similar to those seen on the PC although not quite as advanced. The best title to make good use of the Rumble style is Halo, with you being able to feel each different weapons firing style.
Final Comments
How It Grades
Ease Of Use: 85%
Design: 85%
Manual: 85%
Installation: 93%
Price: 85%
Overall: 86%

I mixed feelings, from my own personal view, the Game Controller is very good and fitted into my hands well. I have also, as I said earlier, managed to play for longer periods on games than I have done with the Playstation due to the fact that the Xbox Game Controller doesn't seem to cause any aches while playing. The main minus point though has to be the size, some younger people won't like the fact that it is a large sized, bulky controller. Hopefully a comparison with the Japanese controller in a few months will help people decide which extra controller to get. But hey - I like this one.
Specs & Package
Overall Score
86%
Version Reviewed
Xbox Game Controller (U.S.)
Release Date
Out Now
In The Box?
1 Xbox Game Controller
1 Set Of Instructions
The Good Points
Easy To Get Used To
Vibration Modes
Great Inline Release Feature
The Bad Points
Bulky

Return To The Xbox Section