ActiveXBox
Xbox News
DVD Compatibility Lists
Inside The Xbox
Xbox Released Titles
Xbox 360 Released Titles
Screenshots/Videos
History Of The Xbox
Links
Forum
Xbox FAQ
Xbox 360 FAQ



ActiveWin
Articles
AskAW
DirectX
ActiveDVD
ActiveMac
Forums
Interviews
News
MS Games & Hardware
Reviews
Support Center
Windows 2000
Windows Me
Windows Vista
Windows XP



News Centers
Windows/Microsoft
Apple/Mac
Hardware
Xbox
News Search



Windows XP
Introduction
System Requirements
Home Features
Pro Features
Upgrade Checklists
History
FAQ
Links
Tips



FAQ's
Windows Vista
Windows 98/98 SE
Windows 2000
Windows Me
Windows "Whistler" XP
Windows CE
Internet Explorer 6
Internet Explorer 5
Xbox
DirectX
DVD's



Tips & Tricks
Registry Tips
Windows 95/98
Windows 2000
Internet Explorer 4
Internet Explorer 5
Windows NT Tips
Program Tips
Easter Eggs
Hardware
DVD



ActiveDVD
DVD News
DVD Forum
Glossary
Tips
Articles
Reviews
News Archive
Links
Easter Eggs
Drivers
Movie Posters
Top DVD Sellers

DVD EXPRESS



Latest Reviews
Xbox/Games
Halo 3
Call of Juarez

Applications
Adobe Illustrator CS3

Hardware
Athlon 64 X2 6000+
Acer Ferrari 5000



Site News/Info
About This Site
Affiliates
ANet Forums
Contact Us
Default Home Page
Link To Us
Links

Member Pages
Site Search
Awards



Credits
©1997/2012, Active Network. All Rights Reserved.
Layout, Concept & Design by light tower Designer Dream. Content written by the Active Network team. Please click here for full terms of use and restrictions or read our Privacy Statement.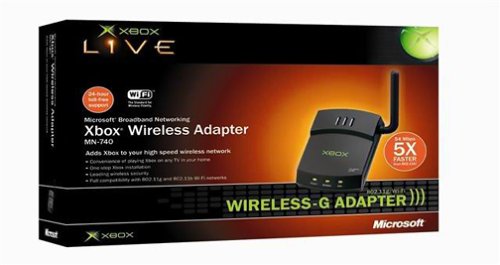 Product: Xbox Wireless G Adapter
Company: Microsoft
Website: http://www.xbox.com
Estimated Street Price: $99.95
Review By: Brian Kvalheim
The Features
Protect your data with the strong security features of 802.11g wireless.
Flexible support for string wireless security with 128-bit Wired Equivalent Privacy (WEP).

Upgradeable for future security features.
Get unmatched speed, freedom, and flexibility with state-of-the-art 802.11g wireless.
Lightning-fast 54 Mbps delivers five times the network speed of 802.11b networks.

Internal and external antennae to maximize range and throughput.

Connect Xbox consoles wirelessly for ultimate multiplayer gaming.

Enjoy wireless freedom of playing music, games, and video anywhere.
Wirelessly play on the Xbox Live® service with anyone anywhere.

Installation and Settings
Review Quotes

Signing on to Xbox Live was instant, and access to XSN Sports was uninterrupted. Voice quality was rated excellent in my opinion.
Having just entered the world of wireless networking at home, I was rather uneasy about the idea of setting up my Xbox on the same wireless network, and successfully doing so. My current home network is running the Microsoft MN-610 Wireless Desktop Series, so my assumption is that it should work out great.
After opening the box, the first thing you will find is a plastic wrapped CD-Rom, and under that you will see the Getting Started pamphlet. Unfold the pamphlet, and you find detailed steps to set up your new Xbox wireless adapter. By detailed, I mean diagrams and pictures. The instructions were easy to read and understand. Using one of my tower speakers, I rest the adapter on top. Plug the power pack into my open outlet on the wall, and then into the back of the adapter. Plug the included black Ethernet cable into the back of the Xbox, and then into the back of the adapter. Finally, put the installation CD-Rom into your Xbox.
Once the CD-Rom has been put in, setup promptly begins. 5 seconds later a message on your newly installed Xbox Wireless Dashboard appears "One or more wireless networks detected". Here you are prompted to choose your network. In my case, I only had one network listed, with one additional choice "other". After selecting my network, the Xbox did it's *thing*, which took about 45 additional seconds. The Xbox dashboard showed me: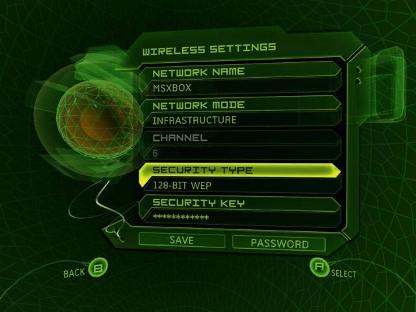 Network Name

Network Mode

Channel

Security Type
From there I was given the option to enter a password or save. After I chose save, the Xbox prompted me with the following information:
Wireless Status

Connected

Name

Speed

Strength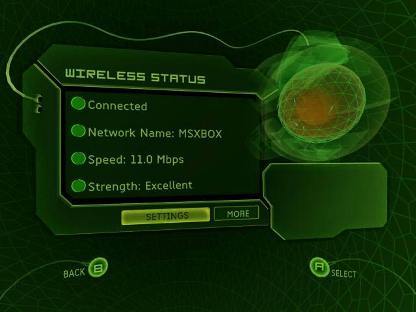 Along with some wireless details, such as the firmware version: 1.0.1.20 Boot: 1.3.0.05
Setup complete! Plug in the power pack, Ethernet cable and CD-Rom. It was the easiest installation I ever remember doing on my network. Those who are using WEP security will find an additional step for their key information.
The Wireless Xbox Experience
If you have never used Xbox Live before, then you will be surprised by how well this new wireless device takes you to places your Xbox has never taken you. If you have been running Xbox live through your normal hardwired route, you will not notice any changes, other than a blinking light on your adapter during Xbox Live activity. And this is a good thing. I managed to play without any lag in a few quick Crimson Skies tournaments, as well as playing 72 holes of golf on XSN Sports after completing the setup.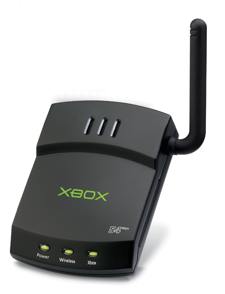 Signing on to Xbox Live was instant, and access to XSN Sports was uninterrupted. Voice quality was rated excellent in my opinion. I noticed that it felt like I was still hardwired into my living room wall. One thing I noticed that I had never experienced when I was hardwired was an echo of my voice when attempting to talk to my fellow gamer. They were unable to hear me for the first 30 seconds of the game during our golf tournaments. When speaking, I would hear myself only. Once about 30 seconds passed by, conversation was normal. I can't determine if this was related to Xbox Live or the new adapter during the time of testing.
The advantage I am finding with this is that I can now take my Xbox anywhere in the house, onto one of our 6 televisions, including the one in my garage and play Xbox Live. My tests proved successful when moving to the opposite side of the house and connecting to a TV that was 60+ feet away from my MN-610 station, and there wasn't any signal strength loss. And now I can still play Xbox Live on any TV if my wife feels that she MUST watch her recorded soap opera on the flat screen.
Final Comments
How It Grades
Ease Of Use: 100%
Design: 90%
Performance: 94%
Features: 95%
Manual: 94%
Drivers: 100%
Price: 80%
Overall: 93%
What is there not to like about Wireless Xbox Adapter from Microsoft? It's fast, reliable, well built, sleek, and looks pretty cool next to your home theater system. However, I have seen the prices range from $99.99 - $139.99 depending on where you look. That is almost half the price of an Xbox. I would like to see a price drop to $59.99 so we can see more widespread use. One item that might be able to cut the cost would be eliminating the power pack. Why couldn't Microsoft use the power of the Xbox to power the adapter, similar to how they power the USB Wireless Adapter in the MN-610 Series desktop kit. This would help reduce the price, and it would take up one less outlet in your already overstuffed Monster power supply. If you want to be free to roam with your Xbox Live, I highly recommend this product.
Specs & Package
Overall Score
93%
Version Reviewed
Xbox Wireless G Adapter
Release Date
Out Now
In The Box?
1 Adapter
1 Manual
1 Power Adapter
1 RJ45 Cable
1 CD ROM
The Good Points
Fast
Easy to Setup
Compatibility
Xbox Dashboard Skin
The Bad Points
Price
Could be powered from Xbox?
Could be smaller


Return To The Xbox Section