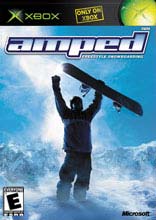 Product: Amped: Freestyle Snowboarding
Website: http://www.xbox.com/Ampedfreestylesnowboarding
Estimated Street Price: $49.95
Online Manual: Xbox.com
Review By: Byron Hinson
The Features
Amped: Freestyle Snowboarding is as you can probably tell, a snowboarding title (sorry, I had to state the obvious). There are not all that many snowboarding games out for any of the major consoles, apart from the obvious very popular SSX + SSX Tricky. So how does Amped: Freestyle Snowboarding fair now that it concentrates specifically on tricks and not on racing?
Open freestyle riding. Snowboard enthusiasts can forget miles of barren wasteland and tight tunnel races. Amped: Freestyle Snowboarding offers 1,500 jumps and rails on 80 wide-open mountain runs.
Players can jib, bonk or spin between runs to hidden areas and cool jump sequences.
Mountains are alive with crashing boarders, flying pros and roaming photographers.
Spectacular real mountains. Players can ride the runs on real mountain resorts: Utah's Brighton, Vermont's Stratton and California's Snow Summit.
Premier snowboarding resorts are re-created with perfect snow conditions and jaw-dropping, built-for-Xbox graphics.
Four international fantasy venues designed by world-renowned terrain architect Chris Gunnarson are ready for exploration.
Snowboarding media stars. Players vie for enough global exposure to become one of the world's snowboarding media superstars
Snowboarders have the chance to perform insane tricks in front of roaming photographers and camera crews to get their face on video and magazine covers.
Players also can take on challenges such as "follow the pro" or jib the snow off trees to gain exposure and unlock mountains.
More music. Amped: Freestyle Snowboarding offers ten CDs worth of hot new indie music from pounding hip-hop to rhythmic reggae.
The game includes over 220 songs from core indie labels.
Players also can rip their own songs onto Xbox, make their own playlists and import them into the game.
More in-game choice for maximum replayability. Players make gameplay choices on the mountain, not in a menu of disconnected events. Snowboarders start at the top of a peak and decide how to win from there.
There are hundreds of ways down each mountain packed with rails, kickers and half-pipes. Players take on 125 challenges, explore hidden areas and locate new spectators for a different ride every time.
Gamers can design their own multiplayer sessions and make up the rules of freestyle competition.
Installation, Settings and Loading Speeds
Installation is yet again just a simple case of putting the Xbox DVD-Rom into the Xbox DVD drive, the game loads in just a few seconds and you are basically ready to go straight away with no fuss at all. If you do feel like fiddling about though, you can change the controller configuration, soundtracks, vibration modes, and the sound options.
The game begins with a short movie/game intro which is pretty well put together, and then you get your first look at the in-game menus. The first thing you need to do is to start a new career, when you do this you get to enter your name, pick your board and decide how you want your boarder to dress.
Gameplay & Controls
Review Quotes
"I would have loved to have been able to go up against a friend in a race, or at least compete against them at the same time instead of having to play a turn based system."
Amped: Freestyle Snowboarding basically has one style of gameplay - and that is called Career mode, where you are basically a nobody, trying to become a somebody in the Snowboarding world. So how do you become a somebody? Well through performing some great tricks, impressing sponsors and racking up the points.
The first thing you should know is that Amped: Freestyle Snowboarding is not the easiest game to get to grips with, some of the controls are hard, to say the least. Your boarder is controlled with the left thumbstick, tricks (while in the air) are performed by using the right thumbstick and (if you want to perform the harder ones) by pressing a combination of the left and right trigger button along with the right thumbstick again. There are a lot of different trick types from Tail pokes to Rocket Stalefish (Don't ask me where they get these names from)
There are a lot of tricks you can perform, but early on it is best just to start learning the controls, otherwise there is little chance of you moving up the rankings in the future. You begin the game at 125th in the world, the more level challenges you complete, the higher up the rankings board you go, with the main goal of reaching number one being miles away.

During the game you get the chance to do special tricks in front of the media, doing this not only gets you more attention, but it can also lead to you gaining various media rewards for your scrapbook in the game. To perform in front of a camera man, you first must note where a red camera appears on the slops, then when close enough to it, you can perform as good a trick as possible in front of them. Rack up enough points and you will complete the media challenge.
So as you may have gathered, the main parts early on are to complete the high score challenges, gain media attention and then to try to impress the sponsors so you can get hold of new gear to wear and better boards to ride. When you get the chance to perform in front of a sponsor you must make sure that you carry out the kind of tricks that the particular sponsor likes to see, otherwise he/she will mark you down.
Multiplayer Modes
Review Quotes
"There are 13 different multiplayer contests to take part in, in each of them, both riders get three turns of 30 seconds each to try and beat their best efforts."
The worst part of Amped: Freestyle Snowboarding is sadly the Multiplayer side of the game. I know I have said about how much more realistic Amped: Freestyle Snowboarding is over SSX on the Playstation and Xbox, but I would have loved to have been able to go up against a friend in a race, or at least compete against them at the same time instead of having to play a turn based system. It would have been so much better to be able to board past a friend and showing them how the game should be played ;o) but sadly Amped: Freestyle Snowboarding lacks in this department.
There are various different multiplayer games to play, high score, best trick, media points or king of the hill. But as I said, all of tem are turn based. Very disappointing.
Graphics & Sound
Amped: Freestyle Snowboarding really does show off some of the excellent graphical abilities of the Xbox, there is bump mapping, pixel and vertex shaders used along with some wonderful snow textures. One of the main plus points of Amped: Freestyle Snowboarding is the frame rate - it is a smooth 30 fps without ANY slow down what so ever during any of the levels, and with the amount of detail being shown during your runs, that is a great compliment to the developers and the game engine.
There is so much detail in Amped: Freestyle Snowboarding, it really is great to look at. There are lots of different snow textures, so depending on where you are boarding the look of the snow is often different, especially in the areas most boarders don't go - you'll find glistening, crisp new snow to board on. Then we have the detail shown on most of the snow boarders, these range from their coats, faces and boots...most of the gear they wear is also bump-mapped for even more detail.
Sound and music wise it doesn't get much better than this. Amped: Freestyle Snowboarding contains over 200 indie music tracks, so even though there are some bad tunes, there are probably around 75% really good ones. I am an indie music fan, so perhaps I am showing some bias here, but I think that Amped: Freestyle Snowboarding has the best soundtrack anywhere right now. On the sound effects side, it isn't bad either, the snow sounds just like it should do when you are boarding over it, the voices from other boarders and from the press and sponsors is well put together and doesn't seem to get annoying. So all in all, a great sonic setup.
Final Comments
How It Grades
Controls: 81%
Gameplay: 92%
Presentation: 71%
Graphics: 90%
Multiplayer: 71%
Sound: 96%
Manual: 91%
Interface: 83%
Price: 88%
Overall: 89%
So what is missing? Well not a great deal, Amped: Freestyle Snowboarding doesn't try to be SSX, so the concentration is squarely put on performing tricks, increasing your stats etc so there is no racing, I personally would have liked to have seen some sort of racing option added into the game, but not as the main part - that way we have the best of both worlds. I really do like Amped: Freestyle Snowboarding, it is just a shame that the controls are very hard to get used to.
But in saying that, the game will last most players a heck of a long time, the graphics are excellent and the music is easily the best for any sports type game I have played so far on any console. There is a great deal to like about Amped: Freestyle Snowboarding - there are some great levels, tricks and the length of the game is good, but the multiplayer side has let it down a bit. Good, but not great like it should have been.
Specs & Package
Overall Score
89%
Version Reviewed
Amped: Freestyle Snowboarding
Release Date
Out Now
In The Box?
1 Amped: Freestyle Snowboarding DVD
1 Set Of Instructions
The Good Points
Long lasting gameplay
Great graphics
Some fantastic music
Smooth frame rate
The Bad Points
Some Dodgy Controls
Poor multiplayer modes

Return To The Xbox Section