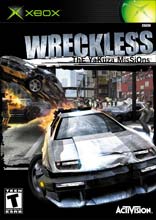 The Features
Wreckless was being touted as a Grand Theft Auto 3 beater for the Xbox, once it was clear that GTA3 was never ever going to turn up on the Microsoft console. But this is infact a completely different style of game, there is no running about for a start off. So what kind of game is it? Well read on and I'll try my best at letting you know.
Wreckless: The Yakaza Missions for the Xbox video game system is the finest high-suspense, high-speed, mission-based driving game for the much-anticipated new platform. Choose one of two roles, each with its own storyline: that of an elite anti-Yakuza squad member taking on the vicious mafia or as a high-level secret agent trying to uncover corrupt ties between the mafia and the police. Wreckless takes this thrilling genre to new heights with ultra-realistic, completely free-roaming, interactive environments, unique, pulse-pounding missions, real-time car damage, instant replays and action-packed gameplay.

Face Life-Threatening Missions - Drive your way through a total of 20 white-knuckle missions featuring a variety of tough objectives. Among your challenges: chase Yakuza transport cars, rescue a police captain trapped in a destroyed tunnel, smash into mob cars attempting to escape crime scenes, capture a mafia boss before he escapes by helicopter and clear a hijacked bus's path so that it won't crash and explode the bomb that has been planted inside.

Talk About a Killer Commute - Experience realistic driving physics and realistic threats to your life in up-close-and-personal car crashes with real-time vehicle deformation. Crash into and destroy your enemies' vehicles and take some auto body-bruising hits yourself. Better buckle up for safety.

Choose Your Story - Pick from two immersive storylines with 10 different missions each. Take the wheel as a member of an elite squad tracking down lawless Yakuza units or drive against crime as a high-level secret agent who is trying to expose illicit activities between the Yakuza and police.

Mix it Up in Fully Interactive Environments - Fight to make the streets safe in free-roaming, detailed, Hong Kong city environments loaded with shortcuts and alternate routes. Not only are the environments fully interactive, they are fuily destructible, too. Search and destroy through tunnels in crowded intersections, curly back roads...even along the edge of a skyscraper rooftop.
Installation, Settings and Loading Speeds
Wreckless loads fast, there are no long, drawn out introduction movies it basically just gets straight to the games menu screen, I haven't decided whether this is a good or bad thing yet, I actually enjoy introduction movies, it gives a game an atmosphere and worryingly this is something that Wreckless starts to show little of right from the offset.
Gameplay
Review Quotes
"During each mission you have a set amount of goals to achieve. The main goal in various missions tends to be to destroy other vehicles such as Yakuza cars"
The story, if you can call it that, goes a little something like this. The game is based around the Yakuza mobsters who are controlled by Tiger Takegi a crime overlord who has managed to get a bit friendly with the Hong Kong police (where the game is based). The game is split into two very similar parts, one where you play as members of anti-Yakuza police or as two undercover spies who try to stop the Yakuza getting too in with the police.
Wreckless, as the name suggests is all about causing havoc on the roads. The most similar experience I have had with a game is probably with the old arcade release Chase HQ released years and years ago. Whatever vehicle you pick to drive in at the beginning of each mission it will smash through just about everything on the screen without any worry of ever blowing up your own car.
During each mission you have a set amount of goals to achieve. The main goal in various missions tends to be to destroy other vehicles such as Yakuza cars, other missions are to drive to certain specified locations and then the chosen characters will take photos of the crime lord. There is variety to the missions, but nothing like the freedom you get in other driving/action titles like Grand Theft Auto 3. When smashing into the mission-goal cars during the game you get a damage meter appear on the screen, once this reaches the bottom you will finally destroy the car in question.
One problem with the game is that all of the vehicles in the game seem to feel really light when you are in control of them, I'm not one to usually complain about controls but they did feel far too light, especially when in control of the tank in the game. That's not to say it isn't something you will get used to, because it is - but the fact is that each vehicle should feel different.
The good thing about Wreckless is that it is fun, there is no doubt about it. I loved smashing into other cars, racing down small streets crashing into just about everything there was to crash into. But it can come a little boring after a while, especially with the small amount of variety in the game and the lack of longevity due to the lack of missions.
Graphics & Sound
The biggest selling point in Wreckless is easily the graphical side. It is a great achievement in many ways, there are some fantastic lighting effects, people walking around the streets, heat haze, sparks, flashes, reflections, bump mapping. You name it and you can almost guarantee that it is here somewhere. But not everything is rosy, cars you smash into don't stay on the screen for long, they disappear too quick for me. The game looks very blurred, I guess it is meant to as an effect but it gives it a less polished look to me.
One major plus point is the replays though, and full credit to the designers for trying something a little different. Each reply you have comes with full filter effects - something some of you may have seen used in Photoshop by Adobe. It really does make things look interesting enough to make you want to actually watch the replies this time round compared to a lot of other games.
The sound side is a little disappointing, the speech isn't bad, but there isn't much of it and what there is tends to get repeated far too often during the game. The music isn't too bad, but I can't say that it added much to the game as I hardly noticed it. Sound effects also seemed to sound a bit tinny.
Final Comments
How It Grades
Controls: 76%
Gameplay: 78%
Presentation: 69%
Graphics: 89%
Multiplayer: N/A
Sound: 71%
Manual: 80%
Interface: 80%
Price/Value: 79%
Overall: 79%
If you are expecting a game similar to Grand Theft Auto 3 then Wreckless isn't it. So what is it? well it is fun, short lived but fun. There are not enough missions, no free play mode (bar a cheat I believe), no multiplayer. Graphically its great to look at, if very blurry. I'd recommend getting a pre-owned version or just rent it if you can.
Specs & Package
Overall Score
79%
Version Reviewed
Wreckless (NTSC)
Release Date
Out Now
In The Box?
1 Wreckless DVD
1 Set Of Instructions
The Good Points
Great Replays
Fun Gameplay
The Bad Points
Too easy
Samey missions
Blurred Graphics
Widescreen Support
Yes
PAL 60 Support (Europe)
No

Return To The Xbox Section