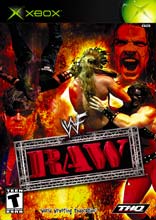 The Features
WWF RAW - It's a title that many Xbox gamers have been waiting a while for. The first World Wrestling Federation title on the Xbox, but is it good enough to compete with other console attempts at showing off the "sport". Well I guess you will have to read through the review to decide if this is the one WWF title you should be buying this year.
The top-rated show on cable, WWF RAW is now available in payers' living rooms, backed by the power of Xbox. Gamers can experience the most brutal wrestling action ever seen as they square off with more than 45 of the WWF's toughest Superstars including The Rock™, Stone Cold Steve Austin™, The Undertaker® and Triple H™. Players can grab a tag-team partner and wreak serious havoc on the rest of the World Wrestling Federation®, compete with up to four wrestlers in the ring at once or cause mayhem on their foes in a Hardcore match.
Exclusive to the Xbox video game system from Microsoft Corp. and developed by Anchor, "WWF Raw" captures the look and feel of the World Wrestling Federation with highly detailed graphics and authentic TV-style presentation complete with Superstar ring entrances and theme music.
TV-style presentation with in-game cutaway scenes and Double Feature replays
Dynamic lighting effects and fully scaled arenas with authentic Superstar entrances complete with full TitanTron™ videos
Thousands of move animations including those with WWF Superstar signature moves
The ability to assault opponents and interfere with them on their way to the ring
Superstar mode for creating the ultimate wrestler
A variety of match types including title matches with four WWF Superstars in the ring and KING of the RING tournaments
Enhanced multiplayer capabilities including four-player tag team, handicap and triple-threat match variations
Installation, Settings and Loading Speeds
WWF Raw seems to take a heck of a long time loading up the first time around, but once you become used it the increased loading time it doesn't cause much of a problem. There are a number of setting changes that you can do such as building up new wrestlers, sound changes and so on.
Gameplay
Review Quotes
"But as we all know, fancy intro sequences won't make up for shoddy gameplay. In most parts, WWF Raw manages to blend both great graphics and gameplay pretty well."
WWF RAW is developed by Anchor, if you haven't heard of them before you are forgiven..they designed Ultimate Fighting Championship for the Dreamcast a couple of years ago. The main aim of the developer is to create the excitement, thrills and the passion of this so called "sport". The first thing that you will notice with WWF Raw is that the rosters are much bigger than most other console WWF titles.
Next up we have the great opening intro scene showing off some good high quality video and proving that the game does seem to have some high productions values. The game begins with the entrances of the wrestlers. This is a vital part in terms of WWF atmosphere and it feels like Anchor have done a great job trying to copy the scenes from the WWF almost to perfection. Fireworks go off, video footage of the wrestlers shows in the background and most crucial of all you can interfere in the other wrestlers entrance by pressing the Y button.
But as we all know, fancy intro sequences won't make up for shoddy gameplay. In most parts, WWF Raw manages to blend both great graphics and gameplay pretty well. But the gameplay is quite simple, which I guess isn't always a bad thing. The X button performs striking attacks on your opponent, the A button for grappling, the Y button blocks and the B button picks up objects, tags partners in the Tag Team matches, taunts opponents and a few other moves. A lot of these attacks and blocks depends on how you are facing your opponent, ring positions and what direction you are pushing the controller in at the time.
The main new addition compared again to other wrestling games on other consoles is the Stamina Meter. Every move you make in WWF Raw takes up some of your stamina, kicking, punching, slams only take up a small amount, but piledrivers and aerial strikes can take up far more, even draining the whole meter sometimes. The meter itself quickly builds up again and when used well can really smash the face of your opponent in the ring. So you must remember that WWF Raw isn't just about hitting the buttons as fast as possible, you do have to think more about some of your moves before going through with them.
I guess that this is where I felt a slight let down in WWF Raw, because of the stamina meter the game starts to feel a bit slow paced, but I guess I have just gotten used to the other styles used in previous wrestling titles too much. The problem with WWF Raw isn't really the gameplay side though, which although not fantastic, it does the job of showing off fake wrestling quite well, it is the lack of differing gameplay modes.
Unlike most other wrestling games there are only a few different game styles, there are no cage matches, no table matches etc but i guess worst of all for me was the lack of a career mode. You do however get to "design" a wrestler which means picking out how they look, their best moves, entrances etc. Which again would have been far, far better if there had been a career mode in the game.
Review Quotes
"Most of these modes speak for themselves, it is the "Title match" mode which is probably the one that Anchor classes as a kind of career mode, but as expected it doesn't manage to gain the kind of depth that the career mode can."
So what modes does WWF Raw come with. Well we have Single matches, Tag Team matches 2v2, Tornado matches 2v2, triple-threat (3 competitiors), Fatal 4-way (4 competitors), Battle royal (4 in the ring) and finally we have the Handicap Match 1v2 or 1v3.
Most of these modes speak for themselves, it is the "Title match" mode which is probably the one that Anchor classes as a kind of career mode, but as expected it doesn't manage to gain the kind of depth that the career mode can. In the title match you have to compete in around 12 matches, the problems start with the fact that you can't save during this time - so you have to play through those 12 matches if you want to win the title, and I don't know about you but I don't always have 6/7 hours in the day to play a game, thus for myself it almost single handedly makes me class it as unplayable.
Thankfully most of the single player and multiplayer matches like tag team or the basic 1v1 games are well done and easy to get into. Weapons are scattered around the ring and most of these can be used in both attacking and in a clothing sense such as sunglasses. The crowd plays an important part in RAW as the game doesn't contain a health bar, it contains a crowd meter. So the better the move against your opponent, the higher the bar gets, and once the bar flashes you can finally pin your opponent.
Graphics & Sound
The new engine that Anchor have developed for WWF Raw isn't too bad at all, the wrestlers move like they do on the TV, and perform most of the moves you would expect them to. Graphically the game is pretty good, It's not as good as I expected it would be but it does have some outstanding animation. Collision detection is very good, well most of the time it is. Most of the Wrestlers look like they do in real life, pain is animated on their faces too. But there is something that just doesn't feel right about the game graphically, I'm not sure what it is but it just doesn't look as it should.
Soundwise the game isn't as hot as it should be either. The intro music for all of the wrestlers is spot on and the punches, kicks etc are also all spot on. But there is a lack of commentary and this really lets down the game on the sound side. It is something that most "sport" titles have in them now but Raw doesn't and its such a shame as it would have added even more atmosphere to a game that clearly had a large budget to it.
Final Comments
How It Grades
Controls: 80%
Gameplay: 68%
Presentation: 80%
Graphics: 81%
Multiplayer: 80%
Sound: 68%
Manual: 75%
Interface: 76%
Price/Value: 70%
Overall: 71%
There isn't anything wrong with WWF Raw, but it has a lack of depth, some of the characters and items you can unlock are pretty cool. But this doesn't mean it makes up for the lack of a career mode which is the main thing lacking in WWF Raw. Graphically the game is very good, it may give me that nagging feeling that something is lacking graphically but I can't put my finger on what is. The lack of a commentary is also a let down and the problem of not being able to save during a title match is unforgivable. But yes the game can be fun, not as fun as it should be though. Let's hope they get it right next time and add that career mode, preferably with the option of saving the game.
Specs & Package
Overall Score
73%
Version Reviewed
WWF - RAW (NTSC)
Release Date
Out Now
In The Box?
1 WWF - RAW DVD
1 Set Of Instructions
The Good Points
Cool intros
Good animation
The Bad Points
No career mode
A bit dull in the ring
Not as good graphically as hoped
Widescreen Support
Yes
PAL 60 Support (Europe)
No

Return To The Xbox Section