ActiveXBox
Xbox News
DVD Compatibility Lists
Inside The Xbox
Xbox Released Titles
Xbox 360 Released Titles
Screenshots/Videos
History Of The Xbox
Links
Forum
Xbox FAQ
Xbox 360 FAQ



ActiveWin
Articles
AskAW
DirectX
ActiveDVD
ActiveMac
Forums
Interviews
News
MS Games & Hardware
Reviews
Support Center
Windows 2000
Windows Me
Windows Vista
Windows XP



News Centers
Windows/Microsoft
Apple/Mac
Hardware
Xbox
News Search



Windows XP
Introduction
System Requirements
Home Features
Pro Features
Upgrade Checklists
History
FAQ
Links
Tips



FAQ's
Windows Vista
Windows 98/98 SE
Windows 2000
Windows Me
Windows "Whistler" XP
Windows CE
Internet Explorer 6
Internet Explorer 5
Xbox
DirectX
DVD's



Tips & Tricks
Registry Tips
Windows 95/98
Windows 2000
Internet Explorer 4
Internet Explorer 5
Windows NT Tips
Program Tips
Easter Eggs
Hardware
DVD



ActiveDVD
DVD News
DVD Forum
Glossary
Tips
Articles
Reviews
News Archive
Links
Easter Eggs
Drivers
Movie Posters
Top DVD Sellers

DVD EXPRESS



Latest Reviews
Xbox/Games
Halo 3
Call of Juarez

Applications
Adobe Illustrator CS3

Hardware
Athlon 64 X2 6000+
Acer Ferrari 5000



Site News/Info
About This Site
Affiliates
ANet Forums
Contact Us
Default Home Page
Link To Us
Links

Member Pages
Site Search
Awards



Credits
©1997/2012, Active Network. All Rights Reserved.
Layout, Concept & Design by light tower Designer Dream. Content written by the Active Network team. Please click here for full terms of use and restrictions or read our Privacy Statement.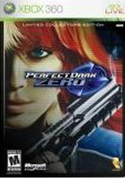 Introduction
To the avid gamer, this game title might ring a bell. This is a prequel to the original game, Perfect Dark. Most Nintendo fans will be familiar with this action title developed by Rare over a decade ago. Now, it's 2005 and this newly released title has been compared to other other popular titles, such as Halo and the 007 game series. Multiplayer on Xbox Live, updated graphics and a new story line debuts in this action and shooter title. Microsoft is hoping this title is the make it or break it title for the launch of the Xbox 360.
The Features
Perfect Dark Zero, The Game

Espionage conspiracy: Explore a supercharged world brought to life in stunning HDTV and Dolby Digital 5.1 Surround Sound.
Spy gadgets: Equip Joanna with the ultimate futuristic weapons and vehicles, including jetpacks, a hovercraft, and more.
Gripping story: Get swept into an engrossing action adventure story of high-tech corporate espionage and global conspiracy in the single-player campaign.
Multiplayer arenas: Take the fight online with numerous Xbox Live® gameplay options, including Death Match, Dark-ops and Scalable Maps.


Disc Two: Special Bonus Content

Behind the scenes: Unlock the secrets of Rare's creative process with the in-depth "The Art of Perfect Dark Zero" video feature.
Soundtrack selection: Groove to the exclusive track "Limelight" from San Francisco's DJ Kepi & Kat pulled right from the game.
Gamer card: Uniquely identify yourself in your gamer card on Xbox Live with exciting Perfect Dark Zero gamer pictures.
Custom theme: Tailor your Xbox 360 experience with a Custom Perfect Dark Zero Theme for the Xbox 360 Guide.
Beyond the game: Dive deeper into the Perfect Dark universe with the first chapter of Perfect Dark: Initial Vector, Greg Rucka's amazing new novel set six months after the game.
Gameplay
Review Quotes
"There were about 30 people in each match that were stuttering around the screen aimlessly. You could barely move."
Those not familiar with the overall storyline, the main character, whom which you play, is Joanna. An agent or "spy" (007) ready to tackle some objectives and missions. I had some really high hopes for this game after spending some time with Call of Duty 2 and Project Gotham Racing. Not just high hopes, but high expectations, especially since it has been heralded as the launch title that will make the Xbox 360 a resounding success at launch.
In a typical retro Rare way, starting up the game presents you with some old school graphics which can be found in the Xbox Live Arcade on a daily basis. I thought it was kind of funny actually. None the less, you are presented with an interface that closely resembles the Halo 2 interface. The blue background, color and font schemes will look all to familiar. The menu system isn't all too difficult, but it could have been easier. I accidentally deleted my one and only weapon (pistol) from my character, and ended up removing my game profile and starting over. After a bit of playing around in the menu, I was able to figure out where I had gone wrong. Consistent with the direction all games, you have a list of choices that stem from options, single player, multiplayer, campaign, system link and more. There are different difficulty levels to choose from, including Agent, Perfect Agent and Dark Agent. I of course elected to go with Agent so that I can guarantee that the game will actually get finished.
After completing the profile, I made the unwise decision to jump into a Deathmatch game on Xbox Live. I only played in 2 matches, and the online lag was just horrible. There were about 30 people in each match that were stuttering around the screen aimlessly. You could barely move. I lasted about 30 seconds in each match. Of course this was after the first week of the Xbox 360's release, so I assume the online features might have been a bit buggy at the start. Most recent online play has not been bad at all.
After the two lag matches, I elected to start up the rookie level campaign under "Agent". The trailer begins, which gives me a little idea of what to expect. I have not played the 2000 incarnation of Perfect Dark, so I am actually in the "dark" on the story line. The game started out with the normal training routine. I developed an impression right away. I turned the game off and thought this is nothing new. Graphics were Xbox 1 at best. Game play was same ol' same ol'. I jumped online quick and started to read some reviews that had already been posted. I was seeing scores of 8.8 to 9.0, with graphics being one of the strong points. Did I jump to conclusions?
Next day I decided to pop in the game to give it another try. Hour and hours went by, and in no time I was on Mission 9. I was engrossed in the game no doubt. But again, I have complaints. The AI in most instances was just plain clueless. There were many times during the campaign when the AI wouldn't turn around, or failed to even perform any type of attack on me, even when standing right in front of me. The AI was also very resilient to bullets. Unless you nailed them with a clean headshot while zoomed in, it took about 4 bullets on average to lay them out.
The gameplay is very predictable, and explores nothing new in this next generation of gaming. The acting was cheesy, while they did nail the accents. In between missions I had plenty of time to get up and grab a beverage and return before the mission was loaded. Compared to a more graphically impressive game, Call of Duty 2, which loads relatively fast, the load times of PDZ are Xbox 1 or PS2 slow. I couldn't imagine not having the hard drive cache.
As you may have heard, there is no jumping in this game. It's all about rolling along the floor. With the exception of rolling under a couple laser, I never found a need for rolling. But one of the nice features that came in handy is the "Cover" feature which allows you to hide behind many objects, giving you an over the shoulder view for looking for and aiming at enemies. Once you fire, your character comes out of the cover position, shots are fired, and you return back to cover. This came in very handy especially when trying to snipe someone with your silencer attached to your weapon.
Leave no doubt. The weapons and everlasting firing is awesome, if not physically tiring. Bombarded with bullets, the controller never seems to stop vibrating from impact. Sometimes I found myself holding my breath through certain missions because of the intense action. Dual wielding weapons (aka Halo 2) firing at 3 enemies while being shot at by 6 others is a great feeling (in a game). You might find yourself playing Hardwood Hearts in the Xbox Live arcade just to take a break from the action.
While your objectives/missions are made clear, they are rather uninspiring, and don't make for a very exciting story line. If you have ever played Xbox Live or PC online gaming, everything is standard. Capture the flag, deathmatch, etc. Different characters, new maps, but same objectives. Improvements will be found in matchmaking and the Trueskill™ ratings as the game ages online. My biggest issue with the online play is the limited number of characters. You will find that many people choose the same characters....leaving an entire map full of blonde bombshells.
Graphics & Sound
Graphics are "ok" for a next generation title. You can find these next generation graphics in the environment background. Like Call of Duty, the draw distances are excellent....almost infinite. Even in outdoor missions, there is plenty going on in the background, including explosions, dead bodies flipping, ships, and more. For a computer drawn character, Joanna looks pretty darn good. Much of the modeling seems almost over done. Oversized bosoms, extra tan legs, and I find that the characters look like they are glistening while molded like clay. The movements of the characters are much better than you would find in old generation titles. Much more fluid and realistic looking to say the least. However, some actions appear to be still to "robotic", such as climbing ladders. Character face definitions were average, with what appeared to be a larger focus on the females versus the males. Sex sells, there is no doubt. This game will indeed appeal to the male gamer.
Weapons look excellent. Even the magazine swapping is as real as it gets. Dropping your weapon or magazine sounds very real with the 5.1 surround support. You can hear people coming from all locations. Using the surround sound alone will get you past a mission that I encountered, which was following a flying ship from behind cover and taking shots at it without knowing it's exact location (even though you could have used the radar). I was able to hear my partner from any location in the room. I knew exactly where explosions were coming from, which helped lead me through the game. There is a faded arrow/line that helps give you direction, but it was more of an eye sore than a help.
Review Quotes
"Character face definitions were average, with what appeared to be a larger focus on the females versus the males. Sex sells, there is no doubt. This game will indeed appeal to the male gamer."
Final Comments
How It Grades
Controls:

84

%
Gameplay: 70%
Presentation: 65%
Graphics: 74%
Multiplayer: 90%
Sound: 90%
Interface: 83%
Lastability: 70%
Price/Value: 60%
Overall: 76%
Maybe I am a biased gamer and I headed into this game with the wrong train of thought. But my experience with this game wouldn't sell me on continuing to buy the series if we see any additional sequels. Yes, it's a fun game. Graphics are decent, and they improve upon the old generation. The objective is clear. But that pretty much sums up what is good about the game. If the game including jumped, would I have rated the game any better? No, but I would have used jump more than roll. Do graphics make or break a game? No, but in my review, the lack awesome graphics affects my opinion of this game. But let's be realistic....much more realistic. Gamers want smart AI. Even my attempts at the more difficult levels proved that "more" AI characters don't make for smarter characters. This takes away from the challenge.
I hope Microsoft wasn't banking on this as the Halo of the Xbox. There are quite a few more titles that are far more entertaining than this game, many of which you can find on the backward compatible list for the Xbox 360.
Specs & Package
Overall Score
76%
Version Reviewed
Perfect Dark Zero Limited Edition (NTSC)
Release Date
11/15/2005
In The Box?
1 Perfect Dark Zero DVD-ROM
1 Perfect Dark Zero Limited Edition DVD
The Good Points

Well Done Character Modeling


5.1 Surround Accuracy
Weapon Ease of Use
The Bad Points

Average Graphics


No Jumping
Bland Story Line
Xbox Live! Enabled?
Yes
Widescreen Support
Yes
PAL 60 Support (Europe)
Yes
Progressive Scan
HDTV 720p/1080i

Return To The Xbox Section