ActiveXBox
Xbox News
DVD Compatibility Lists
Inside The Xbox
Xbox Released Titles
Xbox 360 Released Titles
Screenshots/Videos
History Of The Xbox
Links
Forum
Xbox FAQ
Xbox 360 FAQ



ActiveWin
Articles
AskAW
DirectX
ActiveDVD
ActiveMac
Forums
Interviews
News
MS Games & Hardware
Reviews
Support Center
Windows 2000
Windows Me
Windows Vista
Windows XP



News Centers
Windows/Microsoft
Apple/Mac
Hardware
Xbox
News Search



Windows XP
Introduction
System Requirements
Home Features
Pro Features
Upgrade Checklists
History
FAQ
Links
Tips



FAQ's
Windows Vista
Windows 98/98 SE
Windows 2000
Windows Me
Windows "Whistler" XP
Windows CE
Internet Explorer 6
Internet Explorer 5
Xbox
DirectX
DVD's



Tips & Tricks
Registry Tips
Windows 95/98
Windows 2000
Internet Explorer 4
Internet Explorer 5
Windows NT Tips
Program Tips
Easter Eggs
Hardware
DVD



ActiveDVD
DVD News
DVD Forum
Glossary
Tips
Articles
Reviews
News Archive
Links
Easter Eggs
Drivers
Movie Posters
Top DVD Sellers

DVD EXPRESS



Latest Reviews
Xbox/Games
Halo 3
Call of Juarez

Applications
Adobe Illustrator CS3

Hardware
Athlon 64 X2 6000+
Acer Ferrari 5000



Site News/Info
About This Site
Affiliates
ANet Forums
Contact Us
Default Home Page
Link To Us
Links

Member Pages
Site Search
Awards



Credits
©1997/2012, Active Network. All Rights Reserved.
Layout, Concept & Design by light tower Designer Dream. Content written by the Active Network team. Please click here for full terms of use and restrictions or read our Privacy Statement.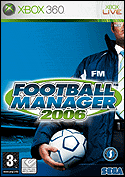 Product: Football Manager 2006
Company: Sega/Sports Interactive
Website: Official Game Site
Estimated Street Price: $59.99/£49.99
Review By: Byron Hinson
The Features
One of the best ever PC titles has finally made it onto a console. With the power behind the Xbox 360 and the necessity to have the Hard Drive (required for this game), the means to play Football Manager on something other than a PC is here at last. Yes it may not have good graphics, but it never needed them, the amount of detail the game has for soccer fans is immense, from real players to the most detailed of stats, career details to the being able to play in some of the lowest most unknown leagues in the world. Support a team? chances are that no matter who it is, you'll find them here.
For the first time on Xbox 360, Sport's Interactive present Football Manager 2006. A complete recreation of the PC game, the game also offers exclusive Xbox live online features and gameplay.
Features:
Naviagation And Interface: Designed specifically for the Xbox 360 – featuring a controller navigation system adapted for ease of use on a console.
Player Stats Indicator: Screens designed for X360 ease- assess your players' skills at a glance.
Xbox 360 Live Rankings: Rank yourself against the Football Manager greats with the Xbox Live Achievements page.
Challenger Mode: Test your skills against up to 15 other managers in Xbox 360 Live Challenger Mode.
Acheivements: 50 achievements give gamer points for a long term gameplay experience.
In-Game Tutorial: Help and guidance for managers of all levels.
The Football World: A full recreation of Sports Interactive's legendary PC game. Manage over 280,000 players and staff at over 5,000 teams in 50 countries. All data is accurate to the end of the January 2006 transfer window.
Tactical Mastery: Complete control of your team on the pitch with a massive range of tactical options.
Player Training: Develop your own player training schedules – then let your coaches report back on your players progress.
Manager/Player Interaction: Resolve your players' issues such as requesting first team football, feeling threatened by new signings or demanding a new contract.
Gameplay
Review Quotes
"There is little to talk about in the game graphic-wise, this is because the game is basically a more attractive version of Microsoft Excel. The game is full of menus and stats, with only a splattering of player/coach/manager photos added onto profiles. So it does what it needs to do well, if I have one problem with the game here it is that I found the text too small on my 26" HDTV upstairs when running in 720p"
Football Manager is one of the biggest selling titles in the United Kingdom, it comes under different names around the world, but this is the version I am reviewing here today. As I have already mentioned, the game requires the use of the Xbox 360 Hard Drive, this is because the save game files are over 60mbs in size and the game needs to do a lot of saving and processing on the hard disk.
You can take control of nearly any football team in the world, to give you an idea of how detailed the game is, I stated with Histon Town - A team who play in the English Conference South, the game had all the correct player details and staff information it should do. Once you take charge of the team you will need to build your squad up to try and compete in the division you are in for cups and the league title or just hope for promotion through the play offs. Starting with a smaller team gives you a much better feeling of accomplishment than going with an already established large team such as Manchester United (they large anymore??) or Real Madrid.
Building your team up doesn't just involve buying new players on the transfer market though, you need to bring in good coaches, setup a training system for your players and try and keep them happy and injury free throughout the season by giving them the right contract that will benefit both you and the player. Picking the right players is entirely up to you and for you to decide on whether they will fit into your tactics, maybe you like playing the long ball game and want a tall player who is excellent at heading on the ball, maybe you want fast wingers who are good at crossing, but remember they may have aggression problems or not be a team player. There are just some of the decisions you will have to make. The game is packed full of stats, from player stats that go from telling you how well they head the ball, how well they finish, to aggression levels, stamina and general fitness, there is so much detail it will make your head spin.
Now in the PC version, you only get the option to check out the detailed stats of the players in your squad and in the game, with the Xbox 360 version, SI have added a quicker way of checking out a players states in a bar style graph, while this may be good for newcomers to the game I prefer the old more detailed way and unfortunately although you can still view those stats by pressing up on the D-Pad, there is no option to save that view, thus you have to press up every time you are on a player page.
Obviously the control method on the PC version was via mouse, with the Xbox 360 the mouse had to go and the controller had to take over this massive menu controlled game, at first you may find the controls overwhelming, but my view of it is that you must keep going, within a few hours the controls start to become easier and easier to remember, yes its hard going from the PC version to this one and it would have been nice if a USB mouse option could be added to the Xbox 360, but right now this almost as perfect as SI games could get it to work with the Xbox 360.
Credit also has to go to Sports Interactive for not only making this one of the few games with very hard, but very good achievements, but also for getting the game running so fast compared to the PC version. I have been playing Football Manager for years, and the Xbox 360 version is the fastest one I have played, I was playing Football Manager on my Athlon 64 4000+ PC before this, but I won't be going back to that now. Xbox 360 users also have the "advantage" of Xbox Live! play, now this is one area that really excited me, finally getting the chance to play other Football Manager fans over the net via Live! should be excellent, unfortunately the game suffers the most here, its hard to get games working as connections drop very easily, also for many users they will find they are just sitting there at home for minutes at a time doing nothing while waiting for the other player to sort their team and tactics out, I have been told the connection problems will be sorted out in an upcoming patch, so there is still hope there.
So what downsides are there? Well there are a few text commentary errors in the game that have followed over from the 6 month old PC version which shouldn't have happened, the game sometimes suffers from a bout of slowness in the news section for no apparent reason, loading save games takes a bit too long and I had one crash during a save which nearly crashed my whole season (thankfully auto save fixed that). Apart from that the game is almost the perfect football management title.
Graphics & Sound
There is little to talk about in the game graphic-wise, this is because the game is basically a more attractive version of Microsoft Excel. The game is full of menus and stats, with only a splattering of player/coach/manager photos added onto profiles. So it does what it needs to do well, if I have one problem with the game here it is that I found the text too small on my 26" HDTV upstairs when running in 720p, whereas if I went down and used my 32" HDTV, it looked perfect. Sound is ok too, you hear various cheers and shouting from the stands when playing the main match (which is done via a top down 2D view or via text commentary), but apart from that there isn't anything else. Not that sound plays a major factor into why this game is so popular around the world.
Final Comments
Overall for new players entering the Football Manager craze, 2006 is an excellent start, the game is massive and i'm not making it up when I say that you will still be playing this one as the next version hits the streets. The only letdown for me is the price, you could get the PC version for £9.99, yet the recommended price of the Xbox 360 version is a massive £49.99. I can't fault the game, I haven't had a crash, it runs fast, has some amazing amounts of detail and the control method becomes natural the more that you play it. This game will eat up your life.
How It Grades
Controls: 85%
Gameplay: 95%
Presentation: 90%
Graphics: 745%
Multiplayer: 75%
Sound: 48%
Interface: 90%
Lastability: 95%
Price/Value: 80%
Overall: 93%
Specs & Package
Overall Score
93%
Version Reviewed
Football Manager 2006 (PAL)
Release Date
Out Now
In The Box?
1 Football Manager 2006 DVD-ROM
1 Set Of Instructions
The Good Points
Fantastically in-depth
Faster than PC version
Will eat up your life
The Bad Points
Some text errors
Xbox Live! Online Play Enabled?
Yes
Widescreen Support
Yes
PAL 60 Support (Europe)
Yes
HD Resolutions
480p
720p
1080i

Return To The Xbox Section