DirectX
ActiveMac
Downloads
Forums
Interviews
News
MS Games & Hardware
Reviews
Support Center
Windows 2000
Windows Me
Windows Server 2003
Windows Vista
Windows XP



News Centers
Windows/Microsoft
DVD
Apple/Mac
Xbox
News Search



ActiveXBox
Xbox News
Box Shots
Inside The Xbox
Released Titles
Announced Titles
Screenshots/Videos
History Of The Xbox
Links
Forum
FAQ



Windows XP
Introduction
System Requirements
Home Features
Pro Features
Upgrade Checklists
History
FAQ
Links
TopTechTips



FAQ's
Windows Vista
Windows 98/98 SE
Windows 2000
Windows Me
Windows Server 2002
Windows "Whistler" XP
Windows CE
Internet Explorer 6
Internet Explorer 5
Xbox
Xbox 360
DirectX
DVD's



TopTechTips
Registry Tips
Windows 95/98
Windows 2000
Internet Explorer 5
Program Tips
Easter Eggs
Hardware
DVD



ActiveDVD
DVD News
DVD Forum
Glossary
Tips
Articles
Reviews
News Archive
Links
Drivers



Latest Reviews
Xbox/Games
Fallout 3

Applications
Windows Server 2008 R2
Windows 7

Hardware
iPod Touch 32GB



Latest Interviews
Steve Ballmer
Jim Allchin



Site News/Info
About This Site
Affiliates
Contact Us
Default Home Page
Link To Us
Links

News Archive
Site Search
Awards



Credits
©1997-2012, Active Network, Inc. All Rights Reserved.
Please click here for full terms of use and restrictions or read our Light Tower Privacy Statement.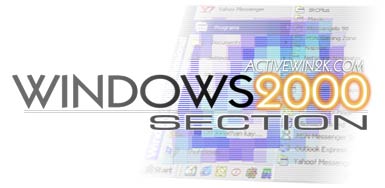 Major Upgrade Issues
How to get custom drivers that are not included with Windows 2000.
Drivers must meet a very high standard of quality to be included on the Windows 2000 product CD. To ensure that all components contribute to making Windows 2000 robust and reliable, drivers provided with the product go through exhaustive testing. After talking with customers, Microsoft decided to limit the number of drivers on the product CD rather than risk system stability by including any drivers that do not meet the standard of quality.
To determine if you need updated drivers that will work with Windows 2000, visit the compatibility area of the Windows 2000 Web site or contact your hardware manufacturer. You may be able to download the updated drivers you need from the hardware manufacturer's Web site or from the Windows 2000 Hardware Update site. To find the name of the hardware manufacturer for a specific device:
Go to Start, select Settings, Control Panel, and click System.
Select the Hardware tab and click the Device Manager button.
Open the device file youíre interested in and double click on a device name to see information about the device and its driver.

Drivers on the Windows Update Web site have the same high standard as drivers included in the Windows 2000 product. Drivers included on Windows Update must first pass WHQL (Windows Hardware Quality Labs) testing for performance and reliability, and then receive a digital signature. Because of this strict standard, not all drivers appear on Windows Update. If a driver for your device is not available on Windows Update, you must contact the hardware manufacturer and request a driver. If you want to update another computer that is not connected to the Internet, you can download the driver and install it on the other computer.

Why you may need a BIOS update to use Windows 2000 power management features.

The hardware needed for power management in Windows 2000 is based on an entirely new structure developed by Microsoft and industry leaders to make power management more robust. It all starts with the BIOS, the lowest level code that lives directly on the computerís main circuit board (motherboard). BIOS is used to boot the computer when it is turned on. The BIOS also describes some of the hardware characteristics to the operating system.
To support robust power management on a laptop computer or on Windows 98, your system must have a compliant Advanced Configuration and Power Interface (ACPI) BIOS. If your older computer does not have an updated ACPI BIOS, you will not be able to use the ACPI-based power management support of Windows 2000.

You can tell whether your Windows 98 system uses ACPI by checking the list under device manager:
Go to Start, select Settings, Control Panel, and click System.
Select the Hardware tab and click the Device Manager button.
After you upgrade to Windows 2000, you can tell that you have ACPI support if Standby appears in your Shutdown menu. If you get a BIOS upgrade from your system manufacturer, you can enable ACPI-based power management support after installing Windows 2000. To find out if your current BIOS will work or to get an upgrade, contact your computer manufacturer or visit the Windows 2000 Hardware Update site.

Why you may still need driver updates, even if your BIOS is compliant.

If your BIOS is compliant, your hardware will probably work in a basic way, but you will not necessarily have access to all the features for some hardware devices--unless your hardware manufacturer has created a Windows 2000 driver for the device. A common cause for this issue may be that the hardware device is not recognized as needing a special driver because it is not identifying itself with enough information. Often, a computer manufacturer will install a driver that allows you to use a special control panel to configure certain features of a device (like a monitor). If the manufacturer does not provide a unique Plug and Play identifier for the device, Windows 2000 will not know that it needs a special driver, so a generic driver will be installed, limiting the special features available for you to use.

This feature information was obtained from the Microsoft Windows 2000 website at http://www.microsoft.com/windows2000 and are linked from ActiveWin.com for your convenience. For the most accurate information please visit the official site.


Return To The Windows 2000 Section