DirectX
ActiveMac
Downloads
Forums
Interviews
News
MS Games & Hardware
Reviews
Support Center
Windows 2000
Windows Me
Windows Server 2003
Windows Vista
Windows XP



News Centers
Windows/Microsoft
DVD
Apple/Mac
Xbox
News Search



ActiveXBox
Xbox News
Box Shots
Inside The Xbox
Released Titles
Announced Titles
Screenshots/Videos
History Of The Xbox
Links
Forum
FAQ



Windows XP
Introduction
System Requirements
Home Features
Pro Features
Upgrade Checklists
History
FAQ
Links
TopTechTips



FAQ's
Windows Vista
Windows 98/98 SE
Windows 2000
Windows Me
Windows Server 2002
Windows "Whistler" XP
Windows CE
Internet Explorer 6
Internet Explorer 5
Xbox
Xbox 360
DirectX
DVD's



TopTechTips
Registry Tips
Windows 95/98
Windows 2000
Internet Explorer 5
Program Tips
Easter Eggs
Hardware
DVD



ActiveDVD
DVD News
DVD Forum
Glossary
Tips
Articles
Reviews
News Archive
Links
Drivers



Latest Reviews
Xbox/Games
Fallout 3

Applications
Windows Server 2008 R2
Windows 7

Hardware
iPod Touch 32GB



Latest Interviews
Steve Ballmer
Jim Allchin



Site News/Info
About This Site
Affiliates
Contact Us
Default Home Page
Link To Us
Links

News Archive
Site Search
Awards



Credits
©1997-2012, Active Network, Inc. All Rights Reserved.
Please click here for full terms of use and restrictions or read our Light Tower Privacy Statement.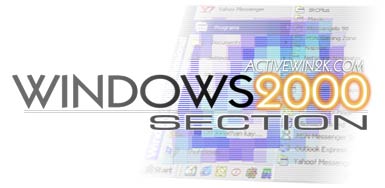 Performance in Windows 2000
Introduction
Whether deploying the Microsoft® Windows® 2000 operating system on the desktop or in the most demanding Web server environment, you can expect significant performance advantages over previous releases. In addition to providing the highest levels of reliability, providing a comprehensive set of features to Internet-enable your business, lower TCO through enhanced management, and adding support for new hardware devices, Windows 2000 also delivers better performance. Using a wide range of benchmarks, this paper will provide you with information on the performance improvements of Windows 2000 in different deployment scenarios.
Client Performance
In addition to the many new desktop features that have been added to Windows 2000 Professional such as Plug and Play, power management, single worldwide binary for all languages, IntelliMirrorTM management technologies, and many others, the performance on the desktop is significantly faster than Windows 95 & 98 and comparable to Windows NT® Workstation 4.0. By optimizing fundamental system services such as memory management, registry access, and disk I/O, Windows 2000 is able to deliver the added benefit of new features while delivering the performance that customers expect.
Networking Performance
Windows 2000 is Gigabit ready. This means that Windows 2000 is capable of sustaining the highest levels of network throughput using Gigabit adapters. For example, using network adapters designed to utilize the advanced TCP/IP features in Windows 2000 such as TCP/IP checksum offloading and large send support, Windows 2000 can deliver up to 25% better network throughput than Windows NT Server 4.0 and sustain close to 4 gigabit per second (Gbps) of data throughput. With the improved networking efficiency provided by Windows 2000, customers will benefit from higher capacity Web servers, file servers, and application servers.
Web Server Performance
The performance of Web sites running Windows NT Server 4.0 can immediately be improved by upgrading to Windows 2000. Advances have been made in Windows 2000 that significantly improve Active Server Pages (ASP) performance and SMP scalability. In addition, ASP applications running in out-of-process mode perform significantly better on Windows 2000. For example, an ASP application running in out-of-process mode on Windows 2000 is as fast as the same ASP application running in the Web server process on Windows NT Server 4.0. Furthermore, the raw performance of serving static Web pages has increased significantly according to publicly available SPECWeb 96 results.
File & Print Server Performance
By improving many aspects of the file serve components such as increasing the virtual size of the file cache form 496MB to 960MB, optimizing the SMB redirector on Windows 2000, and optimizing the Windows NT File System (NTFS), Windows 2000 provides customers with a better performing and scalable file server solution. Using the NetBench benchmark, Windows 2000 Server with Windows 2000 Professional-based clients provides up to 20% better performance than Windows NT Server 4.0 with Windows NT Workstation 4.0-based clients. In some cases, especially where the file shares are stored on a single partition, Windows 2000 provides up to 2-times better file server performance than Windows NT Server 4.0.
As a print server, Windows 2000 is capable of processing up to 3-times more pages per second when compared to Windows NT Server 4.0. Moreover, as the chart to the left shows, print performance doesn't degrade on Windows 2000 Server as additional printers are added. Furthermore, Windows 2000 can perform the rendering in 1/3 of the time it took on Windows NT Server 4.0 and requires 1/3 of the CPU resources.
Application Server Performance
Windows 2000 Server is a better platform for running business applications. Better SMP scalability, improved networking performance, support for more physical memory have a profound impact on the performance of Windows 2000 in an application server environment. Advances to what is now known as COM+ (formerly COM and Microsoft Transaction Server) also provide better performance to customers running COM-based applications. In addition, transaction-processing capabilities of COM+ can be used as a transaction monitor when running to improve performance of database applications.
This feature information was obtained from the Microsoft Windows 2000 website at http://www.microsoft.com/windows2000 and are linked from ActiveWin.com for your convenience. For the most accurate information please visit the official site.


Return To The Windows 2000 Section