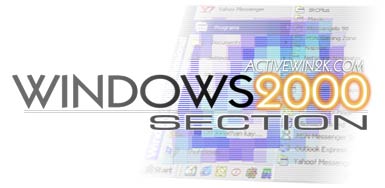 Windows 2000 Service Pack 1
REDMOND, Wash. - July 31, 2000 - Microsoft Corp. today announced that Windows® 2000 Service Pack 1 (SP 1) is now available via download from the Microsoft® Windows 2000 Web site or via CD fulfillment. The contents of SP 1 were developed directly from customer feedback on the Windows 2000 operating system gathered through testing conducted by independent software vendor (ISV) and computer labs and initial deployments of the platform.
SP 1 is a comprehensive package of fixes that can be applied to Windows 2000 Professional, Server and Advanced Server. SP 1 has been rigorously tested in-house by Microsoft testing teams and through an extensive beta process.
In line with customer feedback and Microsoft commitment at product launch, SP 1 does not install any new features. The fixes SP 1 provides improve application and hardware compatibility, security, operating system reliability and setup. SP 1 also incorporates several key enhancements designed to minimize long-term maintenance costs and simplify IT planning.
Service Pack 1 is available from the Windows 2000 Service Pack 1 CD or the Service Pack 1 Download and Information Page at http://www.microsoft.com/windows2000/downloads/recommended/
sp1/default.asp. Customers also may order the CD by calling (800) 851-1644.


Return To The Windows 2000 Section
ActiveWin.com Featured Partners:
70-284 exams have great demonstration of the latest information technology to boost up the primary knowledge and skills of IT professionals. 70-216 exams are designed for the advancement of the modern technologies with great perspectives of successful career of IT engineers and technicians. 70-224 exams are exquisitely designed with useful information and training for IT organizers to tackle all types of technical issues proficiently. 70-225 exams of Microsoft certification are tackling all problematic issues of IT field with the comprehensive and secure IT solutions. 70-285 exams of Microsoft certification are enhancing the great efficiency and skillful training for IT technicians effectively.