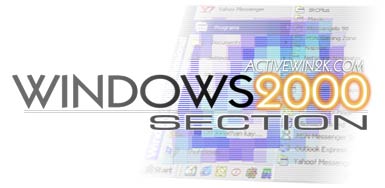 Bugs Fixed in Microsoft Windows 2000 SP2
Application Compatibility
Base Operating System
Directory Services
Internet Information Services/+COM
Mail
Management/Administration
MDAC/Data Access
Networking
Other
Printing
Security
Setup
Shell
Terminal Services


Application Compatibility

Q263926 16-Bit MS-DOS-Based Programs Cannot Change Label with CreateNewFile() Function
Q265253 Pointer May Not Be Visible if an OpenGL Program Has Data in the Overlay Planes
Q267938 Web Folders Unavailable When You Use the "Disable Programs on Settings Menu" Policy
Q268989 Considerations Before You Uninstall Windows 2000 Service Pack 1
Q274742 Console STDIN And STDERR Redirection May Cause Deadlock in 16-Bit MS-DOS-Based Program
Q275918 Problems with Winsock Programs After Applying Windows 2000 SP1
Q295076 Message Reads "Floppy" instead of "CD" If SP1 Is Installed from Network Mapped Drive

Base Operating System

Q252974 Error Message: System Process - Lost Delayed-Write Data
Q253246 Hewlett-Packard T-10 Server Hangs on Boot
Q257357 Performance Degradation When Heap Is Fragmented
Q257577 gethostbyname() Does Not Return Cluster Virtual IP Addresses Consistently
Q258079 Updated Windows 2000 AGP Driver for the RCC HE Chip Set
Q258281 Small SCSI Disk May Seem to Have Zero Cylinders in Windows 2000
Q259169 Some Toshiba Utilities May Not Work Correctly After Suspending Computer
Q259281 Folders Are Created Once an Hour If FRS Is Enabled in a DFS Root
Q259425 Windows 2000 Does Not Set Some Laptop Computers in C2/C3 State
Q259545 Windows 2000 Starts Slowly After Modifying SMART Drive Parameters
Q260055 OHCI1394 Driver May Cause a Memory Leak During Asynchronous Write Operation
Q260233 Support for ATA 100 (Mode 5 ) in Windows 2000
Q260241 Registry Quota Leak In Windows 2000
Q261601 Video Does Not Work After Resuming from Hibernation
Q261606 Video Hangs When You Run a 3D Graphics Programs
Q261643 USB Devices Missing in Device Manager After Computer Resumes from Hibernation
Q262798 PS/2 Keyboard/Mouse Not Recognized When Plugged Into Running Computer
Q263006 Logon Time Restrictions Prevent Users on Windows 95/98 or Windows NT 4.0 from Remotely Accessing Windows 2000 Resources
Q263549 Creating Hard Links on Remote Computers with BackupWrite() May Cause "Access Denied" Error Message
Q263627 Computer May Stop Responding with Object Auditing Enabled
Q263943 Two Drivers Acquire Resources for the Same PCI Device Using HalAssignSlotResources()
Q264795 BUG: _MBCS String Functions of the MSVCRT.DLL file (version 6.1.8637.0) Is Slower than Earlier Versions
Q264824 Cmd.exe Generates an Access Violation Error Message When it Runs Batch Files with File Redirection
Q265003 Windows 2000 Overwrites or Damages an OS/2 Boot Manager Partition
Q265296 Toshiba PC Card Controller May Power 3.3-Volt R2 PC Card at 5 Volts
Q265365 FRS Creates Unneeded Folders in DFS Root Alternates
Q265509 Ntldr Cannot Load Fragmented System Hive
Q266247 Special Function Keys May Not Work on Dell Laptop Computers
Q266251 Memory Dump Stops When the PAE Option Is Enabled
Q266647 Drive Letters Automatically Assigned to Unrecognizable Partitions
Q266704 Computer May Hang When Hot-Swapping UDMA IDE Devices
Q266710 DDK Pass-Through Sample Cannot Pass Signability Test
Q266731 Access Permission Is Not Inherited on Replaced or Copied File
Q266749 New File Created with CreateFileMapping() Returns ERROR_LOCK_VIOLATION
Q266762 Error Message: STOP 0x00000050 0xe2000000 0x00000000 0x00000000 0x00000002
Q267271 Hewlett-Packard OfficeJet G-Series Fax and Printer Devices May Not Work
Q267574 Scheduled Backups Fail on Standalone Tape Drives After Changing Media
Q268094 Windows 2000 Cannot Read CD-R Discs Created with DirectCD
Q268347 Connectivity Problem with IEEE 1394 OHCI Host Controllers
Q268897 File I/O Functions Misbehave After NTFS Path Element Renamed
Q269555 Device Manager Lists ATA-100 Device Incorrectly as Using PIO Instead of UDMA
Q269629 Regedt32.exe Truncates REG_MULTI_SZ Entries Longer Than 1,024 Characters
Q269733 Memory Leak in Dfssvc.exe
Q270610 Message Box Using MB_SERVICE_NOTIFICATION May Not Exit the Process
Q271148 MaxMpxCt and MaxCmds Limits in Windows 2000
Q271182 Program Hangs Because of Deadlock in Ntdll
Q271644 Cannot Convert FAT32 to NTFS with IDE Drive Larger Than 20 GB
Q271717 IBM ThinkPad Laptop CPI Fan Does Not Turn on After Computer Switches from Passive Mode to Active Mode
Q272155 Connectivity Problems Using VIA 1394 PCI Host Controllers
Q272295 Windows 2000 SP1 Computer Hangs When You Use IEEE 1394 Digital Camera in NetMeeting
Q272425 Ntbackup.exe Does Not Truncate Active Directory Logs During a System-State Backup
Q272590 No Error Message Backing Up Offline Information Store on Exchange 2000
Q272591 Ntbackup.exe Generates Error Messages While Restoring Exchange Storage Group
Q272655 PC Card May Not Work When System Resumes From Suspend Mode
Q272682 NTFS Enhancements for Services for UNIX
Q272734 Scanning System32 for Virus Takes Longer After You Apply Windows 2000 SP1
Q272770 NTbackup May Not Connect to a New Exchange 2000 Remote Store Client
Q273033 Volume Control Settings May Not Persist After Restarting Your Computer
Q273400 Ntbackup.exe Is Unable to Restore Data When it Encounters an Unknown Data String
Q273932 "STOP 1E" Error in a Video Driver While Autochk Is Running During Startup
Q273988 Disk Manager Prompts You to Continue Every Five Minutes
Q274015 Computer Hangs During Startup with a PC Card Modem on a Japanese Model Toshiba Portege34x0
Q275620 SCSI Port Driver May Cause Your Computer to Hang
Q275704 Cluster Disks May Be Incorrectly Accessible from All Nodes
Q276247 CPU Fan on an IBM ThinkPad Computer May Not Start
Q276409 Hotfix from Q259545 causes "Stop 0x0000000A" Error Message in Disk.sys File
Q276504 "Stop 0x0A" Error Message When You Eject a CD with Norton Anti-Virus 7 Installed
Q276516 Group Policy Not Applied with Many Domain Controllers in Domain
Q276545 Error Message Reports STOP 0x000000D1 in Serial.sys When Serial Device or Driver Verifier Is in Use
Q276609 No Events Logged on Restart If Disk Mirror Is Broken While Computer Is Off
Q277700 NodeID Change in the Registry Cause Access Violation in Clussvc.exe
Q277701 Ntbackup Cannot Restore from Backup Sets Located on Second Tape in a Continuation Sequence
Q277877 USB Devices May Take More Than 30 Seconds to Wake Up After Hibernating
Q277997 Cannot Gain Access to a Device on Windows 2000-Based Computer
Q278650 Windows Hangs During SBLive! Full Duplex Audio Test
Q278662 Diskperf.exe May Hang with 8-Character Entry in the Registry Filter List
Q278695 OpenGL Does Not Redraw a Window Correctly
Q278710 No Global Groups Are Available Creating File-Share Resource Permissions in Cluster Administrator
Q280790 Memory Manager Allocates Paged Pool Before it Is Needed
Q281317 "Stop 0x000000E3 RESOURCE_NOT_OWNED" Error Message
Q282021 High CPU Utilization on Compaq Laptops When You Play a DVD Movie
Q287922 "Unsafe Removal of Device" Message When You Eject a Docking Station with an Attached USB Device
Q289156 Modified Date and Time Incorrect on Files Copied to Windows 2000 from Versions That Negotiate with LANMAN 2.1
Q289166 Race Condition Occurs and Autochk.exe Stops Responding During Restart
Q289171 Error Message on Multiprocessor System Cites Unreadable File but CHKDSK Finds No Corruption
Q289177 Sony AIT Media Changer Does Not Install Correctly If You Use Mchgr.inf File
Q289190 PCI Modem Power Management Setting Returns to Default After Reboot.
Q289195 Computer Hangs After Attempts to Use CD-ROM Drive on a Computer with Low Memory
Q289196 DVD Audio Does Not Work Right on Dell, Compaq, and Gateway Computers That Run Windows 2000
Q289201 Removable Storage Manager Does Not Recognize AIT2 Media Tape Cartridge
Q289205 STOP Errors 0x00000023 and 0x0000000A in Fastfat.sys When a Program Queries the File System
Q289209 Server Stops Accepting New Network Connections and Performance Degrades with Event 2019
Q289218 Bringing Cluster IP Address Back Online After Resource-Related NetBT Device Failure Generates Sharing Violation
Q289223 Unpredictable Results Occur When the Unlock Operation in the File Lock Package Is Initialized
Q289225 INF Corrupt or distorted display after selecting a supported refresh rate / Valid display mode
Q289226 No Sound from Non-PCM File with Windows Driver Model Audio Drivers
Q289227 Service Pack 1 Installation Generates Windows File Protection Event Log Entry
Q289231 User Defined Flags Are Not Reset When Using GlobalAlloc() to Allocate Memory
Q289236 Not Able to Run DirectSound Programs from DVD Drive on Windows 2000
Q289642 ServiceWare: Windows 2000 RSM Incorrectly Identifies OnStream ADR Tape Cartridges
Q289831 Stop 0x1E Error Message Appear on All Servers in the Same Domain
Q290312 Event ID 54 When You Stop Debugging a Program That Uses DirectX API
Q293114 Updates to Dfsutil.exe
Q294790 When Object Manager Calls a Close Procedure, and ObpInitKillMutant is Held, New Processes Cannot Be Created.
Q295082 Windows File Protection Does Not Protect Cluster-Specific Files

Directory Services

Q232538 Unsuccessful Replication Without Partner Listed
Q257187 RPC Error Messages Returned for Active Directory Replication When Time Is Out of Synchronization
Q257828 Cannot Clear the Cache on a DNS Server
Q258002 Invalid Characters in DNS Queries
Q258101 Dcpromo Does Not Allow All-Numeric Label in a Domain Name
Q258811 BUG: Windows 2000 LDAP API Cannot Bind to LDAP Servers
Q259739 ADsOpenObject("LDAP://RootDSE", ....) Call Generates Incorrect DNS Queries on the Network
Q259930 Cannot Start Windows 2000 with a Large Number of DNS Zones
Q260186 SendPort DNS Registry Key Does Not Work as Expected
Q262289 Invalid DNS Records Are Not Removed
Q262479 Tcpip.sys Does Not Free Broadcast Packets That the TCP/IP Traffic Filter Driver Does Not Want
Q263720 Macintosh Client Cannot Submit Certificate Request with Netscape Browser
Q263821 Account Lockout Because BadPasswordCount Not Reset to 0
Q264082 SNA Client or DLS Cannot Connect as Guest User on Windows 2000
Q264510 Rollup of Fixes for File and Print Services for NetWare (FPNW) Version 5.0
Q265192 Event 12297 Logged on PDC Role Transfer When Domain Controller Is Not the New PDC
Q265706 DCDiag and NetDiag in Windows 2000 Facilitate Domain Join and DC Creation
Q266066 BUG: Windows 2000 Services Cannot Access Some Network Resources
Q266082 Trust Does Not Work Between Windows 2000 and MIT Kerberos
Q266132 Windows 2000 Hangs at "Preparing Network Connections" Screen on Multiple-Processor Computers
Q266657 Windows 2000 Directory Service Agent Fails to Maintain Exclusive Control of Port 389
Q266683 DNS Server Occasionally Refuses Secure Updates
Q267845 Event ID 5773 Logged Even If UseDynamicDns Is Set to 0
Q267855 Problems with Many Domain Controllers with Active Directory Integrated DNS Zones
Q268969 "LDAP UDP Operations Per Second" Counter Always Returns Zero
Q268995 Windows 2000 Domain Controller Logs Event 1153 and Stops Replicating
Q269015 Service Does Not Start with "Access Denied" Message When Service Program File Is Located Remotely
Q269135 Lsass.exe Causes an Access Violation
Q270030 Windows 2000 DNS Server May Not Start with Many Reverse Lookup Zones
Q270137 Cannot Use "Add Members to a Group" If User Name Includes a Slash Character
Q270159 MSDSS Migration Does Not Work If Multiple Naming Attributes Are Present for an Object
Q270643 Active Directory Users and Computers Snap-in Always Contacts PDC When User Properties Is Opened
Q271379 Receiving Many Simultaneous H.323 Requests Causes a Computer with ISA Server Installed to Hang
Q271836 Standalone Server Receives RPC Error When You Open User Properties
Q271946 Replication Does Not Work When there Is a Name Conflict on a Global Catalog
Q272065 Bad Password Attempts Are Repeatedly Forwarded from Domain Controllers to the PDC Operations Master
Q272089 Zone Transfer Information Lost With Windows 2000 Active-Directory Integrated DNS
Q272190 Access Violation in Lsass.exe Program When You Enable Netlogon Logging
Q272348 Windows 2000 Host Always Authenticates with the PDC If a Member of a Windows NT 4.0 Domain
Q272473 AvoidPdcOnWan Registry Value Does Not Work
Q272990 Dial-on-Demand Connection Is Dialed When the Domain Controller Is Shut Down
Q273663 Clients Cannot Find Domain Controller to Log On
Q274172 FIX: Adding Multiple Users to Active Directory Can Cause Memory Leak When Setting Passwords
Q274489 Service Recovery Does Not Run Defined Program If the Program Does Not Use the System Account
Q275525 DNS Manager Monitor Test May Not Work on a Non-Domain Controller DNS Server
Q276023 Active Directory-Integrated DNS Zone Deletion May Not Work
Q276431 LookupAccountSid for "NT Authority\System" Results in Unnecessary Network Traffic
Q277915 Access Violation Occurs in Lsass.exe on a Domain Controller
Q277932 DNS Performance Counters Do Not Show Values When Collected from a Terminal Services Session
Q279093 Lsass.exe Causes an Access Violation on a Domain Controller
Q281401 LDAP Clients May Not Obtain Service Principle Names from MIT KDC
Q284937 Windows 2000-Based Clients Connect Only to First-Upgraded Domain Controller in Mixed-Mode Domain
Q286158 ADSI: AV Occurs When Using SSL Connection Established by Wldap32 in ADSI 2.5 on Windows NT 4.0
Q289154 Backup and Restore of Directory Service on Domain Controller Causes Duplicate SIDs
Q289161 Access Violation Occurs When You Remove Snap-in and Then Add It Again to Delete User
Q289168 Directory Replication May Not Work with Large Group Update to Active Directory
Q289172 GC Adds Non-Domain NCs as Read-Only Replicas When a Windows 2000 DC Replicates with a Whistler DC
Q289173 NetFileGetInfo() Returns "Error File Not Found" When Expected to Return "Error Invalid Level"
Q289179 System Hangs If Services.exe Experiences an Access Violation
Q289185 Network Performance Is Slow and Directory Services Are Unstable with KCC in Large Domain
Q289187 Certificate Request Generates Empty Relative Distinguished Names
Q289207 "Error 9608: DNS Zone Creation Failed" Error Message When You Start DNS Server Service
Q289212 "Schema Mismatch" and "Incompatible Partial Set" Error Messages Appear
Q289219 "Parameter Is Incorrect" Error Message After You View NetWare Services Tab of User's Properties
Q289220 Performance Monitor Shows a Drop in Available Memory and a Rise in Pool Nonpaged Bytes
Q289221 LDAP_LOCAL_ERROR Occurs During Server Restart and LDAP Operations Do Not Work
Q289612 Server Shuts Down When Running LDAP Control Because of Access Violation in Lsass.exe
Q289644 Multiple LDAP Binds to the Same Connection Cause Memory Leak
Q292300 DNS Administrative Tools Do Not Work on Server with Security Auditing Enabled
Q292592 Duplicate Connections Appear in the Active Directory Sites and Services Snap-in
Q295081 Cannot Lock a User Account After Installing Service Pack 1
Q296732 Built-in Administrator Account Has Attributes That Do Not Replicate to Windows NT 4.0 Backup Domain Controllers
Q272365 ADSI requests on LDAP objects may hang multi threaded applications

Internet Information Services/Com+

Q244274 Client Certificates May Not Work with Windows 2000 - Site Server Membership Mapped Web Site
Q251007 Some Cluster Disks Are Not Available After Installing SP6
Q251063 Password Change Notification Incorrectly Notifies Accounts with No Password Expiration
Q255973 BUG: Exporting Application Proxy in COM+ Gives Export Application Error
Q256839 Long URL Requests or Parameters Are Not Logged When You Use ODBC Logging
Q259076 Cannot Add Users or Groups as Operators in Default FTP and Default Web Sites
Q259760 Compression Is Not Enabled on POST Request
Q260353 FIX: Use of Java/COM Components in COM+ Enabled Systems Can Cause Delays
Q262739 Can't Administer IIS by Using ADSI on Window NT 4.0 IIS 4.0 from Windows 2000 IIS 5.0 and Vice Versa
Q262999 FIX: Queued Components on an MSMQ Dependent Client May Cause Application Event Log Error
Q263607 New Activations of Remote COM Server May Not Work If Remote Server Has Been Rebooted
Q264030 ASP Returns "Include File Not Found" Error Message for Included Files on the UNC Connection
Q264573 IIS 5.0 May Cause an Access Violation in W3svc.dll When You Use DAV
Q264908 Error Message: HTTP 403.15 - Forbidden: Client Access Licenses Exceeded
Q265363 FIX: Extra IComInstanceEvents::OnObjectCreate Notifications Are Sent
Q265367 FIX: IComActivityEvents::OnActivityCreate and IComActivityEvents::OnActivityDestroy Notifications Not Sent
Q265370 FIX: Process ID of COM+ System Application Not Returned by the IMtsGrp Interface
Q265376 FIX: Access Violation Calling CoCreateInstance()
Q265377 FIX: COM+ Transient Subscription Not Found in TransientSubscription Collection
Q265379 FIX: Memory Leak When Calling Between Configured Components
Q265386 FIX: COM+ Application Proxy Export Includes System Dynamic-Link Library (DLL)
Q267831 Event ID 2003 Warning Message Logged When Loading Performance Counters
Q269242 DCOM Bindings Not Updated When Dialing ISP
Q269285 FTP Server Fails to Open Data Connection
Q269476 FIX: COM+ Dispenser Manager Doesn't Close Pooled Resources
Q269477 INFO: Performance Enhancements in COM+ After Windows 2000 SP1
Q269479 FIX: Extended Error Information Is Lost When Calling In-Process Neutral Thread Model Components
Q269862 Patch Released for Canonicalization Error Issue
Q271456 IIS 4.0 Causes Heap Corruption in CGI Application
Q271912 Cannot Lock Volume Because of Handle Leak in Link Tracking Service
Q273735 INFO: Fix List for the Microsoft Virtual Machine Build 3316
Q274294 FPSE2000: "Confirm Save. A More Recent Version of the Has Been Saved" Error Message When You Try to Save File in Web
Q274591 Server Resources Can Expire When Non-Administrative Users Run Performance Monitor for IIS
Q275157 FIX: Access Violation When You Activate a Pooled COM+ Component
Q275293 DLLHOST Process Ends When Transacted WSC Components Are Called from IIS
Q275482 FIX: COM+ 1.0 Catalog Requires NTLM-based Authentication
Q275537 Certificate Object GetMapping Call Fails When Index Is Greater than 9
Q277007 INFO: Fix List for the Microsoft Virtual Machine Build 3319
Q277632 Memory Leak in Inetinfo.exe When Using the ADs IIS Provider
Q277774 Post Windows 2000 Service Pack 1 COM+ Rollup Hotfix 5 Is Available
Q277821 Access Violation When You Migrate MTS Application to COM+
Q278511 Patch Available for ActiveX Parameter Validation Vulnerability
Q289737 Passing IStorage Pointer to Local COM Server and Calling IStorage::CopyTo May Result in "0x80010105 (RPC_E_SERVERFAULT)"
Q290612 BUG: Event ID: 5 "Error While Reading Default Settings. Please Do Regsvr32 Asp.dll"

Mail

Q262286 Windows 2000 Direct and Indirect Printing over Infrared Port May Not Work
Q262288 Exchange 5.5 KMS Does Not Work with Windows 2000 Certificate Server in a Windows NT 4.0 Domain
Q262326 Slow Performance Writing to Disk and Temporary Files Stay Open
Q267859 SMTP Pickup Places Invalid Addresses Into Badmail
Q274065 Windows 2000 SMTP Service Returns a Protocol Error with Lotus Notes Client and Clear Text Authentication
Q274417 SMTP Service Hangs When Handling Many Domains
Q275178 SMTP Returns an NDR on MX Records with an IP Address Instead of an A Record
Q290160 Exchange Server Is Using 10 Percent of CPU Resources on Windows 2000
Q290725 Exchange Server Stops Responding After Sending SMTP Message with Large Message ID
Q290791 Registry Keys Available to Enable Outlook Express PlugUI Components in Internet Explorer 5.01 SP2
Q292768 Fatal Error on SMTP Server When Receiving Mail from Sendmail
Q292771 Access Violation in Inetinfo During NNTP Replication Between Newsfeed and Public Folder
Q292772 Though Stopped, Default NNTP Virtual Server Starts Again When the Computer Restarts
Q292774 Must Specify Domain at Each Logon with Network News Transport Protocol
Q292775 Downloading SMTP Messages Through NNTP Causes Database Fragmentation
Q292776 "Not Enough Storage" Error Message When You View Properties of Virtual Directories After Deleting an ACE
Q292777 Access Violation Error When Using Server Event Objects on Exchange 2000 Server
Q294175 Slow Mail Performance and Notification of Delay When You Send Mail to Another Domain

Management/Administration

Q222043 Roaming Profile Folders Do Not Allow Administrative Access
Q254133 FIX: Major Version of Type Library Causes Export Application Proxy to Fail
Q257760 Event Message 3101: Unable to Read IO Control Information from NBT Device
Q260834 System Monitor Displays Incorrect Volume Size When Disk Is Mounted But Not Assigned a Drive Letter
Q261197 More Than 15 IP Addresses Assigned to Server Cause Active Directory Problems
Q262857 Times in System Monitor .tsv and .csv Files Are UTC Times
Q263119 Access Violation in WinMgmt Service
Q263179 "Run Only Allowed Applications" List in Organizational Unit GPO Becomes Corrupted
Q263693 Group Policy May Not Be Applied to Users Belonging to Many Groups
Q263876 DNS Caches Last Negative Response Returned on Multihomed Server
Q264628 Inetinfo May Generate Access Violation or Heap Check Debug Break Point During Shutdown
Q264629 Adding a Counter with PdhAddCounter() Causes Access Violation in WMI
Q266254 WMI WDM Provider Rejects Instance Data From Driver
Q266382 BUG: HOMEDRIVE and HOMEPATH Environment Variables Not Set in Windows Installer
Q268151 Average Disk Transfer Counters That Are Saved in Perfmon4.exe Log File and Do Not Show Data in System Monitor
Q268715 WMI Query Support for Win32_Group Is Not Optimized
Q268881 WMI Event 43 Generated After Changing System Default Locale
Q269738 Differences Between "Bytes Sent/Sec" and "Bytes Received/Sec" Counters
Q270037 Policy Restrictions on Drives Cause Unnecessary Error Message at Logon and in File Dialog Box
Q271596 FIX: Applications Do Not Run from Network When Source Path Changes
Q271977 Terminal Services Session Displays Shutdown Button When Group Policy Is Enabled
Q272022 Mstask.exe Does Not Run Scheduled Jobs
Q273473 Read-Only Files Cause Roaming Profile Update to NetWare Server Not to Work
Q273653 Smlogsvc.exe Does Not Release Resources When You Are Using Performance Monitor Alerts
Q273773 WMI/WDM Provider Hangs with Large Data Blocks
Q273867 User Interface Is Incorrect for Alerts in System Monitor
Q274062 Windows 2000-Based Clients Cannot Use GSSAPI to Delegate to Kerberos Servers
Q274578 WMI Cannot Maintain Temporary Event Filter Registration
Q274599 Event Performance Issue When Polling Large Objects with WMI
Q275310 Setting Permissions on Windows 2000 Clients in a Windows NT 4.0 Domain May Take a Long Time
Q275506 Access to the Desktop Is Granted Before Logon Scripts Complete
Q275659 Corrupted Performance Counters May Disappear or Be Unavailable to Perfmon
Q275857 Performance Monitor Does Not Show All Counters in a Log File on a Different Computer
Q276451 Performance Monitor May Display Incorrect Data When You Log Data from Multiple Computers
Q276469 Unable to Enumerate Instances By Using WBEM_FLAG_DIRECT_READ
Q277884 WMI Win32NetworkAdapterConfiguration Methods May Not Execute Properly
Q278941 WMI Event Consumers May Not Receive Notifications from Out-Of-Process Providers
Q278952 WMI Sink Interface Methods May Return Invalid Error Codes
Q279094 Patching Transforms May Give 2250 Error Message
Q279229 Cannot Run Commerce Server 2000 COM Objects as Isolated in IIS
Q281094 System Monitor Shows Only the First Instance of a Program
Q281492 Windows Installer Allows Files To Be Written to NTFS Protected Directories
Q282879 FIX: Windows Installer Stops Responding Intermittently When Running Custom Actions
Q285900 Access Violation in MMC When You Resize the Panes
Q289157 Clicking the "Authentication" Button in NNTP Protocol in Exchange System Manager Does Not Open "Authentication" Dialog Box
Q289158 Error Messages About User Profile Appear in Several Logon Situations
Q289181 Installing a WMI-Enabled Program Generates No Events
Q289183 WMI Polling Query in Namespace with No Previous Event Activity Results in Access Violation
Q289197 An Access Violation Occurs If You Click in "File Server for Macintosh Properties" Dialog Box
Q289198 Changing Description of FSM Creator Results in Access Violation
Q289199 Domain Accepts Blank Server Name When Adding File Server for Macintosh
Q292766 WMI Automation Interfaces May Cause Unpredictable Program Shutdowns and Data Loss
Q292767 Add/Remove Programs Dialog Box Becomes Corrupted in Non-U.S. Versions
Q296742 2351 and 2355 Internal Errors When Installing Software from CD-ROM

MDAC/Data Access

Q247757 FIX: Connection Leak Using Parameterized Command In ADO
Q264701 FIX: Passing ADO Recordset ByRef Resets Error Information
Q268107 ESE Hangs Following Rollback After JetPrepareUpdate
Q269688 Cannot Access Some Msxml Methods with Czech or Slovak Regional Settings
Q271177 FIX: Unable To Repair Password Protected Database Through ODBC Control Panel
Q271461 FIX: "Method 'Recordset' of object 'IAdodc' Failed" Error Message with ADO Data Control
Q272373 FIX: Access Violation Occurs When Closing ADO Recordset In Multithreaded Application
Q273772 FIX: Memory Leak in Jet ODBC Driver with SQL_NUMERIC or SQL_C_BINARY Data
Q276375 Error Message with Distributed Queries When Using ADO
Q296970 Performance Problems on Domain Controller If Clients Use Integrated Logon
MSMQ
Q271646 MSMQ: Messages Sent with Direct=TCP May Be Rejected After IP Change on Target Computer
Q272202 MSMQ Deadlock in QM on Multiprocessor Routing Server with Connector
Q277990 FIX: MSMQ Performance Degradation Occurs on Connector Application Computer

Networking

Q258100 Performance Problems May Occur If a Process Uses the Same Endpoint for Both TCP and UDP
Q259887 RRType HINFO or ISDN Are Not Added When You Use the Dnscmd.exe Tool
Q261276 Parallel Direct Cable Connection Drops Shortly After Connecting
Q262140 Legacy BOOTP Clients Do Not Receive Option 144 Value
Q262386 Non-Paged Pool Memory Leak on Master Browser
Q262688 Static IP Address Is Not Retained During Windows 2000 Unattended Installation
Q262694 Malicious User Can Shut Down Computer Browser Service
Q263207 QoS Program Causes 100 Percent CPU Usage
Q263452 Cannot Remotely Administer Network Load Balancing with Winmgmt.exe
Q263464 "NET SEND" to Windows 2000-Based Computer May Not Succeed
Q263550 Dynamic DNS Update Option Sent to DHCP Server Even If Disabled Globally
Q263643 Using Virtual COM Port Dials Modem as Pulse Only
Q263689 Access Violation When You Run the Netdiag Utility
Q263692 RasSetEntryProperties() Function Does Not Set RASEO_RequireEncryptedPw
Q263820 Phone Dialer Does Not Display Windows NT 4.0 Local and Domain User List
Q263823 WinSock Recvfrom() Now Returns WSAECONNRESET Instead of Blocking or Timing Out
Q264631 Maximum of 854 DHCP Servers in Active Directory
Q264716 Network Monitor Incorrectly Filters MAC Address
Q264794 "Stop" Error Message with Firewall or Similar Software Installed on a Windows 2000-Based Computer
Q264820 GetHostByName() Does Not Resolve Computer Name with an IP Address of 0.0.0.0
Q264953 Conforming Vendor-Specific Attribute in IAS May Prevent the IAS Service from Starting
Q265017 Gethostbyaddr() May Return Node Name Instead of Virtual Name
Q265248 The Routing and Remote Access Service Incorrectly Logs Client Termination As an Admin Reset
Q265254 RPC Endpoint Mapper May Register the Same Interfaces
Q266221 Bugcheck 0x000000D1 Caused by Dlc.sys
Q266375 Network Load Balancing WMI Provider Memory Leak
Q267912 NetBIOS Listen Does Not Work If Calling Name Is Set to Anything Other Than "*"
Q268229 Deadlock When APC Routine for SetWaitableTimeruser Calls System Interfaces
Q268258 Host with Initial Cluster State Turned Off Stops If Any Host Parameter Is Changed
Q268581 Win32 LookupAccountSid() Function May Not Work in Certain Conditions
Q268773 NAT Does Not Properly Forward ICMP "Destination Unreachable" Packet That Is Generated on the NAT Server
Q269119 Logging on to a Domain Does Not Work From a Windows 2000-Based RAS Client
Q269188 WINS Client Workstation [00h] Entry Remains Active on WINS Server After Client Shutdown
Q269424 WINS Add1Bto1CQueries Feature Aids Load-Balancing Between Domain Controllers
Q269553 DHCP Server May Offer a Zero-Length Lease Time If Conflict Detection Is Activated
Q269822 Caller ID and Called ID Do Not Display Correctly with TAPI 3.0
Q269879 The Default DHCP Gateway Is Not Added to the Routing Table on a Multihomed Computer
Q270603 Deadlock When tdidisconnect() Is Called Recursively from Tcpclose()
Q270635 Post-Windows 2000 SP1 Hotfix for Network Load Balancing
Q270710 The Recvfrom Function Writes Incorrect Data into the Sin_Zero Field
Q270921 Windows 2000 Quality of Service Packet Scheduler Service Does Not Filter and Flow Forwarded Traffic
Q270923 Windows 2000 QoS Packet Scheduler Sends Packets with Wrong Checksum on Network Adapters That Enable Hardware Checksum
Q271067 Client Computer with High Connect Rate Opens Many Sockets
Q271178 "ITCallInfo::put_CallInfoLong" Property on a TAPI 3 Call Causes "Not Supported" Error
Q271180 Windows 2000 Callback May Not Work with Third-Party PPP Server Solution
Q271355 Access Violation Occurs in mgmtapi!AllocateTle()
Q271384 Minimal Performance Bottleneck in TCP/IP
Q271708 Host May Send Packet with an Incorrect TCP Checksum
Q271914 ATM Virtual Adapter Does Not Appear in Terminal Services Configuration Tool
Q271989 Winsock2 WSADuplicateSocket() Function Does Not Work on QoS-Enabled Sockets
Q271990 QoS/RSVP Services May Not Function Correctly When Microsoft Proxy Is Installed
Q272173 The Microsoft Windows 2000 Kernel Mode Cryptographic Module Has Received the FIPS 140-1 Status
Q272485 NetDDE Client Is Unable to Connect to NetDDE Server on First Attempt by Using Windows 2000
Q272494 "Connection Refused" Message Connecting to IIS Server
Q272503 Addresses Added with the AddIpAddress() Function Do Not Appear in the DNS Cache
Q275213 User Mode Process Cancellation of NAT Redirect May Cause Memory Leaks
Q275552 Token Ring SRB Network May Have Slow Data-Transfer Rate
Q276538 Memory Leak in Winmgmt Process When Running Network Load Balancing
Q276987 Connections to All Hosts Are Terminated When NLB Load Weight Is Adjusted
Q277561 Terminal Window After Dialing Does Not Work in Terminal Services Session
Q277722 Memory Leak in Atmuni.sys in Windows 2000
Q278522 Deadlock Condition Causes Socket Programs to Become Unresponsive
Q278670 Network Load Balancing Hotfix Package
Q278718 Error Message If You Do Not Disconnect from a Phone Call Before You Restart Your Computer
Q278920 QoS RSVP Service May Restart Every Three Minutes After the First Problem
Q279096 IGMP Router Changes Negative MFEs to Active and Forwards Packets Needlessly on Same LAN Segment
Q279354 You Are Unable to Filter Between Two Internet Protocol Addresses in Network Monitor 2.0
Q282798 DLC May Send I-frames on a Disconnected Connection
Q289151 Error Message: Fatal System Error: 0x0000000a (0x00000050,0x00000002,0x00000001,0x8006542A)
Q289152 Multiple Processes Attempting to Use Same Duplicated Socket Halts Program
Q289153 Multihomed Computer with Onboard Network Adapter Cannot Rejoin Domain After SP1 Installation
Q289165 Client Retains Lower MTU on Subsequent Transmissions to Multicast Route
Q289167 IP Filter Driver on Multiprocessor Computer Causes Blue Screen on Windows 2000
Q289186 Svchost.exe Creates a Memory Leak When RNDSTRESS Test Runs on ILS Server
Q289189 Events 4102 and 9 Appear During WINS Replication on Windows 2000
Q289211 Newly Added Static Route Is Gone After Reception of ICMP Redirect Message
Q289229 Access Violation in Masfd.dll Results from Using Winsock Direct Path to Communicate with Storage Area Network
Q289232 FD_READ Event Is Not Signaled on Connected Socket If Data Arrives Right After an Accept() on SAN
Q289240 File Larger Than 64,512 KB Does Not Transfer Using FTP from Run Command on Start Menu
Q289726 Stop 0x000000D5 Error While Adding IP Addresses to NIC by Using AddIPAddress() Function
Q289730 Cannot Remove the SBS Modem-Sharing Component After Upgrade from Windows NT 4.0
Q289732 VPN That Uses MS-CHAP Authentication Does Not Connect to RRAS Server
Q289733 "AppleTalk Was Not Initialized on Any Adapter" Error Message After You Install Protocol
Q290308 TCP/IP Stack Sends an IP Header Include Packet with IPID Being Zero but Overwrites Non-Zero IPID That You Supply
Q290701 Heap Damage in Netdde.exe
Q294234 DHCP-Enabled WINS Client May Refresh Netbt Name Cache Frequently

Other

Q247289 Office IFilter Does Not Index Complex Documents Correctly
Q262463 Find.exe Returns Extra Lines When Piped
Q263221 Memory Leak in Pdh.dll Querying Performance Counters That Do Not Exist
Q264484 Word Tables Are Not Indexed Correctly When Adjacent Cells Contain Digits
Q272763 Index Server Timeout Is Not Reported When You Execute a Query over Multiple Catalogs
Q274190 Logon Banner Can Be Dismissed Without User Action
Q274853 BUG: PdhExpandWildCardPath() ANSI Version May Fail on Windows 2000
Q289736 HOLD Installing Multiple Catalogs That Contain the Same Hash Damages the Hash Database

Printing

Q162616 Extra Form Feed with Passthrough Functions to Text Only Driver
Q257551 GSNW/CSNW NetWare Banner Page missing Username
Q263519 Access Violation Attempting to Use Uninitialized Printer from the Desktop
Q263995 Access Violation Viewing Brother Printer Properties in German Windows 2000
Q268589 Find Printers Dialog Box Does Not Return Correct Results
Q269399 Random Access Violations in Programs with Third-Party Fonts
Q269867 CSNW/GSNW Add Printer Wizard Does Not Display Large Number of NDS Print Queues
Q272493 USB WritePort Does Not Set dwDataCompleted to 0 When Allocating New Buffer If Data Size Is Variable
Q274524 Multiple Master Fonts Are Not Printed Remotely to PCL Printers
Q275495 Printer Redirection or Upgrade May Not Work Because of Signed Ntprint.inf File
Q289162 Print Jobs Larger Than 4 MB Do Not Print Completely
Q289184 Support for Autoduplexing on HP 970 Printers Not in Effect with Unidrv.dll
Q289194 Registry Key Does Not Correctly Handle Line Feed/Carriage Return Translation
Q289230 DrvQueryPerBandInfo Call by IHV Driver Does Not Succeed
Q289233 File Size Increases in Spooler When Printing to a PostScript Printer with Kernel and User Mode Drivers
Q292598 OEM Device Properties That You Set on Custom Tab of Dialog Box Are Not Saved
Security

Q254500 Screen Saver Does Not Run If the Console Is Locked
Q258872 Error Code 1350 Applying SetFileSecurity() to COMx
Q260069 Malformed HTR Request Returns Source Code for ASP Scripting Files
Q260347 IIS 4: Fix for Cross-Site Scripting Issues
Q261655 Cannot Make an SSL Connection After Exporting and Importing an SSL Certificate
Q262539 Memory Leak in Lsass.exe with Large Built-in Groups
Q262979 Cannot Renew Verisign Certificates in IIS 5.0
Q263603 Incorrect Behavior in Winlogon for First-Time User with "Must Change Password on First Logon" Setting
Q263743 RasDisable and RasForce WinLogon Policies Can Be Bypassed
Q265351 Substituted Drives Are Persistent for Users on a Computer
Q265357 Roaming Profiles Cannot Create Key Containers
Q266149 WMI Event Trace Does Not Contain CID or Client Computer Name
Q266433 Patch for Numerous Vulnerabilities in the LPC Port System Calls
Q266684 "Access Denied" After Unlocking Workstation When Network Is Disconnected
Q266794 Windows 2000 SNMP Registry Entries Are Saved in Plain Text Format and Are Readable
Q267556 Auditing Does Not Report Security Event for Resetting Password on Domain Controller
Q267560 Changing the URL in a Specific Manner May Expose Contents of a File
Q267843 Windows 2000 Telnet Server Stops Responding After Binary Input
Q267868 Renaming CD-ROM Drive Creates Admin$ Share to Which Everyone Has Full Permission
Q268082 DNS SOA Record May Reveal Administrator Account Name
Q268236 Non-Administrator Cannot Gain Access to Removable Media
Q268263 SGC Does Not Work When You Use Keys Longer than 1024 Bits
Q268277 Problems Changing Nested Global Group Scope to Universal Group
Q268546 Cacls.exe Orders ACEs Incorrectly When Granting Rights
Q268896 Windows 95/Windows 98 Cannot List Users in Windows 2000 Domain
Q269012 Resetting SACL Tree May Disable Inheritance
Q269013 Non-Administrative User Cannot Access Removable Media After NTFS Format
Q269049 Registry-Invoked Programs Use Standard Search Path
Q269239 NetBIOS Vulnerability May Cause Duplicate Name on the Network Conflicts
Q269406 With NTLMv1 on Server, Data Is Not Encrypted When You Set or Add Password in User Manager or Server Manager
Q269685 SIDWalker Cannot Handle Wide Character Folder (Object) Name
Q269731 Domain Controller Contains Invalid Tickets in the Ticket Cache
Q269835 FPSE: Windows-Based Fixes for Server Extensions SR1.2
Q270676 Users Might Gain Full Control of a System via the "Simplified Chinese IME State Recognition" Vulnerability
Q271641 The Configure Your Computer Wizard Sets Blank Recovery Mode Password
Q271907 Error SC_E_LOGON_DENIED After a Reset of Local Machine Account Password
Q272303 RPC Server Service Stops Responding
Q272388 Users Are Not Enrolled in Parent Domain If KMS Is on Child Domain Controller
Q272472 Runas Command Does Not Work with User Principal Name or Plain User Name
Q272576 Cannot Add Local Group to ACL When Logged On with a Local Account
Q272736 Windows 2000 Still Image Service Exposes User Elevation Vulnerability
Q272743 HTML E-mail Link Transmits User Name and Password to Unauthorized Server
Q272994 Client Hangs When You Attempt to View Certificate Chain If Certificate Authority Is Not Available
Q273854 Denial of Service Can Occur with Microsoft NetMeeting
Q274064 Network Services Can Be Accessed After Account Is Disabled
Q274149 Cookies Are Not Marked as Secure in IIS
Q274359 LmCompatibilityLevel Setting Causes POP3/IMAP User Authentication Not to Work
Q274372 Patch Released for "Domain Account Lockout" Vulnerability
Q274835 Buffer Overflow in Network Monitor May Cause Vulnerability
Q275248 Kerberos Does Not Work After Connecting to Windows NT 4.0 Share When Using Smart Card Logon
Q286132 Patch Available for Invalid RDP Data Vulnerability
Q286360 GetEffectiveRightsFromAcl() Function Causes "ERROR_NO_SUCH_DOMAIN" Error Message
Q288861 LSA Memory Leak Due to SetPassword Call
Q289176 Denial of Service Can Occur When Temporary Files Use Up Paged Pool Memory
Q289200 Pressing CTRL+ALT+DEL During Shutdown Halts Sequence
Q289213 Renewal of CA Certificate Resets Security and Policy Settings to Default
Q291845 Malformed WebDAV Request Can Cause IIS to Exhaust CPU Resources
Q295080 Terminal Server Client Licensing Information Is Not Encrypted in the Network Packets
Q295083 Logged-On Users May Not Be Authenticated to Services After KRBTGT Password Change
Q295087 Error Message Cites STOP 0xc000021a Event and STATUS_SYSTEM_PROCESS_TERMINATED
Q296576 Unchecked Buffer in ISAPI Extension Could Compromise Internet Information Services 5.0

Setup

Q255952 Unable to Contact DHCP Server with RIS Boot Disk
Q259144 Computer May Hang After Using Sysprep on ACPI-Enabled Computer
Q259884 UPS Goes into Battery Calibration Mode During a Windows 2000 Installation When UPS Is in Smart Signaling Mode
Q260319 Sysprep "-pnp" Switch May Not Install Non-Native Signed Drivers
Q268178 Setupapi.log Entries Appear After Running Update.exe
Q268256 Incorrect Space Requirements Listed in Readmesp.htm File
Q270070 Error Message: Windows 2000 Is Installed on a Drive Formatted with the OS/2 File System (HPFS)
Q271935 Windows 2000 SP1 May Cause Some Menus to Revert to English When Applied on Non-English MUI Configuration
Q272308 "WINNT32 /CHECKUPGRADEONLY /UNATTEND" Is Not Fully Automated
Q272378 Error Message When You Use a Multiple-Processor Image on a Single-Processor Computer with Sysprep
Q275193 SisCreateRestoreStructure and SisFreeRestoreStructure Has Mismatched Alloc/Dealloc
Q275206 User Must Click 'Finish' to Reboot the Computer When Unattended Installation Is Complete
Q278011 Legacy-Free Computers Take Longer to Install Windows 2000
Q282755 Signed Drivers May Appear as Unsigned During Setup
Q285782 Do Not Uninstall 56-Bit Hotfixes After Installing High Encryption Pack (128-Bit)
Q289192 System Information Incorrectly Identifies Windows Powered Computers as Running Advanced Server
Q289215 Version Information in Registry Does Not Reflect Slipstreamed Upgrade to Windows 2000 Server SP1
Q289228 When You Uninstall IIS, Some Files Are Not Updated by Service Pack 1
Q295077 FP30reg.dll Is Not Updated When You Upgrade to SP1
Q296721 Terminal Services Client Is Not Updated When Service Pack 1 Is Installed

Shell
Q257489 No Domains Listed in "Copy to" Dialog Box for Profiles
Q258948 Cmd.exe Shortcut Does Not Have Same "Run as" Behavior as Command Line
Q259885 Wang Image Edit Control May Not Work During Copy and Paste Operation
Q260923 Hungarian Windows 2000 Displays Incorrect Day for Start of Week
Q263077 Arrow Keys Do Not Work in Windows 2000 HyperTerminal with VT100 Emulation
Q265326 Cannot Create File Association for a File That Has No Extension
Q266040 Taskbar Indicator for StickyKeys Does Not Show Key Status
Q267874 Adobe Font Driver Causes Text Damage with Multiple Master Fonts
Q268612 On-Screen Keyboard Slash Key Mapping Does Not Work with Non-U.S. Keyboard Layout
Q269033 Wallpaper Reverts to Last Bitmap After Daylight Saving Time Ends
Q269443 Invoking File/Folder Shortcut Menu Disconnects InterDrive Share
Q269593 "Stop 0x0000001e" in Win32k.sys When You Quit a Program
Q269680 Heap Corruption with Administrator-Defined CSC Path Using Logical Drive
Q271075 Spanish Windows 2000 May Show Some Misaligned OEM Information in System Properties
Q272501 FIX: Cannot Bind to WSC That Is Written in XML from HTTP Server
Q272502 FIX: VBS FormatCurrency() with Negative Value Asserts on Some Locales
Q272504 FIX: VBScript GetObject() Fails to Return Rich Error Information
Q272958 Event ID 4079 When You Synchronize All Offline Files Before Logging Off Policy
Q273245 Data May Be Damaged When You Use Offline Folders
Q273632 Access Violation in win32k!DesktopAlloc with Null Heap Pointer
Q273838 Mobile Synchronization Runs Continuously for Non-Administrator
Q274261 HyperTerminal Buffer History May Appear Corrupted
Q274723 FindUserName Returns ERROR_FILE_NOT_FOUND Instead of S_OK
Q275128 UK Keyboard Layout CTRL+(left)ALT+E Produces Euro Symbol Along with Accented Letter E
Q275925 Error Message "Stop 0x0000007F" While Retrieving Data from the Clipboard
Q277562 Error Message "Failed To Carry Out Command" When Attempting to Use CreateLink
Q278709 Caps Lock May Not Synchronize in a Client Session When You Are Running an MS-DOS-Based Program
Q279330 Patch Available for New Variant of the "Frame Domain Verification" Vulnerability
Q279343 "Stop 0x1E" or "Stop 0x50" with Terminal Services Client Print Session
Q289188 Explorer.exe Generates Errors During Search on Remote Computer That Has No Shared Folders
Q289234 Changes to "Offline Files" Properties Not Saved When You Log On Without Administrator Rights
Q289619 Offline Text File Changes Are Not Retained After Synchronization
Q296728 Pentium 4 Processor Brand String Is Truncated in Windows 2000 System Properties
Terminal Services

Q214488 Registry Flag fUseDefaultGina Does Not Work
Q256843 Access Violation May Occur in Termsrv.exe When You Are Using Time-Outs
Q261278 Terminal Server Ignores NumberOfRings Parameter, Answering on First Ring Only
Q262137 Client Connection Manager for Terminal Services Causes Access Violation in Explorer.exe
Q263749 There Are No Extended Characters When You Use an MS-DOS-Based Program in a Terminal Services Session
Q264651 Kernel Objects May Not Be Shared Across Terminal Services Sessions
Q265419 Terminal Services Server Does Not Restart with Restart Command from a Client Session
Q266783 Terminal Services Server Switches to Install Mode for Users When Running RunOnce Entries
Q269349 Terminal Services License Server Status Appears as UNKNOWN
Q270588 Remote Desktop Protocol Clients Cannot Connect to Terminal Services Server
Q274768 ICA Clients Over Dial-Up Link May Unexpectedly Disconnect
Q289170 Using English Version of Windows 2000, Cannot Dial from Portugal to Activate License Servers

These fixes were obtained from the Knowledge Base Article
containing the list form Microsoft's website.


Return To The Windows 2000 Section
ActiveWin.com Featured Partners:
70-291 exams are source of management, deployment, maintenance and administration of IP addressing and all safest resolution of networking issues with great security measures. 70-292 exams are providing the great technical support for the management of computer clients, users, groups by maintaining all accessible resources with great disaster recovery techniques. 70-219 exams are the application of implementing and operating tools with effective skills and practice of IT organizers. 70-297 exams of Microsoft certification for the endorsement of professional skills and qualification of IT engineers with great successful career. 74-139 exams are very ideal for those IT specialists who want to achieve the great success and progress in their professional career.