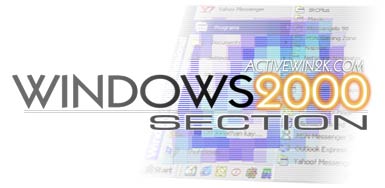 Windows 2000 Server Licensing Requirements
Microsoft offers flexible, cost-effective options for licensing Windows® 2000 Server family products.
You need a server license for each server within a Windows 2000 Server-based network and a Windows 2000 Server Client Access License (CAL) for each client computer that is used by an authenticated user or that uses Windows 2000 Server Services.
The majority of customer scenarios will require the same number of Windows 2000 CALs as they would with Windows NT® Server 4.0.
Authenticated Use Explained
An authenticated user is one who directly or indirectly uses the Windows 2000 Server Integrated Sign-on Service or receives credentials from the Windows 2000 Active Directory™ service.
Windows 2000 Server customers who may be affected by changes in license terms include users planning to access applications running on Windows 2000 Server and users connecting to Windows 2000 as a Web server:
Authenticated use by applications. Customers whose applications use Windows 2000 authentication or directory credentials will require CALs. Many such customers have already purchased CALs for other services such as file and print. But for those who do not have CALs for other purposes, CALs will be a new requirement.
Authenticated Internet access. Customers with Internet sites using Windows 2000 authentication will require CALs for authenticated users connecting to their sites. Such customers may comply with this licensing requirement by purchasing CALs in "Per seat" or "Per Server" mode. Or, they may opt to purchase the new Internet Connector license for unlimited Internet CALs on a single server. Access to Internet sites by anonymous users does not require a CAL.
For authenticated Internet users, you may substitute the Internet Connector for CALs.
Server Services Requiring CALs
Client computers accessing the following server services in a Microsoft Windows 2000 Server-based network require Windows 2000 Server CALs:
File services. Accessing or managing files or disk storage.
Printing services. Printing to a printer managed by the product.
Remote Access Service. Accessing the server from a remote location through a communications link, including a virtual private network.
Terminal services. Using the terminal services feature of the server to enable client devices to use applications or data residing on the server
Client Access Licenses: Per Seat vs. Per Server
The license model for Windows 2000 Server offers two distinct licensing modes for Client Access Licenses (CALs): Per Seat or Per Server.
Per Seat Licensing
Users acquire a CAL for each workstation or other device that connects to any licensed server. This includes users running Windows for Workgroups, Windows 95, Windows 98, Windows NT 4.0 Workstation, and Windows 2000 Professional. Note that a Windows 2000 Server CAL is required whether you use client software supplied by Microsoft or software from a third-party vendor.
Windows 2000 Server CAL is associated with a specific computer or client device (seat). Client computers are allowed access to any server within a Windows 2000 Server-based network, as long as each client machine is licensed with the appropriate Windows 2000 Server CAL.
Advantage
A per-seat license is most economical in distributed computing environments where multiple servers within an organization provide services to clients, such as a company that uses Windows 2000 Server for file and print services.
Per Server Licensing
Users have a set number of devices connected to a licensed server at a given time and customers need a sufficient number of CALs for that server to cover all the concurrent users of the server
A Windows 2000 Server CAL is associated with a particular server. This alternative allows concurrent-use licensing: If customers decide to use the server in Per Server mode, they must have enough Windows 2000 Server CALs dedicated to that server to accommodate the maximum number of clients that will connect to that server at any one point in time. The server assigns Windows 2000 Server CALs temporarily to client computers; there is no permanent Windows 2000 Server CAL associated with a specific client machine. If a network environment has multiple servers, then each server in Per Server mode must have at least as many Windows 2000 Server CALs dedicated to it as the maximum number of clients that will connect to it at any one point in time. Under this option, the customer designates the number of Windows 2000 Server CALs that apply to the server during setup.
Advantage
A Per-Server license is most economical in single-server, occasional, or specialty-use server solutions. Some examples include Remote Access Service solutions, CD-ROM servers, or the initial server of a planned larger deployment.
Customers may select the alternative that best suits their organization, and purchase the relevant number of CALs. Note: It is not necessary to notify Microsoft of the licensing option selected.
For either option, a server license is also required for the right to run Windows 2000 Server server software on a particular system.


Return To The Windows 2000 Section