Windows XP Professional x64 was released to market April 25th, 2005. It has been one year since its release, how is it faring so far?
Adoption is a bit difficult to determine, but based on the strong newsgroup activity from persons in the Windows 64-bit General newsgroups, I would say itís healthy. A majority of persons though will encounter issues when it comes to application and device driver compatibility. This continues to be ironed out as developers have gradually released updated drivers and workarounds to support existing applications and hardware devices.
A few enthusiast and help sites have popped up on the net also, catering to this release of Windows XP, all have been playing an important role in helping users with issues that they may encounter transitioning to or using the operating system.
The question posed by many about Windows XP x64, is it ready for the mainstream yet? My answer of course would be no. The release is probably a defining transition in Microsoftís history, proving the Companyís agility and the ability to move with the times and conform to changes in the Computer industry. What some users must realize is, with those moves come a certain responsibility and sacrifice that needs to be made while transitioning to a new platform and developing to take advantage of a new architecture.
AMD (Advanced Micro-Devices) released their first 64-bit processors in the fall of 2003, way before Windows XP x64 came to market. This has certainly factored into the adoption of the operating system. A lot of persons purchased 64-bit systems in late 2003 to early 2004 thinking that they would be future proofing themselves with the ability to upgrade to Windows Vista without any degradation in performance or necessity for major hardware upgrade when the time came. This of course is not the case, in fact, 64-bit systems purchased between late 2003 and early 2004 were probably not even fully future proof for Windows XP Professional x64.
Looking back at the first few months of Windows XP x64ís release, some of the major issues that came up for users who installed the operating system included lack of driver support for Graphics Cards, Network Interface Cards and modems; these so far have been at the bottom of the list in terms of issues on Windows XP Professional x64 lately. The two that continue to be problematic, include support for All-In-One Printers, Scanners, Wireless and USB devices. This is why it is important for users who are thinking about moving to the operating system do the necessary research to ensure their existing hardware devices are supported or will be supported before migrating. At least contact the developer or browse websites such as http://www.planetamd64.com to find out if there are any beta drivers available.
The biggest obstacle when installing Windows XP Professional x64 is enabling support for RAID/SATA hard disk. If you have such a configuration, it is important for you to obtain drivers first for your storage device, and then store them on a floppy. Boot off the Windows XP Professional x64 CD-ROM, during the text based portion of setup, you will be given the option to load storage drivers using the keyboard F6 command for any RAID/SATA you may have installed in your x64 system. Insert the floppy you created with the available drivers, press Enter and the drivers should be installed and continue with the rest of setup.
Other aspects of hardware compatibility maybe problematic for many users thinking about investing in Windows x64. Wireless support continues to be lacking, other devices include Web Camís, the only web cam I am aware that is compatible with Windows x64 is from Creative, you can learn more about that here Microsoft recently released native 64-bit drivers for their Mice and Keyboards enabling advanced features like Magnifier and Tilt Wheel to function. You can download the drivers for Intellipoint here and Intellitype Pro here
Software
Software has not been much of a problem, but there are a few things users should know before running applications on Windows XP Professional x64. All applications must be entirely 32-bit or 64-bit native to run on the operating system. Legacy 16-bit applications are not supported and never will be. Certain 32-bit applications utilize a 16-bit installer for installing and or uninstalling applications, this is not supported in Windows x64, the 32-bit application must be entirely 32-bit to support the WOW64 (Windows on Windows 64) which is an emulation layer built into the operating system to support 32-bit applications.
For persons who might be using custom applications or favourite programs that might not have been updated and you are running Windows x64, the best recommendation is to use Virtual Machine products such as VM Ware Workstation 5.5 or Microsoft Virtual Server 2005 R2 in which you can run older versions of Windows that will support such legacy applications on top of Windows XP x64. Microsoft Virtual PC 2004 is not supported on Windows x64 and probably will not be until the next version of Windows; Windows Vista Ultimate x64 Edition is said to support a limited bundled Express Edition.
Another recommendation for running legacy applications is a dual boot configuration, which requires that you run two separate versions of Windows on separate disk partitions. For example you could have Windows XP x86 installed on one partition named C:\ and Windows XP Professional x64 installed on another partition named E:\. One thing to note when setting up dual boot configurations, always install the older version of Windows first, in this case, you would install Windows XP x86 (32-bit) first on its own partition, then Windows XP Professional x64 after on its own partition. Some persons commonly make the mistake of installing the older version of Windows after Windows XP Professional x64. This will alter the bootloader, which will make Windows XP Professional x64 unbootable.
Charlie Russel Ė MVP has an excellent article about recovering from corrupt installations and installing in the wrong order, worthy read here
Partitioning is very important, unfortunately there are no partitioning tools available for Windows x64, its best you do any necessary partitioning in Windows x86 if you want to have multiple logical disk for either backing up data or installing additional versions of Windows. The best solution right now for that would be Symantec Partition Magic, which is not supported on Windows XP Professional x64. So, it is important to do any necessary partitioning before installing Windows XP Professional x64.
Common desktop applications such as Microsoft Office are fully supported, certain persons recently were experiencing problems though installing Office 2003, no available workarounds have been found, but the user can try a couple suggestions such as installing the latest Service Pack for Office, latest version of the Windows Installer (currently at 3.1), and run CHKDSK command to ensure that there is no corruption in the file system.
Windows Media Player 10 for some users has occasionally become corrupted, repairing through the Add/Remove Programs does not help it seems in many cases, the best work around guaranteed to work most of the time is a Refresh install of the operating system (insert the Windows XP x64 CD-ROM and do an upgrade), you can also try a SFC /scannow switch from the Command Prompt and see if it fixes it. Otherwise, WMP 10 runs just fine, you need Codecs to play certain audio and video files, so make sure those are available for you to view your multi-media.
This is a popular one that pops up from time to time. Is Direct X 9 included in Windows x64? Yes, it is, no need to download and install, you can verify this by clicking Start > Run > type in dxdiag > click OK > select the System dialog and look under > System Information.
Compatibility, Compatibility, Compatibility
Users have encountered issues installing Adobe Systems Photoshop CS 2 on Windows x64, an available work around can be found at the following link:
http://www.adobe.com/support/techdocs/325739.html Information about additional Adobe Creative suite products such as Indesign CS and Acrobat 7.0 on Windows x64 are provided in the link.
AutoDeskís AutoCAD and Architectural Desktop software version 2006 might also encounter issues with Windows XP x64, to resolve this, please install the latest version of the .NET Framework 2.0 x64. You can download it here
Some of Microsoftís consumer products are not compatible with Windows x64, these include Microsoft Plus! for Windows XP (including the SuperPack Edition), PhotoStory is also not compatible. Many of the popular PowerToys available for Windows XP x86 do not work either, for a list of the ones that do work, check the following link here.
Compression utilities such as WinZip do run on Windows XP Professional x64 but do not support certain Explorer extensions that are found on the right click contextual menu. You can use an alternative compression utility, which supports this, WinRAR, or 7-Zip are two recommended choices.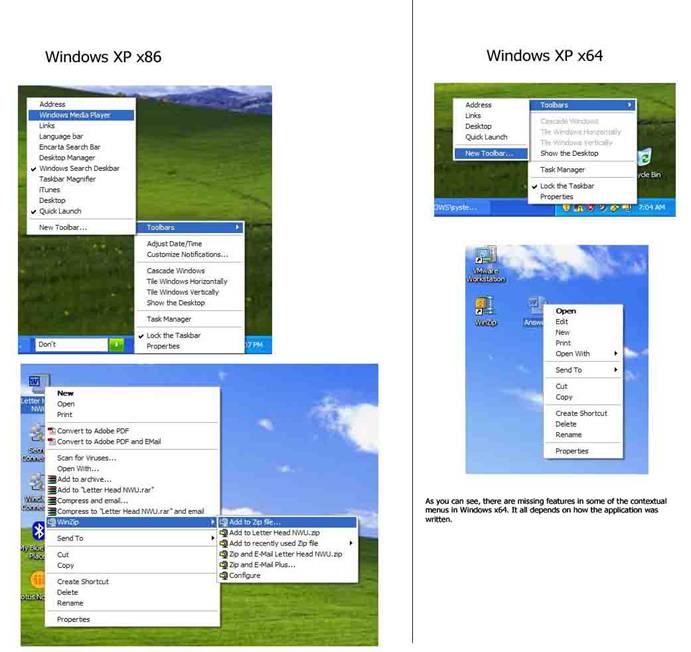 As you can see, there are missing features in some of the contextual menus in Windows x64.
It all depends on how the application was written.
To learn more about compatibility and Explorer Extensions, click here
Adobeís Acrobat Writer is not supported on Windows x64 because it requires a print driver, so you do not get the print to PDF functionality in applications such as Office, you can use alternative solutions such as DocuDesk DeskPDF or CutePDF
To learn more about Adobeís support policy for Adobe Acrobat under Windows x64 click here
Internet and Networking
Wireless devices are probably the sticky areas on Windows x64. Devices such as Wireless routers are usually what most users may encounter headaches with. A poster from the Windows 64-bit General newsgroups recommends Ralink which has x64 drivers for the rt2500 chipset. http://ralink.rapla.net/ lists available cards using this chipset. For further information, also check PlanetAMD64.com download section (registration required).
Windows XP Professional x64 includes two versions of Internet Explorer, 32-bit and 64-bit. You may wonder, what the 64-bit version does, if it probably makes web browsing twice as fast. No, it does not; I guess itís just there for web developers to support in the future for extensions such as Active X controls, Macromedia Flash Player which are not available yet. It works just fine though, and I personally would say a lot more secure, virtually no pop ups since using it. Internet Explorer 32-bit though functions just fine, and you are able to browse all your favourite websites without a hitch, your third party extensions function just fine too.
Outlook Express is also 64-bit, not much has changed, the most noticeable difference is spell checking. Because in Windows XP x86, Outlook Express utilized the Office spell checker which is 32-bit, you were able to grammar check your e-mails. In Windows XP x64, all .dlls must be 64-bit thatís why you are unable to grammar check e-mails, you would need a native 64-bit Microsoft Office for this to be possible, no word whether Office 2007 will include a native 64-bit version. The Microsoft Office Image Writer is also incompatible with Windows x64, again, it needs to 64-bit native.
Security
Security is a big issue when it comes to Microsoft software over the past 2 to 3 years now. The first question that might be asked is, which Antivirus utility works with Windows x64? Unfortunately itís a really short list; these include AVG 7, NOD32, eTrust 7.1, MacAfee Enterprise 8 and Symantec AV 10. Certainly as the Windows x64 platform matures, a lot more utilities will continue to appear. Please note, retail versions of Norton and MacAfee are ďnotĒ available for Windows XP Professional x64 since those are commonly used on Windows x86.
Windows x64 is based on the Windows Server 2003 Service Pack 1 code base, which also includes all the Security Technologies from Windows XP Service Pack 2. So regardless you will see Windows XP Professional x64 SP1 in System Properties > General (tab) dialogue, it is actually the latest commercially released code base. Another security concern some persons may not realize is running pre-release/test versions of Windows x64. A lot of persons it seems after Windows XP Professional x64 was RTMed (Release to Manufacturing) were running the latest and last BETA version of the software, which had an extended expiry period of up to 360 days.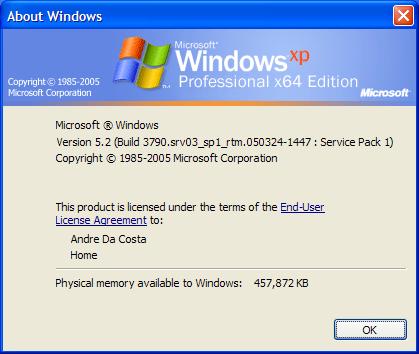 Windows XP x64 version dialogue.
Builds, 1090, 1218, 1433, 1812, RC1 and RC2 are all BETA Builds which are not supported and are not valid under the Windows License agreement. The latest and final released build of the software (1830) is (Build 3790.srv03_sp1_rtm.050324-1447:Service Pack 1). It might seem ridiculous posting this, but it does happen, so providing the clarification is probably best. Also, upgrades from BETA Builds are not supported, itís a clean install, so if you standardized on a BETA build and have any data created, back up before you do a clean install. You can download the Trial here, which last for approximately 120 days. If you decide to use Windows XP Professional x64 permanently while using the trial, you can upgrade to the full software before it expires, simply insert the Full OEM version disk and select Upgrade. If the trial expires before you receive the full software, the work around here is to do a repair upgrade. Insert the Windows XP Professional x64 disk and boot from it, accept the F8 license agreement and select Repair.
Note: All data will be saved, although you will have to re-obtain all updates you acquired during the trial period, since the latest updates are obviously not included on the RTM CD.
There are some security issues associated with certain chipsets on Windows x64; for example, the nforce chipset utilizes the nVidia Firewall. Persons have said they experience slow Internet browsing, certain websites will not load or even performance issues on the machine in general are apparent. To correct this issue is very simple, install the nVidia Firewall from your motherboard disk and uninstall it. AMDís Cool ní Quiet technology used to conserve energy can also cause performance problems with Windows x64, its recommended you do not enable this, if you have and are experiencing problems, please disable it through your BIOS.
So, one year has passed, would I describe this release of Windows XP a success? Yes, it was not as difficult a transition as I had originally thought it would be. I would say my transition to Windows 2000 Professional was probably a better example of difficult although that was also resolved over time with updated drivers for devices and peripherals such as my modem and printer. As I previously said, Windows x64 is not for everyone, it can be used yes, as a home operating system. But whatís the point if you are not going to take advantage of all of its features, such as huge address space with support for larger amounts of memory? Its best most consumers stick with Windows XP x86 for the time being, the true 64-bit Windows coming to the mainstream for consumers will be around the Windows Vista time frame.
In current BETA builds of Windows Vista, Media Centre, Tablet PC computing, DVD Burning are expected to be a part of 64-Bit computing for example. So there is reason to wait. Microsoft has provided documentation with an overview on the missing features in Windows XP Professional x64, you can find that here.
My personal experiences with Windows XP Professional x64 have been exceptional. Daily applications I use include Word 2003, Outlook 2003, Photoshop 7, and CAD 2006 run just fine. The future is bright for this technology as more machines will be built with 64-bit instructions, but the software is probably the difficult part. Hopefully, Windows Vista x64 will provide an incentive for preloading it on both business and consumer systems, also Windows Vista x64 will require signed drivers which mean drivers written for devices are more reliable and less prone to causing system instability, this also means, you can have confidence in the source of your drivers for your devices.
My system was not purchased as a future proof move, thinking that it would run Windows Vista at full speed when itís released, it was purchased primarily for enthusiasm and I needed a new home system anyway and I am pleased with it. Its doing what I need and I enjoy using it everyday when I come home from work. Obtaining Windows XP Professional x64 was not difficult at all. I had my OEM copy purchased from http://www.directron.com
You can purchase the full OEM version from the following online vendors also.
http://www.planetamd64.com/catalog
http://www.ncix.com
http://www.newegg.com
http://www.zipzoomfly.com
Again, Windows XP Professional x64 is definitely not an operating system for the average Windows user who is doing basic stuff such as browsing the net or sending e-mails and writing one page documents in Word. But it is likely that as we go further into the future, the majority of PCís manufactured and purchased will be 64 bit enabled, which does not necessarily mean you are ready for a 64 bit OS. But it does give the user a sense of comfort knowing the capability is there ready to be taken advantage of by a largely supported 64-bit OS.

Currently the true beneficiaries are the technical ones in the technical environments who require the massive amounts of power this platform provides. Within the next 2 to 3 years 64 bit computing supported hardware and software should be more available than it is today and users will better take advantage of it with the appropriate applications written for the consumer market, so far that is not available.
Obviously I have not covered everything, just my experiences so far on the platform from daily use. So, have you been using Windows XP Professional x64? What has your experience been like, tell me about what you donít like, what you do like and the problems you have encountered, I want to hear it! J
Windows x64 Resources on the Web:
Windows XP Professional x64 Website
Xperts 64
Extended64
PlanetAMD64
Windows x64 Web Based Newsgroups