Product: The Haunting: Signature Selection

Company: Dreamworks
Review By: Byron Hinson
Price: $20:99
Most of you already know that "The Haunting" was panned by most critics when it hit the theatres in the summer of 1999, but not surprisingly, due to the massive amount of special effects and top name stars, the movie did pretty well at the box office both in America and overseas.
I'll get the basic story out of the way first so I can talk about the actual DVD content. The movie is based on the old story "The Haunting Of Hill House" and features the excellent Lili Taylor as Nell, a shy woman who has been looking after her sick mother so long she has started to lose her mind and has trouble sleeping, next up we have Theo played badly by Catherine Zeta-Jones a bisexual woman who is also having trouble sleeping...Finally we have Liam Neeson who takes the part of Dr. Marrow and Owen Wilson who plays another sleep deprived character called Luke.
The story revolves around the dark and foreboding Hill House where Dr. Marrow has decided to setup an experiment about sleep deprivation (Or so he says) with, Nell, Theo and Luke as his test subjects. What Dr. Marrow didn't expect was that Hill House hold a number of secrets that the main character of Nell would hold the key to.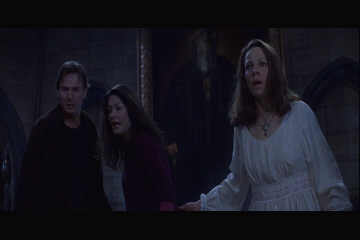 Director Jan De Bont has rightly come to fame for his work on Speed I personally feel that up to now, everything he has done since then has been a waste of time in terms of entertainment (Including Twister). The special effects do tend to over-run the film with De Bont relying on them to do the scaring instead of anything else. The Haunting though does manage to entertain you, it isn't too long and moves along quite fast, it certainly isn't anything special and Lili Taylor is again excellent as the lead.
How It Grades
Picture Quality: 91%
Sound: 87%
Special Features: 80%
Movie Overall: 80%
DVD Overall: 84%

Now onto the DVD, which is actually not bad at all. The presentation features a number of extras, not a great deal but it does have a few good ones, trailers, behind-the-scenes feature, production notes and cast & filmmaker bios. The DVD does look great and that is the main saving grace for this movie, the colors are deep and there are some great tones on the decor inside Hill House, which show up tremendously well thanks to the DVD. There is also a lack of artifacts showing up which made viewing a pleasure.
Overall quite a good DVD in terms of Video and Sound, it may not have been a critical success but it is quite entertaining to watch in the evening or at the weekend. There are not enough extras on the disc to give it a mark in the 90's in DVD quality but give it a try.