ActiveDVD
DVD News
DVD Forum
Glossary
Tips
Articles
Reviews
News Archive
Links
Easter Eggs
Drivers
Amazon.com 100 Hot DVDs



News Centers
Windows/Microsoft
DVD
Gaming
ActiveHardware
Xbox
News Search



ANet Chats!
The Lobby
Special Events Room
Developer's Lounge
XBox Chat



ActiveWin
Articles
AskAW
DirectX
ActiveDVD
ActiveGaming
Forums
Interviews
News
MS Games & Hardware
Reviews
Support Center
Windows 2000
Windows Me
Windows XP



Windows 2000
Available Systems
Benefits
Bugs & Fixes
FAQ
Drivers
History
Introduction
Links
Upgrade Issues
Utilities
Patches



FAQ's
Windows 98/98 SE
Windows 2000
Windows Me
Windows "Whistler" XP
Windows CE
Internet Explorer 6
Internet Explorer 5
Xbox
DirectX
DVD's



Tips & Tricks
Registry Tips
Windows 95/98
Windows 2000
Internet Explorer 4
Internet Explorer 5
Windows NT Tips
Program Tips
Easter Eggs
Hardware
DVD



ActiveXBox
Xbox News
Box Shots
Inside The Xbox
Released Titles
Announced Titles
Screenshots/Videos
History Of The Xbox
Press Releases
Links
Forum
FAQ



Latest Reviews
Games
Max Payne
Microsoft Train Simulator
Applications
Microsoft Windows XP Professional
Norton SystemWorks 2002
Hardware
Intel Personal Audio Player 3000
Microsoft Wireless IntelliMouse Explorer



Site News/Info
About This Site
Affiliates
ANet Forums
Contact Us
Default Home Page
Link To Us
Links

Member Pages
Site Search
Awards



Credits
©1997/2001, Active Network. All Rights Reserved.
Layout & Design by Designer Dream. Content written by light tower the Active Network team. Please click here for full terms of use and restrictions or read our Privacy Statement.

Product: Inspector Gadget

Company: Disney DVD
Review By: Byron Hinson
Price: $20:99
Inspector Gadget was one of my favorite cartoons on TV when I was younger, it was different, funny and had some ingenious gadgets to keep kids amused, so when I first heard of a big screen version I wondered who they would get to play Gadget, stars such as Robin Williams and Jim Carrey jumped into my head. Then I heard Matthew Broderick had been chosen and despite Broderick being one of my favorite actors, I was a little disappointed with the choice.
The story is based around the character of security guard John Brown, one night when John is trying to catch the person who murdered the father of "brilliant" scientist Dr. Brenda Bradford played by former Ellen regular Joely Fisher, he comes up against Dr. Claw played in an overly camp way by Rupert Everett. John almost loses his own life and the robotics expertise of Dr. Bradford is put to the ultimate test of transforming John into Inspector Gadget. The film follows Gadget getting used to all of his new found tricks while trying to catch Dr. Claw.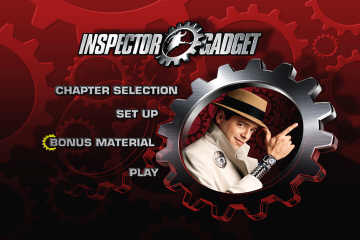 The movie does manage to capture the gadget side of the inspector very well, but there is little or no real comedy involved in it and it doesn't follow the way the cartoon characters were at all, Gadget used to be bumbling and cocky but not he's just left to be occasionally bumbling but never cocky. I actually found that end credits were more enjoyable than most of the film.
How It Grades
Picture Quality: 78%
Sound: 80%
Special Features: 70%
Movie Overall: 65%
DVD Overall: 70%

The DVD itself isn't amazingly bad like most Disney releases, it isn't Anamorphic (Nothing from Disney is right now - although the forthcoming Sixth Sense will be) and doesn't have a bulk load of added extras either, just a short featurette and a music video. The DVD-Video isn't bad considering it is non-anamorphic but there are some clear artifacts showing up during the film. Sound is probably the best feature on the Disc, always clear and well produced...All in all I can only really recommend it to ardent fans of the cartoon series and to 4-8 year olds who might get some kind of fun out of it.