Product: The Last Broadcast: Special Edition

Company: Wavelength Releasing
Review By: Byron Hinson
Price: $14:99
There has been some recent controversy surrounding The Last Broadcast. Why you may ask, well there was some animosity between The Last Broadcast and "The Blair Witch Project" camps. They are similar to each other in the way that they were filmed, both are done in a documentary style but the one that actually came first was The Last Broadcast, not perhaps surprisingly The Blair Witch Project. But as the final credits say "The story and characters depicted in this movie are entirely fictitious. But please don't tell anyone."
On Dec. 15, 1995, Steven Avkast and Locus Wheeler, the hosts of a cable access show called Fact Or Fiction, went into the Pine Barrens of New Jersey. Aided by Rein Clackin and Jim Suerd, they were going to do the first live broadcast in search of the legendary Jersey Devil.
Only Suerd came out alive.
It took the police two days to find the bodies.
It took the coroner four days to put them back together.
It took the jury one-and-a-half hours to sentence Suerd to life in prison.
One year later, filmmaker David Leigh decided to make a movie about it. Using the footage shot by the four, he discovered the truth about what really happened that night. A truth more horrifying than was ever imagined.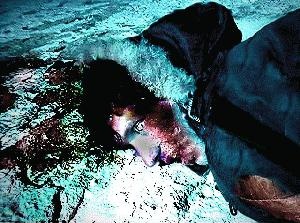 The Last Broadcast was never going to be a "show-off to your friends" DVD title, it was filmed on a $900 budget and it shows. There are quite a few special features on the DVD though including Behind the scenes footage and information on the "Legend Of The Jersey Devil" The Movie on the other hand offers quite a lot.
How It Grades
Picture Quality: 64%
Sound: 65%
Special Features: 82%
Movie Overall: 86%
DVD Overall: 83%

The Last Broadcast begins as I have mentioned before, as a documentary hosted by filmmaker "David Leigh", David decided to put together a movie about the murders of "Fact Or Fiction" hosts Steven Avkast & Locus Wheeler who were due to go out in search of the Jersey Devil. The Last Broadcast is excellent when it is working as a documentary but unfortunately, The Last Broadcast falls apart in the last ten minutes or so as it builds to a conclusion, it tries to turn itself from a documentary into a real movie and the results are pretty bad to say the least. The Last Broadcast's credibility is seriously compromised due to the way in which it is wrapped up.
As I have already mentioned, this is not a showcase DVD because of the way it was filmed, but it is a pretty good and scary movie if you can live to accept the unfortunate and rather poor ending.