ActiveDVD
DVD News
DVD Forum
Glossary
Tips
Articles
Reviews
News Archive
Links
Easter Eggs
Drivers
Amazon.com 100 Hot DVDs



News Centers
Windows/Microsoft
DVD
Gaming
ActiveHardware
Xbox
News Search



ANet Chats!
The Lobby
Special Events Room
Developer's Lounge
XBox Chat



ActiveWin
Articles
AskAW
DirectX
ActiveDVD
ActiveGaming
Forums
Interviews
News
MS Games & Hardware
Reviews
Support Center
Windows 2000
Windows Me
Windows XP



Windows 2000
Available Systems
Benefits
Bugs & Fixes
FAQ
Drivers
History
Introduction
Links
Upgrade Issues
Utilities
Patches



FAQ's
Windows 98/98 SE
Windows 2000
Windows Me
Windows "Whistler" XP
Windows CE
Internet Explorer 6
Internet Explorer 5
Xbox
DirectX
DVD's



Tips & Tricks
Registry Tips
Windows 95/98
Windows 2000
Internet Explorer 4
Internet Explorer 5
Windows NT Tips
Program Tips
Easter Eggs
Hardware
DVD



ActiveXBox
Xbox News
Box Shots
Inside The Xbox
Released Titles
Announced Titles
Screenshots/Videos
History Of The Xbox
Press Releases
Links
Forum
FAQ



Latest Reviews
Games
Max Payne
Microsoft Train Simulator
Applications
Microsoft Windows XP Professional
Norton SystemWorks 2002
Hardware
Intel Personal Audio Player 3000
Microsoft Wireless IntelliMouse Explorer



Site News/Info
About This Site
Affiliates
ANet Forums
Contact Us
Default Home Page
Link To Us
Links

Member Pages
Site Search
Awards



Credits
©1997/2001, Active Network. All Rights Reserved.
Layout & Design by Designer Dream. Content written by light tower the Active Network team. Please click here for full terms of use and restrictions or read our Privacy Statement.

Product: Mystery Men
Company: Universal
Review By: Byron Hinson
Price: $17.49
I have to admit to never having heard of the Mystery Men comics that this movie are based on. The previews of the film earlier in the year didn't look too bad especially with a dark comical look and a great set of comedic talent.
The story revolves around a group of misguided "Superheroes" played by Ben Stiller, Janeane Garofolo, Hank Azaria, William H. Macy and Paul Reubens who set off to rescue Captain Amazing, Champion City's legendary superhero who always seems to be in the right place at the right time. Amazing has been kidnapped by madman Casanova Frankenstein played by Geoffrey Rush and this gives the "Superheros" Mr Furious, The Shoveler, The Blue Raja, The Bowler, The Spleen, The Invisible Boy and The Sphinx the chance to show the world what they are really made of.
Despite the great casting, good characters and some fine directing from first-time director Kinka Usher, I just didn't find Mystery Men at all funny, not even once which I found very surprising when you consider the comedians who are involved in the movie.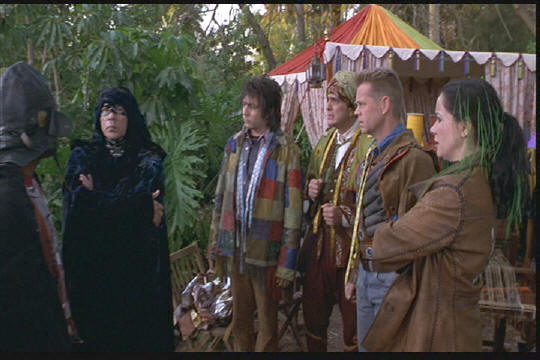 How It Grades
Picture Quality: 90%
Sound: 91%
Special Features: 90%
Movie Overall: 70%
DVD Overall: 80%

The DVD itself is yet again an excellent Universal release. Mystery Men plays in the original ratio of 1.85:1 and is an Anamorphic Transfer and thankfully the movies picture quality is superb with great colors and very little sign of digital artifacts of jagged edges.
On the special features side, Universal has yet again produced a high quality DVD packed full of features such as On Location footage, feature commentary from Director Kinka Usher, Deleted Scenes, Music Highlights, Comic book information, production notes and a number of DVD-ROM features.
There is no doubt that some people will find Mystery Men's sense of humor pretty funny, I guess I am just one of those who didn't, but that doesn't mean I didn't enjoy the DVD...It is packed full of features and has great sound and visual quality. I highly recommend it to fans of the film and comic, but for those of you who didn't enjoy it at the cinema, I can't see the DVD changing your opinion.