Product: Wild Wild West

Company: Warner
Review By: Byron Hinson
Price : $20:99
Most people in Hollywood believed that Will Smith could do no wrong, no matter what type of film he was starring, but when Wild Wild West was in production there were rumors afoot that the movie had a poor script and very few ideas but it was a script that Smith and his Director from Men In Black, Barry Sonnenfeld both read through and accepted as a good one.
Wild Wild West follows the adventures of one government agent, Artemus Gordon (Played by Kevin Klein) an inventor and one "Cowboy" named West (Played by Will Smith) who are given a mission together to try and stop Dr Arliss Loveless (Played by Kenneth Branagh) taking over America.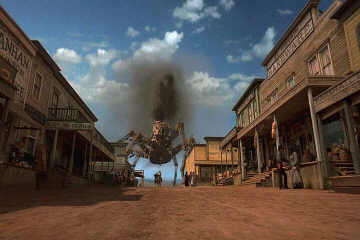 So how does a film with so many good actors, a massive budget and a good director go down the pan? Well for a start the movie was supposed to be a comedy so in most comedies you expect a laugh or two, but with Wild Wild West you are lucky if you get one. The plot and script isn't all that good either. One saving grace is that the movie is rather nice to look at (As it should be due to all the money they threw at it) due to good cinematography and some great special effects, I say some because there are some places where it is too obvious that blue screen technology is being used.
Now then on to the important stuff, how is the DVD?. Warner have always released good DVD packaged and in my view they have outdone themselves here, while they could have just ignored the DVD release of Wild Wild West due to the fact that it was a flop at the box office, they have filled it up with a plethora of special features that both fans and non-fans of the film will find interesting. All the menus are animated with thumbnail selection screens for the scene selections. First up with the special features we have the feature-length director's commentary by Barry Sonnenfeld, which actually wasn't as boring as I first thought it would be.
How It Grades
Picture Quality: 87%
Sound: 89%
Special Features: 92%
Movie Overall: 57%
DVD Overall: 83%

There are cast and crew bios & Gadgets & Gizmos: The Making of Wild Wild West, which lasts around 15 minutes or so, next we have The Loveless Lair which is four more featurettes about Dr Loveless lasting around 6 minutes each. Next we have the trailer for the movie which is presented in the aspect ration of 1.85:1 the same as it was in the cinema. Finally we have Gadgets & Gizmos where you can get to the stills gallery, a few music videos and a feature all about the making of Will Smith's Wild Wild West music video.
There are also a number of DVD-ROM features that you can get access to aswell, there are about 10 behind the scenes videos lasting a couple of minutes each, a preview of the game of the film, genre essays and the whole of the online website on the DVD. So as you can tell, the DVD is packed full of special features.
The video and sound quality of the disc is excellent too, although I did see quite a few artifacts cropping up early on in the film, they seemed to vanish as the movie moved along. The music for the Wild Wild West can get on your nerves though as there is little variation on the theme music being used.
So the movie may be quite bad, but it was an easy watch for the hour or so it runs for and the amount of special features and the quality of the video really make up for it. Warner should be commended for making a great DVD out of a poor film.