Product: Hollywood Plus DVD/MPEG-2 Playback Card
Company: Sigma Designs
Driver Version: 1.6
Review By: Byron Hinson
Where To Buy: http://www.sigmadesigns.com
Price: Store Dependant
When Sigma sent me the Hollywood Plus DVD Decoder card, I was a little bit skeptical. Why? well I felt I was getting damn fine DVD playback by just using the ATI DVD or WinDVD software players, so I was left wondering what a hardware card would add bar taking a load off of the processor. Many major computer companies are now using Sigma Design based DVD boards in various packages such as DVD-ROM Drives and inside new computers so people can get on the DVD bandwagon without much fuss....Even Creative Labs who were Sigma's main rival (In my view) in the DVD decoder hardware have decided to use Sigma Design's board layout for their new Dxr3 decoder card, this gives Sigma almost a 100 percent market share in the PC-DVD upgrade kit market.
Here are a list of the Hollywood Plus cards features.
Sigma EM8300 Single-chip MPEG-2 decoder with full compliance ISO 13818-2 MPEG-2 standard
Sigma EM9010 analog overlay technology for superior DVD picture quality on computer monitor and compatibility with all VGA cards
Plays DVD-video, MPEG-2, and MPEG-1 interactive titles
Displays non-interlaced full motion video at full-screen or in a resizable window from 16 x 16 up to 1600 x 1200 on the VGA monitor
Full screen NTSC/PAL TV output
Brightness, contrast, and color saturation control for VGA and TV display
Dolby™ Digital 5.1 channel output via S/P-DIF connector
Dolby Surround, 2-channel stereo analog audio output
Supports up to 20 Mbps sustained input channel data rate
Plug and Play support for Windows 95/98
Navigation Features:
Interactive menus and sub-picture controls
Multiple camera angles & language selection
Supports wide screen, letter box, and Pan & Scan viewing aspect ratios
Supports Dolby AC-3 5.1 channel decode
Supports MPEG-2 and PCM audio decode
Complies with CSS analog and digital copy protection
Support for regional copy protection
Package Includes:
1 Hollywood Plus card
Audio cable
S-Video to Composite Converter Cable
Set of drivers and applications (Version 1.5 Included)
Star Trek: First Contact VideoSaver
Installation
Installing the Hollywood Plus card and drivers was a breeze. Opening up my PC case I chose my last remaining PCI slot to put the card in, attached all of the audio wires to the H+ card, Sound Card and DVD-ROM. When it comes to attaching up the connections for audio inside your PC, you have a couple of choices, you can use two internal cables to connect your DVD-ROM to the H+ card and then your sound card to your H+ card or you can just use the audio cable that comes with the Hollywood Plus card to attach to the back of your soundcards Line-In port to the Stereo Out on the Hollywood plus. I went for the internal setup because I had one set of extra wires.
Once the internal setup was complete, I put the casing back onto my PC and connected my monitor up to the Hollywood Plus card, and used the pass through cable to connect it to my Voodoo 2 and then that back to my video card so I would be able to have everything working.
Finally I boot up my PC and Windows 98 detects the hardware, the rest of the installation is very simple, it is just a case of inserting the drivers and then application disks into the drive and running the setups. Surprisingly everything worked first time, there were no problems with IRQ's or memory settings so everything was ready to be tested straight away.
Next I made sure that all of my Software DVD decoders had been uninstalled, so that there was no conflict with any auto play features that the DVD programs may have.
Calibration
When the Hollywood Plus cards software is installed onto your PC, it needs to run a few calibration tests to setup colors and monitor sizes for each resolution you use. This calibration takes place just after the DVD Station (The software that plays all of your DVD titles) is installed off of the applications disk. Your monitor will go blank for a few seconds while the software does its stuff, once complete, everything should be ready for you to use.
The Software
The main software that you will use if you purchase the Hollywood Plus card is called DVD Station. The DVD Station controls all of the playing of DVD titles, it is also the place which holds most of the cards options and settings such as parental password settings, auto play etc.


DVD Station Controls
The main controls you use to play DVD's are along the bottom of the DVD station as you can see above. These control playing, fast forward, rewind, slow motion, menu and subtitle controls. There is also a display which gives you more information about the DVD you are currently playing, such as the title and chapter numbers as well as how much of the DVD you have watched and what aspect ratio the DVD is playing at.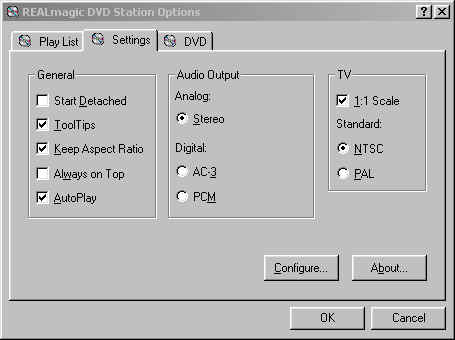 Option Settings
Option settings are kept in the bottom left hand corner of the DVD Station. These consist of play lists you can setup your self, to Audio output and TV settings. There are not a great deal of options for you to select but they do their job well. Here is a basic run down for everything you see above. The general options deal with the basics such as auto playing DVD's (Open DVD Station and the DVD starts), keeping the aspect ratio (This gives the best quality of picture because it scales the DVD down correctly for your monitor). The others I don't really have to explain. Audio Output: Stereo is for those of you with the basic speaker setup (Two speakers etc), Digital AC-3 uses the S/PDIF socket on the Hollywood Plus card, so if you don't have a set of speakers that can connect to it, don't select this option as you won't hear anything. PCM connects to your normal speaker port (I think I'm right here) and requires a Dolby Logic receiver/amplifier to decode the signal to four channels...So again, if you don't have the correct speakers don't select this option either as you will get no sound.
The TV settings are used when you connect the Hollywood Plus card up to your Television set when you wish to view a DVD on a far bigger screen. (This requires a few more connections that don't come with the card, such as S-Video and Audio cables).
Playback and Sound Quality
When you load up the Hollywood Plus DVD Station it automatically scans your DVD-ROM Drive for any MPEG files that it can play. If you have AutoPlay setup correctly in the Hollywood Plus options then when you insert a DVD-Video disc it will automatically start to play. The first thing I noticed was that the playback was far, far smoother than any Software DVD player I have used, visually the picture is also much clearer on screen with less artifacts showing up when watching a movie. It was a genuine surprise how much better the quality was compared to my usual Software DVD players and once you see it for yourself, you won't want to go back.
How It Grades
Playback Quality: 91%
Sound: 92%
Use Of Hardware: 90%
Options: 83%
Price: 81%
Ease Of Use: 73%
Interface: 69%
Ease Of Installation: 78%
Manual: 86%
Overall: 89%
You can control brightness, gamma, contrast, and color-saturation adjustments directly from the DVD Station, and calibration settings can be saved for all resolutions and refresh rates that you use. It is also clear to me how much easier it is to work on my PC and have a DVD movie playing in the corner of my screen, there is literally no slow down while I am working, no juddering or anything, it was real easy to write this review and be able to judge DVD playback at the same time.
Sound is also a big improvement over software DVD players, especially if you have a great speaker setup. The Hollywood Plus card has both internal and external sound connectors for soundcard connectivity (As mentioned earlier) along with an external S/PDIF Dolby Digital (AC3) connector that carries six channels of digital audio to your digital amplifier (If you are lucky enough to have one).
Every title I tried on the Hollywood Plus card worked without any problems (Compared to a few on software decoders) with the exception of one....Microsoft's Encarta 99 DVD Edition won't run its enhanced full screen video due to Sigma still not having any work DirectShow drivers out, which was a bit of a disappointment in my eyes.
Overall
I assume that most of you are wondering if it is worth spending a few extra $/£ to get a DVD Decoder card. Well all I can say is that the Hollywood Plus DVD Decoder card is by far and away the best out there today, if you like watching DVD movies (and now some games) then I recommend getting the Hollywood Plus card as it does far more than your average software decoder in both terms of picture and sound.
The only bad bit I can really notice (Bar the lack of working DirectShow Drivers) is the old looking interface, I am sure though that in the future Sigma will do a redesign to bring it up to the standard of some of the latest DVD Software Decoders out there today.
But the Hollywood Plus delivers on its promise of superior picture and sound quality on your PC, what more do you need out of a hardware DVD Decoder?
DVD Titles Tested
The Avengers (Widescreen and Full Screen)
The Truman Show
The Opposite Of Sex (Widescreen and Full Screen)
Evil Dead
The Exorcist Special Edition
Out Of Sight
L.A. Confidential
The Game (Widescreen and Full Screen)
Con Air
Scream 2
Armageddon
Urban Legend (Widescreen and Full Screen)
Encarta 99 DVD Edition (Uses DirectShow Drivers)
PC Required
Windows 95/98
Pentium-based PC (or compatible), 133 MHz or higher
PCI 2.1 Compliant Expansion Slot
16MB Ram
DVD-ROM Drive
2 megabytes (MB) of free hard drive space
VGA card
Plug and Play BIOS support
Amplified Stereo Speakers (Dolby Digital or Dolby Pro Logic amplifier and speakers required for surround sound)
Bus mastering IDE controller recommended
Reviewers PC Setup
Pentium II 450
Windows 98
128 Meg SD-Ram
Voodoo 2 - 8mb
SoundBlaster Live Value
Toshiba SD-1202 DVD-ROM - 32x
17" LG Electronics Monitor
ATI 8mb XPert AGP Graphics Card