Product: XingDVD 2.0.3
Company: XingTech
Review By: Byron Hinson
Where To Buy: BuyDirect
Price: $49:95
Installation of the XingDVD 2.0.3 player is easy. The program is very small in size (Just over 1mbs), this is assuming you already have Microsoft's DirectShow drivers installed on your PC (They are around 4mbs). Once you click on the setup file you are given two options. Typical or Custom installation. The difference between the two is minimal to say the least, custom allows you to change certain file associations that XingDVD would usually use....I chose the Typical installation.

Once installed, I loaded up the player and started to check out the interface (Above). It is nothing special, but it does the job well. On the left side are the main control buttons, on the right are the audio volume and balance controls along with the timer, audio, subtitle and fast forward settings.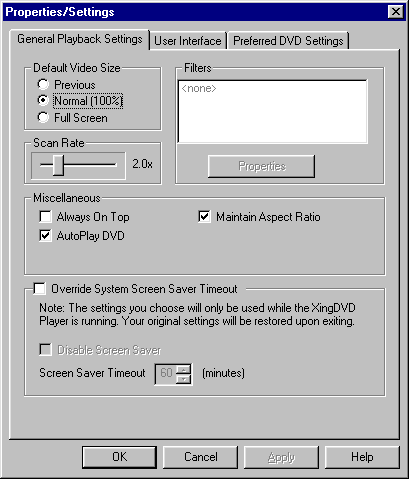 General Playback Options
Clicking on the Properties/Settings icon brings you to the screen above. This area is the main brain center for most of the XingDVD Player. From here you can change video sizes, fiddle with the audio and video filters to get the best quality of DVD-Video playback. The scan rate option you can see above is for the fast forwarding of movies. From the filters tab you can change the quality of audio and video, these help those of us who don't have a monster PC but would still like to view DVD-Video at reasonable quality.
The next tab along is where you can change the user interface. You can edit the fonts, the display jackets and a number of other things.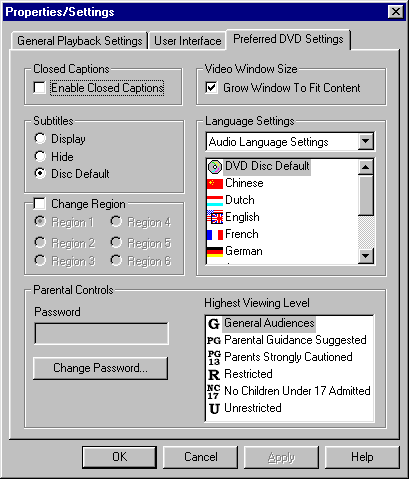 Preferred DVD Settings
The final tab is the preferred DVD settings page. This is where you can change the DVD region settings (Or not if your a Windows 98 user). You can also change the parental controls and the audio settings (Whether you want the movie in English, French etc).
How It Grades
Playback Quality: B+
Sound: B-
Use Of Hardware: C
Options: A
Price: B
Overall: B
So we have passed the options stage, now it is time for the question of just how good is this decoder?. Well it is certainly one of the best software decoders I have tried in terms of picture and sound quality, but there are a few problems I have noticed. For one, there is no option Hardware Motion Compensation (ATI) which is a real shame as it can take quite a bit of work off of the processor and boost the quality of the picture. Next we have the bit problem (At least for me in Region 2). If you are a Windows 98 user then you are going to have a hard time changing the region settings because unlike most software decoders that are currently available you cannot change it by simply clicking on a region. Under Windows 98, region code changes are permitted by reinstalling the operating system and choosing a different region (Although there are work-arounds, but they are difficult).
Overall XingDVD played all of my DVD's (Including Encarta 99's Video footage) without any problems. There is quite a bit of background shaking when watching movies, although it is only really noticeable when you are very close to your monitor. Sound quality isn't as good as ATI DVD or Cinemaster but it is very close and there isn't much of a difference between the three. The only other problems I have is with the price ($49) I really hope that you will be able to upgrade to newer versions of the player without having to pay out with each new version.
XingDVD 2.0.3 is currently my most used decoder software mainly because I like the way it can vertically stretch some Widescreen movies (Although its hard to get it back to normal) but in terms of picture quality it is just (And I mean just) behind the ATI DVD Software Decoder because of the Hardware Motion Compensation ATI can use. It does have one major advantage over all other DVD Software Decoders I have used, it is very stable. Over the past couple of weeks I have put it through a number of tests and it has only crashed once.
The Good and The Bad
XingDVD Player Good:
Highly configurable.
Can play stand alone VOB files.
Very stable.
Good user interface.
Balance control.
Allows proportional resizing of the playing window.
Supports Closed Captions.
Advanced DirectShow driver.
Supports Bob DeInterlacing.
Supports AMD's 3D-Now!
Vertically stretches some Widescreen movies.
XingDVD Player Bad:
Extracts the region code from the operating system.
No support for Brightness or RGB control.
No support for Hardware Motion Compensation (Please add it)
Some scene/menu navigation options are not always available right away (Same with most players).
Annoying MPEG-1 support.
Vertically stretches some Widescreen movies
Requirements
Pentium II 233MHz or AMD K6-2 300MHz with 3D Now! Technology
Windows 95/98
32MB RAM
DVD-ROM drive
Audio card
Standard AGP video card and display drivers
NOTE: Some newer PCI video cards will work properly
Reviewers PC Setup
Pentium II 450
Windows 98
128 Meg SD-Ram
Voodoo 2 - 8mb
SoundBlaster Live Value
Toshiba SD-1202 DVD-ROM - 32x
17" LG Electronics Monitor
ATI 8mb XPert AGP Graphics Card