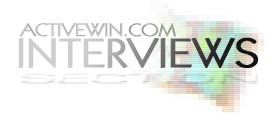 Interview with Lance Delano, Lead Product Manager: Microsoft Visio 2000 Professional
ActiveWin: How long was Microsoft Visio 2000 Professional in development? Did the development of Visio 2000 Professional coincide with the other three Visio editions?
Lance Delano:
The development cycle for Professional lasted approximately one year. Even though the editions had different release dates (spanning from August 1999 to December of that year), Professional was contemporaneously developed with Enterprise and Standard.

ActiveWin: During the development of Microsoft Visio 2000 Professional, did you overcome any setbacks or set any milestones?
Lance Delano: Developing a product and getting it ready to launch is, of course, the stuff of war stories. In general, shipping on a platform (i.e., the Visio platform itself) always hold surprises. The individual setbacks and milestones probably aren't that interesting to hear about. The Visio software and database modeling development team is composed of fairly senior software designers and the team has been working together for a very long time. The result is that we have become very efficient at responding to the inherent challenges of software development. Instead of panicking about X or
Y, we feel confident that we have the experience and creative energy to solve that problem.
ActiveWin: If the next version of Microsoft Visio Professional were released today, what features would you include that are not in the current version?
Lance Delano: Well, specific features are difficult to talk about (because we try to keep those confidential as we plan our next version). But an important theme for us going forward will probably be increased interoptibility. Visio's always been recognized for its ability to work with Microsoft's products. And the acquisition by Microsoft this past January just expanded our ability to integrate with other Microsoft teams. Since I work on database and software modeling technologies, I've gotten to work closely with Microsoft's Visual Studio group. So we're really hoping to be able to capitalize on these new synergies with Microsoft and increase interoptibility even further.
ActiveWin: Are there any service releases planned for Microsoft Visio 2000 Pro? If so, what problems/bugs will be fixed?
Lance Delano: Service Release 1 (SR1) is already out for Visio 2000 Professional. For more information about it, you might want to look at one of the articles from Microsoft's Knowledge Base. The article is located at:
http://support.microsoft.com/support/kb/articles/Q264/4/00.ASP
ActiveWin: How has Microsoft Visio 2000 Professional been accepted by the IT/Business industry?
Lance Delano: Extremely well. Professional remains one of Visio's best-selling editions, along with Standard.
ActiveWin: How does Microsoft Visio SmartShapes assist users in IT Diagramming?
Lance Delano: Many IT Professionals need a way to document what their existing IT infrastructure looks like--whether its how their databases are organized, the modeling schema for their software, or how their network is configured. SmartShapes are well-suited for this task because they are customizable, so they make it possible for users to modify their drawings to look like the components that they represent.
ActiveWin: What is the favorite part of your job?
Lance Delano: As I mentioned earlier, the development team has worked together for a long time. So I get to work with a group of people that I know well, on technologies that I really like. (In my case, software modeling and database schemas.)
---
Links


Return To The Front Page