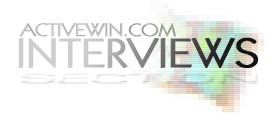 Interview with John Dongelmans, Microsoft SideWinder Evangelist: Microsoft SideWinder GameVoice
ActiveWin.com: How long was Microsoft Game Voice in development? How many people were on the development team? Did they spent all the day playing with it?
John Dongelmans: The whole idea about a voice device started about 3 years ago. As you might know the SideWinder team consists out of people who love games. We wanted to create a device which could enhance the multiplayer game experience. In the past, we focused on developing joysticks; game pads and steering Wheels. Obviously, these types of controllers are genre-specific. With Microsoft SideWinder Game Voice, we have a gaming peripheral that can be played with virtually any type of genre.

Game Voice was really one of the biggest missing components in the gameplay experience. As fanatic gamers, we used our phones to talk to each other while we were playing. We thought: "Come on there has to be a better solution to enhance the game experience". It sounds simple but that is where it all started. During the development of Game Voice, we worked closely together with the DirectX and the MSN group.

About two years ago we acquired ShadowFactor, the company that was responsible for the "BattleCom" voice software. It was a small Canadian company with some very cool and bright people. Their technology and the Shadowfactor people lay the basis for the DirectPlay Voice technology (DirectX 8) and SideWinder Game Voice.

Like all of our other hardware products; before we bring out a new device we need to test it thoroughly. For a device like Game Voice "testing" could be partially described as playing a lot of multiplayer games. As you can imagine, during our test sessions we had a lot of fun.
ActiveWin.com: How has Microsoft Game Voice's success been after being on the market for several months now?
John Dongelmans: Game Voice is a great success. The reactions from the gamers and the game development community are overwhelming. Just to get closer to our users we created a community section with news boards on our web page.
ActiveWin.com: Can you describe us your role in motivating the development team? Basically what did you do (except kicking asses) to help the development team achieve such a great & innovative product? Was the idea of a games intended speaking device yours?
John Dongelmans: In my role as a SideWinder evangelist, I am responsible for "evangelizing" our game controllers to game developers around the world. Evangelism is really cool. To be honest, this is definitely one of the greatest jobs in the world. In the last couple of months I had great pleasure evangelizing five new game controllers. (Game Voice; Strategic Commander; Force Feedback 2; Precision 2 and the SideWinder joystick). It's super to have the opportunity to evangelize a whole line of exciting game controllers. Right now we have got a complete line of game controllers; a game controller for all the PC game genres.

From a team perspective I would like to add the following:

A product like this depends not on one person but it needs the expertise and excitement from a group of people. The whole SideWinder team (hardware + software) + Usability + the Industrial Design group was and still is involved in the development. As I would like to say it: Game Voice is a team effort to improve team play.
ActiveWin.com: What was the hardest thing during the development process: designing the hardware or creating the software? I may be wrong but I feel the Game Voice software required complex development due to the inclusion of speech recognition, right?
John Dongelmans: For the most important part Game Voice is software driven. However the control pad and the headset are a very important part of the total Game Voice package. The one does not go without the other. We're constantly upgrading cool new features with our Game Voice software. You can find the updates at http://www.gamevoice.com.
ActiveWin.com: Was it needed to adapt the L & H SAPI (speech application programming interface) to work with the GameVoice device? If yes did you collaborate with Lernout & Hauspie?
John Dongelmans: We licensed the L&H speech recognition engine (for a couple of languages) for Game Voice. Our development, design and usability team did a great job integrating the engine in Game Voice.
ActiveWin.com: How have the game profiles been accepted in the gaming community? Do you have plans to release more profiles in the future?
John Dongelmans: The game (voice recognition) profiles have been accepted with a lot of excitement. Right now, gamers around the world are even hosting web profile contests. The coolest speech recognition feature is that you can also create your very own profiles for your favorite games. Games are something personal so this option is fantastic. We even see people using voice recognition profiles for Office applications; its great to see how creative people can be.
ActiveWin.com: What is special about Microsoft GameVoice that places it in a unique position in the marketplace?
John Dongelmans: Game Voice is the first complete PC game voice solution, from a hardware and software side. There are no other game controllers available combining all these features in 1 exciting device. The Microsoft hardware vision has always been "to enhance people's life by unleashing the power of technology". With Game Voice we are trying to enhance the lives of gamers all over the world.
ActiveWin.com: Can you tell our fellow readers when the final 1.2 release of the Game Voice software will be available?
John Dongelmans: Because the software is so important for Game Voice we are still adding new features to it. We and our users have got some very wild ideas for upcoming updates of the software. The 1.2a version has been the latest release till now but we are currently planning some other updates as well.

You will see some new releases of our software in the upcoming months. I promise you we are adding some very cool and exciting new elements. If you are personally interested in new features do not hesitate to give us your comments and feedback on our website. Gamers opinions are very important for us.
ActiveWin.com: Are there any plans to release future versions of Microsoft Game Voice hardware?
John Dongelmans: Currently, we have no announcements regarding future releases of Game Voice hardware. As I've said before, we're focused on adding cool, exciting features through our software.
ActiveWin.com: What is your favorite thing about Microsoft Game Voice? What games do you use it on?
John Dongelmans: Like many of the people in the SideWinder team, I am a real game addict. My favorite games right now include; Counter Strike; No One Lives Forever; Unreal Tournament; Diablo 2; MechWarrior 4; Deus Ex; Giants and Red Alert 2; (I have got lot's more of course). The coolest thing about Game Voice is that is really brings extra immersion to games. Type chat is a great feature but does not offer the excitement of a real talk. I'm a big Counter Strike fans, along with other members of our development team. For us there is nothing better than talking with Game Voice while we are playing the game. It's hilarious and a lot of fun and belief me we really kick some ass in Counter Strike because we use Game Voice. In single player games like Deus Ex, I love to use the voice recognition part of Game Voice; it is so easy just to say the command instead of using all your keyboard strokes.
ActiveWin.com: Do you have anything else to add? (life is a game it is meant to be played? :))
John Dongelmans: Games are the coolest thing in the world. Just try out the free "Game Voice Share" and add some voice to your game today. That's the way games are meant to be played! www.gamevoice.com

Game Voice rocks.

That's enough talk for today; it's time to play.
---
Links


Return To The Front Page