Product: Microsoft SideWinder Game Voice
Company: Microsoft
Website: http://www.microsoft.com/hardware
Estimated Street Price: $59.95/£49.99
Review By: Byron Hinson/Julien Jay
The Features
I had been hearing faint whisperings of a Microsoft headset for sometime before Microsoft finally announced early this year that the SideWinder Game Voice was due for release in September. The SideWinder Game Voice comes with headset, microphone and control pad, the idea is that you get the chance to speak to other game players you are playing against or with over the internet with little or no interference in lag.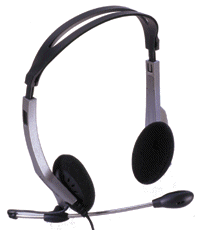 Team Communication: The communication gap is the common problem of all team-based games. Now talk to your friends in your PC games instead of typing, with SideWinder Game Voice. Game play is uncompromised and the sound is terrific! Have your friends join in on the action with Game Voice Share software, available for free download!
Voice Commands: Ever forgotten the key for a critical game command, or wished you could say "grenades" or "flaps down" and have the computer understand you? With Game Voice, command and control is now a reality-use one of the pre-built command profiles or create and edit your own.
Multi-channel chat: Group teamates or individuals into 5 distinct channels for private chat.
Call the Shots: Voice commands for your keyboard shortcuts.
Your Personal Bullhorn: Broadcast to as many as 64 players at once.
Hardware Controls: Mute your mic, adjust volume or switch to speakers from the control unit.
Powerful Software: Finding and talking with friends is as easy as clicking on their name in the integrated contact list.
Installation And Settings
The SideWinder Game Voice hardware is pretty easy to setup with your PC and soundcard/speakers. The first thing you must do is to install the drivers and the chat software off of the CD before connecting up the Game Voice to the USB port on your computer...this only takes a couple of minutes or so. The only downside here is that you have to sign up for an MS Passport ID to make sure the installation runs through ok, this is needed if you want to use the MSN Messenger software to speak to other game voice players and to setup games easily.

Once the driver installation is out of the way you are on to setting up the game voice hardware itself, again this just takes a couple of minutes as long as you read the instructions in the manual. Firstly you need to connect your desktop speakers to the cable hub on the game voice control pad, then the headset to the control pad and the control pad to your sound card (Making sense?) finally you just connect the control pad to the USB port on your PC and you are finally ready to go at least you will be once the software is installed you'll have to follow the steps of the audio wizard to ensure that the input volume of the micro is correct and that the output is sufficient. Once it's done you're ready to use your new device.
Design And The Feel
The headset and headphones look and feel great when worn, the headset can be moved out of the way easily if you just want to use the headphones and look a complete idiot whilst playing a single player game. The Game Voice control pad also looks pretty good, if a little too plasticy for my liking, not only that, it doesn't look quite as good as it does on the box as there is no white paint used to show up the command, mic and channel words on the control pad.
While playing games you tend to make use of the control pad quite often and thankfully everything is easy to get to and to press down. The SideWinder GameVoice pad features 6 buttons named '1', '2', '3', '4', 'All', 'Team' that correspond to different talking channels that can be selected together to talk up to 64 players at the same time! The 1, 2, 3, 4 buttons can be assigned to four independent gamers or can be shifted to even talk to more players. Note that you can push simultaneously the 2 and 3 buttons for example to speak to the players assigned to the 2 and 3 buttons. The All button permits gamers to talk to everybody while the team button restricted the voice diffusion only to the team members. When you push a button this one will be lighted in orange so you know which mode is actually enabled. If you want nobody to hear what you're actually saying simply push the 'mute' button! Actually the use of the SideWinder GameVoice device is a record of simplicity and you'll get started very quickly.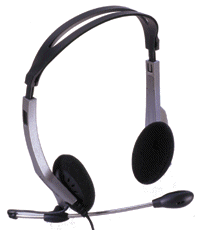 Sound
To use the nice headset provided with the Game Voice device you'll have to select the headphone position of the gamepad output button, then you'll hear all the sound of your computer in your headphone. It may not be Audio Technica headphones quality, but not bad for a Game Voice device.
One bad point of the SideWinder device is that it's passive that is to say the sound isn't amplified unlike with almost every sound speakers so you'll have to increase the volume. Hopefully a small volume knurled wheel is ingeniously placed on the left side of the device. When you've beaten all your enemies you may want to hear sounds, music, etc. through your computer speakers: to do so you'll have to simply push the Game Voice pad toggle switch to the speaker position. Notice that if you've a quad speaker computer configuration you'll have to unplug the second pair of speakers to hear sounds only in the headphone.
Voice Recognition
The first interesting feature of the SideWinder Game Voice device for gamers is its ability to recognize your voice in order to command your games using your own voice. Well you may think that voice recognition is not really ready and that this feature is surely a gadget… I can ensure you're fully wrong. Indeed the SideWinder Game Voice software comes packed with several games profiles so if you wanna play to Age of Kings just select the profile of the game and launch it. In Age of Kings, select now an inhabitant and push the vocal command button of the Game Voice pad and say 'Build a farm' for example: you'll be amazed to see that the selected people will obey you by building a farm! When a vocal command is recognized it'll be repeated by the voice of the computer (you can even change the voice sex as man or women voices are available) so you know the command has been understood. Otherwise the software will tell you that the command is unrecognised by playing a small sound. The most astonishing thing is that you can create your own game profiles and you don't need to learn Game Voice your voice in order that the vocal commands are recognized. Indeed you simply have to type the name of the command you want to execute and assign it a shortcut into your game: for example in Microsoft Midtown Madness you can create a shortcut to play audio CD tracks: so type 'Play CD' assign the keyboard shortcut and under Midtown Madness activate the vocal mode of the Game Voice and say play cd: the CD audio tracks will be played ! It's simply amazing!
Ready? Let's talk!
Now let's talk about the new gaming experience the SideWinder Game Voice will offer you: first it works with many existing games and you won't have to buy new ones to enjoy its benefits. When you want to talk with teammates or enemies you have to launch the SideWinder Game Voice software based on the Direct X's Direct Play voice API. Note that the upcoming release of Direct X 8.0 will be a great update for the game voice device. To connect with gamers you can else uses an IP address or your MSN Messenger list of contacts (which is more easier to use). If some players don't have the SideWinder Game Voice device it's not a problem as they can download for free the Multilanguage version of the SideWinder Game Voice Share software to be able to talk with you (but that's all since this is a limited release). If you want to play with 64 players at the same time, 15 of them should own the full Game Voice device. Then you can launch your game and discover a new way of gaming: I've tested the Game Voice device here with different games like Age of Kings, StarLancer, or Asheron's call and the exceptional combination of talking with other players bring a real new meaning to online gaming while the vocal command is simply a marvel to do things quickly in games. More the chat feature is a new way to approach people by humanizing the computer world as now you can talk instead of typing words on your keyboards with no express relief. Sure speaking is much faster than typing so you can play at the speed of the thought. Finally at a purely game point of view the Game Voice is a great strategy enhancement as you can team up with other gamers to elaborate a tactic to destroy your common enemies. In conclusion the SideWinder Game Voice is a highly valuable addition to the perfect gamers package that will give them more chances to win against those that don't have the device. So now you surely know what to do, no?
Game Trials

Headset and Headphones
Star Trek: Elite Forces
Quake 3
Asheron's Call
Unreal Tournament
Homeworld: Cataclysm
Crimson Skies
Age Of Kings
StarLancer
Headphones Only:
The Blair Witch Project: Volume One - Rustin Parr
Homeworld: Cataclysm
Fifa 2000
Crimson Skies
Final Comments
How It Grades
Installation: 92%
Manual: 90
Performance: 92%
Drivers: 90%
Look: 80%
Feel: 90%
Help Files: 92%
Price: 85%
Overall: 91%

Overall there isn't really anything bad to say about the SideWinder Game Voice. It does everything it says it will and does it all very well indeed. Everything was easy to setup and install and it all works well without any fiddly problems, the only problem I might have with it is the price, especially in the UK at £50 it is pretty expensive for what it is, but in the US it is a must buy.
Specs & Package
Overall Score
91%
Version Reviewed
US Version 1.0
Release Date
Out Now
In The Box?
1 CD
1 Manual
The Good Points
Good quality sound
Nice headset & Headphones
Good Software & Drivers
The Bad Points
Uses MSN Messenger
Hard To Find Other Users With The Game Voice
Doesn't Look As Good As It Does On The Box
Similar To
Roger Wilco
Reviewers PC Setup
Pentium II 450
Windows Me
128 Meg SD-Ram
Matrox G400 32MB AGP Graphics Card
DirectX 7.1a
SoundBlaster Live! Value
17" LG Electronics Monitor
Microsoft Force Feedback Pro
Microsoft Game Pad Pro (USB)
Microsoft Digital Sound System 80
Microsoft Intellimouse Explorer

DVD TV Player - Pioneer DV-626D
Widescreen TV - Sony KV-28WS2U 28"
DVD-ROM: Toshiba SD-1202

PC Required
Windows 95/98/ME Or Win 2000
Pentium 233mhz
64 mb ram
4x cd rom Drive
Mouse and Keyboard
640*480 video card with 8mb ram
45 mb free hard drive space
Sound card with full-duplex chip set and functional Line Out/ Microphone jacks