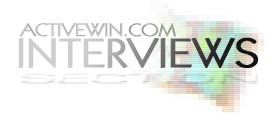 Interview with Steve Ballmer, Chief Executive Officer (CEO): Microsoft Corporation
Steve Ballmer is chief executive officer of Microsoft Corp., the world's leading manufacturer of software for personal and business computing. Ballmer joined Microsoft in 1980 and was the first business manager hired by Bill Gates. Since then, Ballmer's passion and leadership have become hallmarks of his tenure at the company.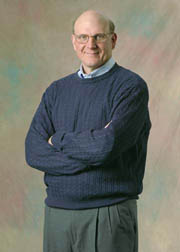 ActiveWin.com: In all of your years at Microsoft, what do you consider your finest achievement?
Steve Ballmer: It's hard to put my finger on a single thing. I am very excited about where we are as a company today and our growth prospects going forward. Over the last five years, we have put in place a strong mission and values that guide our business approach and culture. Last year we adopted a Business Plan that sets forth a clear roadmap for employees, partners and the industry about our focus and direction. Our competitive focus and execution is clear with respect to Linux and open source. We have solidified important changes to our internal processes that enable much better cross-group collaboration, while giving each of our 7 business groups the ability to function with the appropriate degree of autonomy and agility. We have put a major focus on cost-efficacy so that our operating income is again growing faster than our operating costs. We have initiated key rebuilds in major cost centers such as marketing. And we're investing significantly in R&D and engineering excellence, and showing excellent results in new product innovation, quality, security and reliability. To be clear, none of this is "my" achievement. It really as an effort that has involved a lot of hard work by Bill, me, our leadership team and our employees.
ActiveWin.com: Microsoft has a history of successfully adopting technologies innovated elsewhere. Granted, most useful new technology builds on older technology, but Microsoft is the undisputed king of the "embrace and extend" paradigm. What innovations do you believe are truly original to Microsoft?
Steve Ballmer: Innovation means many things. Microsoft can be fairly credited with innovating around the personal computer such that in a very short period of time it has become a ubiquitous tool in business, schools and many homes around the world. We bet our company, literally, on Windows, and on Office, and have continued to innovate in both of these products, and many others over the years, including enterprise servers and applications, mobile devices, applications for small and midsized businesses, entertainment, the Tablet PC, etc.

Since Microsoft went public in 1986, we have invested a total of $36 billion in R&D, creating a wide range of integrated technologies that have helped customers and developers do more. Over the next 6 years alone, we will invest another $40 billion in innovation, continuing to make us a top R&D spender in any industry. Specifically, our focus is on integrated innovation, making our products and services work together and understanding how customers use technology and information to improve their lives. No other company in our industry is focused on this kind of innovation. We also are filing for 2,000 patents a year, a number we expect to increase in the years ahead.
ActiveWin.com: Given the broad scope of many CS/MIS programs at leading universities around the United States, what do you believe are the essential disciplines students should learn to be successful in today's global environment?
Steve Ballmer: So much of the key work happening today is around distributed web services – working with data and services that are distributed across locations. If CS/MIS students want to have an active role in that space, they need to be learning about databases and networking. Hopefully somewhere in their coursework in those areas they will also get a solid background in XML, the modern "lingua franca" for how computer systems work with distributed data.

An absolute necessity is to learn basic principles of building trustworthy systems – such as how to write secure code, and how to model potential attacks on a system so that you can anticipate them and build in resistance to those attacks. This is an area where we are actively partnering with leading computer science programs to create new and updated courses that do a good job of teaching this.

User interface design is another area that is super important. As computers have made their way into the hands of a more diverse population, and form factors continue to evolve, designing user interfaces that deliver a great experience for customers has become more challenging. It's truly interdisciplinary; it requires not only programmers, but also graphic designers, writers, usability experts, domain area experts, and often people with backgrounds in psychology, anthropology, ethnography, sociology, and other areas within the social sciences. As computing becomes an increasingly integral part of all the sciences and many social sciences, we're seeing that students in those disciplines are also finding great value in taking computer classes. Cornell, for example, even goes as far as to embrace computer science classes as part of the core degree programs in other sciences. That's a huge change, but one that shines light on the huge potential of computing to change the way we work and live – for the better.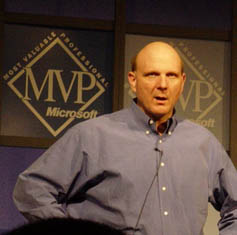 ActiveWin.com: How do you feel the Microsoft Most Valuable Professional (MVP) program has impacted Microsoft customers and technical communities worldwide?
Steve Ballmer: MVPs have a tremendous impact on Microsoft customers and technical communities worldwide, and their passion for technology is inspiring. Their commitment to helping customers optimize their use of Microsoft technologies is key, as is the feedback they provide, which is vital to product development and R&D. When I spoke at this year's MVP summit, it was the largest ever, with MVPs representing 63 countries. We can't thank the MVPs enough for their contributions.
ActiveWin.com: What is your typical day like? How does it feel to be a part of one of the world's most successful companies?
Steve Ballmer: When I'm in the office, I spend a lot of time with each of our seven business groups discussing their business and product strategies – where we're doing well, where we have opportunities to do better. I also meet with employee groups to hear where folks are at and to share my vision for the company's future. Here in Redmond and when I travel – which is fairly often – I spend a lot of time meeting with customers and partners. It's really important to me to hear directly about what they like about our products, what's working for them, and how we can improve. I know it sounds corny, but it's really true that after 24 years with this company, I still come to work inspired by the possibilities every day. I feel incredibly lucky to work for a company that plays such an important role in helping people and businesses around the world to realize their potential.
ActiveWin.com: With the release of Windows XP, Microsoft came under pretty heave scrutiny regarding its implementation of Product Activation. To what extent will it be changed in Longhorn?
Steve Ballmer: We know we need to do more to streamline product activation and make it easier for our customers. Customers have told us we should improve the process in a number of key areas. For example, we've gotten clear feedback that the process should be more consistent across our product line. That's something we're looking at doing in the Longhorn timeframe, and will have more details as we incorporate customer feedback and build out the Longhorn product line. At the same time, it's important to underscore why activation is so important. It confirms for the customer that their copy of the product is genuine – so they know the PC they purchased is legitimate and that they got what they paid for. Successful activation also enables easy access to updates that ensure the system has the latest available technology to avoid viruses etc. We're going to try to do more to communicate the value of activation to customers in addition to making the process simpler and more consistent
ActiveWin.com: Time Magazine recently wrote of Microsoft:
"When you fly as high as Gates & Co. did during the 1990s, growing an average 36% annually, maintaining that altitude is nearly impossible. …. [Microsoft's] stock price has stalled at 1998 levels. A new version of its flagship Windows product…may ship in 2006, lacking many of the cool new features Microsoft had hoped to include. By then, Windows is expected to be squaring off against its toughest challenge to date, from Linux, a rival operating system that literally gives itself away." [May 10, Is Microsoft A Slowpoke? (http://www.time.com/time/magazine/article/subscriber/0,10987,1101040510-632091,00.html)]
How do you reply to that?
Steve Ballmer: When Longhorn and the Longhorn wave of products ships, they will be great products. I have absolutely no doubt about that. We're obviously interested in shipping the products as soon as they're ready, but we are not fixated on an arbitrary deadline. In the meantime, we are delivering great products today, like Windows XP, Office 2003, Windows Server 2003, Live Meeting, Exchange 2003, Small Business Server 2003, Visual Studio .NET, CRM, Tablet PC, Media Center, MSN 9.0, Smartphone and Pocket PC.

No company that has grown as quickly or as large as we have can sustain a 36% growth rate, yet Microsoft's growth prospects are very promising in the years ahead. The PC user base worldwide is expected to grow from 600 million in 2003 to 1 billion by 2010. There is a huge opportunity to help enterprise customers, information workers and small and mid-market customers optimize and extend their IT investments on an integrated platform. We're committed to reducing costs and making things easier for IT Pros and Developers. Integrating the richness and intelligence of the PC world into everyday devices such as mobile phones, home entertainment and TV is an enormous opportunity. We are serious about entertainment – not only with Xbox and breakthrough games, but also exploring new ways for software to be at the center of social entertainment and communication. And of course, there's online advertising and information, which are still in their infancy, yet huge and fast-growing markets.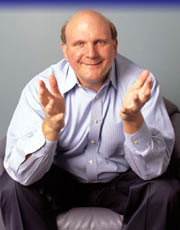 ActiveWin.com: What aspect do you think is most important for Microsoft's future development?
Steve Ballmer: No question, it's the importance to customers of an integrated software platform. Given the increasing complexity of IT the pressure to do more with less financial resources, and the value and richness of integrated products and services, this is fundamental.
ActiveWin.com: How do you feel the outsourcing of technology jobs to countries such as India or China has affected Microsoft?
Steve Ballmer: As a global company, our future growth and success requires that we constantly look at ways to improve our ability to serve customers worldwide. This involves growing our presence in key regions and tapping into the growing technical talent pool outside the U.S. India is emerging as a world-class IT leader, and as China's economy grows, addressing the needs of its broadening customer base is not only important, but a great opportunity. The majority of our core development work will remain in Redmond. But by developing local programs, expertise and presence around Microsoft technology, our customers can benefit from the technical expertise and skill found in those regions, and from the innovations and value that will come from these emerging markets tomorrow.


Please Comment On This Interview

Additional Information:

Steve Ballmer is chief executive officer of Microsoft Corp., the world's leading manufacturer of software for personal and business computing. Ballmer joined Microsoft in 1980 and was the first business manager hired by Bill Gates. Since then, Ballmer's passion and leadership have become hallmarks of his tenure at the company.

During the past 20 years, Ballmer has headed several Microsoft divisions, including operations, operating systems development, and sales and support. In July 1998, he was promoted to president, a role that gave him day-to-day responsibility for running Microsoft. He was named CEO in January 2000, assuming full management responsibility for the company, including delivering on the company's vision of "empowering people through great software - any time, any place and on any device."

Ballmer is known inside and outside the company for his devotion to building closer relationships with Microsoft customers and partners - and for ensuring their needs are heard, understood and served by every Microsoft employee. The foundation for this relationship - and the success of the company - is the reliable and powerful Windows 2000 platform, which was designed to support the most demanding enterprise and e-commerce needs.

Ballmer also is presently leading the most comprehensive reinvention of Microsoft in the company's 25 years. Together with Gates and the company's other technical leaders, Ballmer will lead Microsoft's development of a revolutionary Microsoft .NET platform for desktop personal computers, servers, non-PC devices and the Internet. Microsoft's goal is to provide the platform to enable a seamless experience across different computing devices, software services and data sources, putting a unified face on a wide variety of digital interactions.

Although Microsoft will provide some important customer services, the company's success will depend on thousands of new and current partners creating innovative customer solutions on the platform. Ballmer understands that Microsoft must be part of a community of partners, each providing a special focus and added value.

Described variously as ebullient, focused, funny, passionate, sincere, hard charging and dynamic, Ballmer has infused Microsoft with his own brand of energetic discipline and spirit over the years. Ballmer says, "I want everyone to share my passion for our products and services. I want people to understand the amazing, positive way our software can make leisure time more enjoyable, and work and businesses more successful."

Ballmer, born in March 1956, grew up near Detroit, where his father worked as a manager at Ford Motor Co. He graduated from Harvard University with a bachelor's degree in mathematics and economics. While in college, Ballmer managed the football team, worked on the Harvard Crimson newspaper as well as the university literary magazine and roomed down the hall from fellow sophomore Gates. After college, he worked for two years at Procter & Gamble Co. as an assistant product manager and, before joining Microsoft, attended Stanford University Graduate School of Business. Ballmer jogs daily and loves basketball.

Our excellent online 400-051 dumps training programs will lead you to success in the Pass4sure 300-101 exam. We also offer latest Testking N10-005 and Actualtests with 100% success guarantee. Our HITACHI is rare in IT world.

Steve Ballmer Speeches online at Microsoft:
---
Interested in doing an interview? Please contact us for more information.


Return To The Front Page