DirectX
ActiveMac
Downloads
Forums
Interviews
News
MS Games & Hardware
Reviews
Support Center
Windows 2000
Windows Me
Windows Server 2003
Windows Vista
Windows XP



News Centers
Windows/Microsoft
DVD
Apple/Mac
Xbox
News Search



ActiveXBox
Xbox News
Box Shots
Inside The Xbox
Released Titles
Announced Titles
Screenshots/Videos
History Of The Xbox
Links
Forum
FAQ



Windows XP
Introduction
System Requirements
Home Features
Pro Features
Upgrade Checklists
History
FAQ
Links
TopTechTips



FAQ's
Windows Vista
Windows 98/98 SE
Windows 2000
Windows Me
Windows Server 2002
Windows "Whistler" XP
Windows CE
Internet Explorer 6
Internet Explorer 5
Xbox
Xbox 360
DirectX
DVD's



TopTechTips
Registry Tips
Windows 95/98
Windows 2000
Internet Explorer 5
Program Tips
Easter Eggs
Hardware
DVD



ActiveDVD
DVD News
DVD Forum
Glossary
Tips
Articles
Reviews
News Archive
Links
Drivers



Latest Reviews
Xbox/Games
Fallout 3

Applications
Windows Server 2008 R2
Windows 7

Hardware
iPod Touch 32GB



Latest Interviews
Steve Ballmer
Jim Allchin



Site News/Info
About This Site
Affiliates
Contact Us
Default Home Page
Link To Us
Links

News Archive
Site Search
Awards



Credits
©1997-2012, Active Network, Inc. All Rights Reserved.
Please click here for full terms of use and restrictions or read our Light Tower Privacy Statement.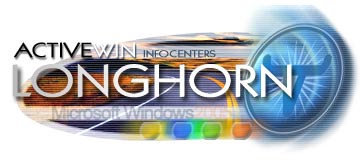 WinFS
In the past several years, storage prices have dropped while capacity has sky-rocketed. Computers makers have long touted their computers' multimedia capabilities, however not till this storage explosion have consumers fully utilized these capabilities. Computer users store thousands of photographs, tens of thousands of audio recording and gigabytes of video. All this media creates problems for users seeking to store and find specific information in a multitude of files. This is one of many examples that illustrate the inadequacy of hierarchical file system computers use today. There is a demand for something smarter and more dynamic. Enter WinFS.
WinFS has a rich data model that allows it to transcend traditional hierological storage and relational storage. WinFS bridges these storage systems and other data structures in order to put data into individual domain objects (email or contacts, for example) that are indexed and searchable through a heavy dependence on metadata.
According to Thomas Rizzo's introduction to WinFS on MSDN, the product team's main drive on WinFS was to allow consumers to find, relate and act on information. If WinFS does its job, most consumers will no longer need to search for finding data. With its strong utilization of metadata, users will be able to sort and shuffle information depending on a myriad of criteria. The file system will also be able to scour multimedia files and other types of information for data that today's file systems aren't designed to find. In WinFS, data relationships are built into the system so users are able to traverse any data source (including custom sources) to find information that's related any other piece of information. WinFS will automate many of the day to day bookkeeping jobs associated with keeping track of a multitude of information. It will also allow users to create rules that will allow them to take control over their data. For instance, rules can be put in place to highlight specific information (say an important email that arrives) and then deliver that information in a way the users needs (perhaps to a special folder or even to a mobile device).
WinFS will not be ready for the release of Windows Longhorn. Instead, it is scheduled for availability in beta form when, or shortly after, Longhorn ships commercially, and may not be available in full release until 2008. While Longhorn won't have all the features of WinFS, it will have many benefits when it comes to storing and locating data. Virtual Folders will be employed, allowing the "contents" of the folder to be determined by criteria (such as author or date) set by the user. Search has also been greatly improved over prior Windows version and will be deeply integrated into OS. More information on improvements in information organization and visualization can be found on our The State of Longhorn page.
Two pages in particular served as reference to this article. Additional information regarding WinFS can be found at:


Return To The Windows "Longhorn" Section