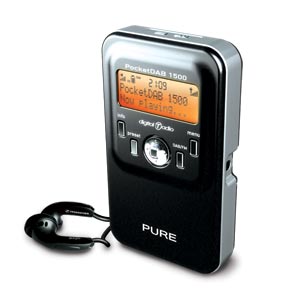 PocketDAB 1500
Company: Pure Digital
Website: http://www.pure.com
Estimated Street Price: £89.99
Part Number:
Review By: Byron Hinson
Introduction
DAB radio has become a big thing in the United Kingdom and rightly so as it is not only far easier to find stations near you, it also has excellent sound with the quality getting close to that of CD's. One of the hardest things to find at the moment is a decent DAB pocket radio, FM and AM pocket devices are easy to get hold of, while DAB offerings so far have been very lackluster...but all of that changes thanks once again to Pure.
From the world leaders in DAB radio comes PocketDAB® 1500, the personal radio that looks and feels just as good as it sounds. With DAB and FM reception you can stay tuned-in almost anywhere and the in-unit rechargeable ChargePAK™ gives around 24 hours of uninterrupted DAB listening through class-leading Sennheiser in-ear headphones.
With up 55 DAB stations available in many areas, plus additional FM-only stations, you'll be spoilt for listening choice. And you're sure to enjoy DAB features like automatic tuning, station selection by name and scrolling text showing track titles, artists' names and sports results. There's even RDS for station name display and scrolling text on FM.
Ideal while travelling to work, at sports events and anywhere where you want to listen without disturbing others, PocketDAB 1500 is compact, uncomplicated and stylish. If you love radio PocketDAB 1500 delivers unrivalled listening choice - wherever you are.
DAB & FM Radio

PocketDAB 1500 supports both DAB and FM, so you can listen in areas of poor DAB coverage or when abroad.

Portability

Weighing in at only 123g, PocketDAB 1500 is our lightest personal radio to date - ideal when you get active, whether that's jogging, working out or walking the dog.

Superb Sound Quality

PocketDAB 1500 combines our audio expertise with high-performance in-ear Sennheiser headphones for a truly outstanding personal radio. And with five custom EQ settings it's configurable to suit your choice of listening.
The first thing to note is that the PocketDAB 1500 is larger in size than most other pocket radios, the good thing here is that despite this it is very light in weight at 123g. The styling is very good with the device looking more like a decent MP3 player rather than a radio with various buttons gracing the front and a well backlit screen on show.
The buttons on the front are Info - which lets you get details about the radio station you are listening to as well as checking out signal stats. Next you have the Preset button which lets you store either 10 DAB stations or 10 FM stations for quick access. Then we have the DAB/FM button which lets you switch between either DAB or FM, something many radios don't do so it is a good feature that works very well. Finally we have the menu button which allows you to fiddle with various settings on the radio.
Setting up the PocketDAB 1500 was easy, all I had to do was plug in the excellent ChargePAK battery and then charge up the device for a few hours. The ChargePAK is a rechargeable battery which stays charged for up to 24 hours with the PocketDAB 1500, in tests this is almost accurate although I managed to get 21 hours out of it which is still excellent and this was with me playing with the menus a lot to create the review. Charging is done by a AC adapter just like you would use for a mobile phone.
Once you start up the device for the first time it autotunes to the DAB stations in your local area. The reception is through the headphones and I'm pleased to say that the signal quality was superb. It takes about 10 seconds for it to find the stations and it picked up every one in my local area and even some further afield.
Now you have your stations tuned in you are able to pick one and tune into it, this is simply done by pressing left or right on the directional pad on the front of the PocketDAB 1500. It takes only a second to tune into any station you select and thanks to the Sennheiser headphones the sound quality is superb. The directional pad is also used to put the volume up or down although I didn't really need to make any adjustments there as it was perfect from the get go.
As is the norm for Digital Radio you get "TextScan" which lets you pause and forward the Text information that gets sent to the radio via the digital airways. For those who don't know much about the text system on DAB radios, it sends things like the name of the artist and song you are listening to, name of the program being listened to, as well as email addresses of the presenters, it really is useful especially when you hear a song on there that you haven't heard of before and want to know who the artist is.
The Menu feature on the PocketDAB 1500 allows you to access some of the more advanced features of the radio. This includes full autotune which lets you tune into Band III airways when you are outside of the UK. You can also change the Station Order Alphanumerically as well as in the format of your most listened to stations, you can also remove any stations that are not active from the list, finally you can also arrange it by multiplex.
There are even more advanced features to fiddle with such as DRC (Dynamic Range Control) which makes the quieter sounds in a broadcast easier to hear when at a lower volume. This all depends on whether the station is using DRC on their broadcast. I just left my setting on the default as It sounded perfect all of the time. There are also EQ settings just like most MP3 players come with now adays and all of these work just like they should do, but once again I have to say I just stuck with the default option as it felt the most natural sound to me.
Finally there are options to change the brightness and contrast as well as allowing you to turn the backlight off completely if you want to. Overall there are enough options available to anyone who would be using a PocketDAB radio and in fairness most people won't even make any use of them which means all credit to PURE for making sure the defaults are perfect.
Overall
For the first time ever in a review I don't really have a bad thing to say about the PocketDAB 1500, not only does it look like one of the best pocket radios out there in design turns, it works perfectly. Battery time is excellent thanks to the great ChargePAK it comes with and even charge times are short and sweet. Reception has been excellent as well both indoors and out, it even picked up signal in the 80% range deep inside a church. If I had one slight mark against it I would say that the price is a little high, but that is clutching at straws.
Overall I can't fault the PocketDAB 1500 and anyone who loves radio and loves to listen to it while working or just generally out and about should pick one of these up, it really is excellent.
Specs & Package
Overall Score
94%
Version Reviewed
Pure Digital PocketDAB 1500
Release Date
Out Now
In The Box?
1 PocketDAB 1500
1 AC Adapter
Manual
Battery
The Good Points
Nearly everything
The Bad Points
Slightly high price