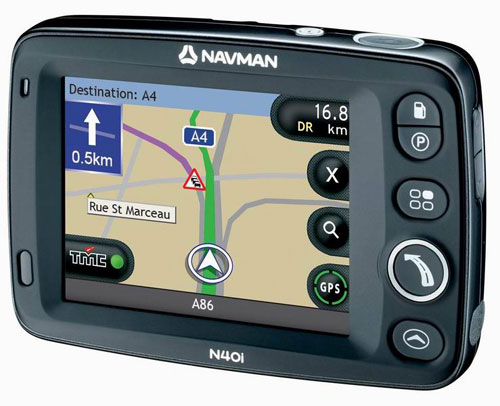 Navman N40i
Company: Navman
Website: http://www.navman.com
Estimated Street Price: £200
Part Number:
Review By: Byron Hinson
Introduction
TomTom has taken over the market for in car satellite navigation systems over the past few years, but that isnít to say that there are not many other companies releasing hardware for all the car drivers who donít want to pay out for the large prices that TomTom charge.
Well here today we have one of Navmanís latest...the NavMan N40i
The Navman N40i brings together NavPixô functionality with a digital camera and accurate, reliable navigation in a cost-effective package, offering:
NavPix compatibility so you can download and then use NavPix to navigate
Integrated 1.3 Mega Pixel NavPix camera
Nearest Fuel and Park buttons to alert you to the nearest petrol station or car park
Large 3.5Ē touchscreen
Compatibility with the optional T1 Traffic Pack for real-time, subscription-free traffic updates in the UK, France, Germany, Belgium, Denmark and the Netherlands
Reliable, accurate GPS navigation
Advanced Motorway Navigation
Journey View function
Enhanced battery life, up to 5 hours depending on use
Enhanced software
The N40i also builds on the enhanced software capabilities of the iCN 700 series to offer:
So youíve seen the features, but how does it look and feel compared to some of the other top of te range GPS units on the market. Well Iím pleased to say that style wise the N40i looks pretty good, it is a black device which is very very thin, so itís a perfect fit for most cars. There are buttons down the front right side of the device, these allow you to do quick finds for places like the nearest petrol station or a car park, the buttons also allow you to jump to the system settings as well as change the view of the screen from 3D to 2D etc etc. The main part of the device is the 3.5-inch wide touchscreen display.
On the rear of the N40i we have a digital camera, yes a digital camera on a GPS device may seem a bit weird but from my experience over the past week using it, I can see a number of people who like the idea. The Navman has a new photo sharing service called NavPix which allows you to upload and download photos that you have taken based on locations, the idea of this is that when you drive around to say a monument or such like, you can take a picture and it will record the GPS location for it, for future use.
While this feature is pretty cool (itís great for taking shots of accidents), it does mean that you would have had to already visit a place to have taken a photo of it, so the chances of you needing a photographic reminder of what it looks like very unlikely. The good thing here is that Navman have already created a large database filled with photos of shops, restaurants and such like that you can download and use.
So aside from the camera, what else is there? Well the rest is just what you expect and hope from a GPS device. The screen is very good and pretty clear even when there is a lot of glare from the sun. The 3D navigation is also very well done and was clear to read and work out, with a lot of visual indications for hotels, restaurants and even speed cameras on the drives we did testing it. The voice navigation while clear, was not as loud as it should have been, at first we thought it was just because the volume might be low, but we moved it up to the top setting and it still was not loud enough, especially if you are like me and have the radio on when driving.
The package comes with maps for a number of European countries, though as we work, weíve only tested it in the United Kingdom. The dates of the map updates we used were based in 2006 and during some of our journeys we noticed a few roads that had not been added yet, so there were a few vocal mistakes made on the N40i because of this, such as take the 2nd exit on the roundabout, yet because the map software didnít show there was another road, it should have been the 3rd exit. While these problems can be fixed by buying a new set of maps, when you purchase a product like this you would hope to get the most up to date set right away and the maps are certainly not cheap to buy.

A major plus for the N40i though is just how quick it connected to the satellites in our first boot of the device, it took less than 1 minutes to get our signal and be ready to drive away, if I compare this to the performances Iíve had from TomTomís over the years this is a great credit to Navman that I hope others take notice of. The suction cap that comes with the N40i to attach to your windscreen is also excellent, far better than any others I have used in the past. The device is also so slim that I donít mind carrying it around with me when I get out of the car and its light too.
Another good part of the N40i is that it comes with a pre-installed set of Safety camera information. While Iím someone who isnít too interested in these features as I always say let those who speed get caught, it is a good option to have and they can be updated via the software that comes with the device. You can subscribe to a monthly update of the Speed Camera locations for a fee, though you can download a one off free update which is what I did and it worked fine, even showing up the new average speed cameras on the A14 near me.
Finally the N40i also comes with a subscription-free optional traffic pack that can keep a check of the traffic for you and reroute your journey if necessary, I canít say how good this is, as for the first time in months during the journeys we made we didnít run into any traffic. In saying that, maybe it did work well!
So overall Iím very pleased with the N40i, it is a good looking, light and small device which fits perfectly in any car. The attachment system of getting it connected to your Windscreen is excellent and it doesnít even leave a mark! The screen is very clear and the visual indicators are large enough for the driver to see without straining too much looking at the screen. I also liked the options of the petrol station and parking buttons as these are the two things people worry about most when they are out and about so now itís as simple as pressing a button to find the nearest one.
The software that comes with the N40i is pretty basic and easy enough to setup, while some people may say that basic software is never great, this is perfect as it is ideal for the majority of people who will be using a GPS system. The software worked perfectly on both Windows XP and on Windows Vista and installed all the updates I needed to keep the software up to date on the N40i as well as my PC.
Not everything is perfect though, the camera feels a bit of a novelty, the voice isnít as clear as some other GPS devices and the lack of an even louder volume means that it is very hard to hear it when you have a radio or music on in the car. The last complaint is that the maps we not as up to date as I would hope from a new product out of the box.
But overall I can recommend the N40i to most drivers, it does exactly what you want a GPS device to do, it isnít too expensive either which is a godsend in this age of expensive overpriced GPS products. If I was allowed to have kept it, it would have even replaced my current GPS device in the car!
Feel free to comment on the review here.
Specs & Package
Overall Score
87%
Version Reviewed
Navman N40i
Release Date
Out Now
In The Box?
Navman N40i Satillite Navigation System
Installation CD
Map CD's
Small Manual
The Good Points
Fast to load
Excellent Signal Speed
Great quick icon access
The Bad Points
Camera feels tacked on