DirectX
ActiveMac
Downloads
Forums
Interviews
News
MS Games & Hardware
Reviews
Support Center
Windows 2000
Windows Me
Windows Server 2003
Windows Vista
Windows XP



News Centers
Windows/Microsoft
DVD
Apple/Mac
Xbox
News Search



ActiveXBox
Xbox News
Box Shots
Inside The Xbox
Released Titles
Announced Titles
Screenshots/Videos
History Of The Xbox
Links
Forum
FAQ



Windows XP
Introduction
System Requirements
Home Features
Pro Features
Upgrade Checklists
History
FAQ
Links
TopTechTips



FAQ's
Windows Vista
Windows 98/98 SE
Windows 2000
Windows Me
Windows Server 2002
Windows "Whistler" XP
Windows CE
Internet Explorer 6
Internet Explorer 5
Xbox
Xbox 360
DirectX
DVD's



TopTechTips
Registry Tips
Windows 95/98
Windows 2000
Internet Explorer 5
Program Tips
Easter Eggs
Hardware
DVD



ActiveDVD
DVD News
DVD Forum
Glossary
Tips
Articles
Reviews
News Archive
Links
Drivers



Latest Reviews
Xbox/Games
Fallout 3

Applications
Windows Server 2008 R2
Windows 7

Hardware
iPod Touch 32GB



Latest Interviews
Steve Ballmer
Jim Allchin



Site News/Info
About This Site
Affiliates
Contact Us
Default Home Page
Link To Us
Links

News Archive
Site Search
Awards



Credits
©1997-2012, Active Network, Inc. All Rights Reserved.
Please click here for full terms of use and restrictions or read our Light Tower Privacy Statement.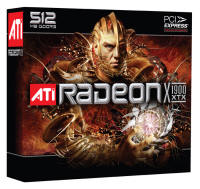 ATI X1900 XT-X 512MB PCI-Express
Company: ATI
Website: http://www.ati.com
Estimated Street Price: £400 / $600
Part Number:
Review By: Byron Hinson
Introduction
ATI had taken the lead in graphic card speed and quality over Nvidia a few years ago, for the first time ever it seemed like ATI were back playing catch-up after NVIDIA's last GPU release took the awards for the fastest speeds around. But in my view not everything in that generation of GPU's should have been about speed, picture quality, video playback and other important items should have been taken into consideration in that round. This time ATI has got back into the game in more ways than one, firstly it has upped the anti with some excellent DirectX 9 performances, overtaking Nvidia once more, they have done a proper real life launch compared to the poor output the X1800 GPU went through at first, with hardly any stores having them in stock for weeks and finally, they have once again proved how fantastic ATI cards are an visual quality.
Features
384 million transistors on 90nm
fabrication process
48 pixel shader processors
8 vertex shader processors
256-bit 8-channel GDDR3
memory interface
Native PCI Express x16 bus interface
Ring Bus Memory Controller

512-bit internal ring bus for memory reads
Fully associative texture, color, and Z/stencil cache designs
Hierarchical Z-buffer with Early Z test
Lossless Z Compression (up to 48:1)
Fast Z-Buffer Clear
Optimized for performance at high display resolutions, including widescreen HDTV resolutions
Ultra-Threaded Shader Engine

Support for Microsoft® DirectX® 9.0 Shader Model 3.0 programmable vertex and pixel shaders in hardware
Full speed 128-bit floating point processing for all shader operations
Up to 512 simultaneous pixel threads
Dedicated branch execution units for high performance dynamic branching and flow control
Dedicated texture address units for improved efficiency
3Dc+ texture compression o High quality 4:1 compression for normal maps and two-channel data formats
High quality 2:1 compression for luminance maps and single-channel data formats
Complete feature set also supported in OpenGL® 2.0
Advanced Image Quality Features

64-bit floating point HDR rendering supported throughout the pipeline

Includes support for blending and multi-sample anti-aliasing

32-bit integer HDR (10:10:10:2) format supported throughout the pipeline

Includes support for blending and multi-sample anti-aliasing

2x/4x/6x Anti-Aliasing modes

Multi-sample algorithm with gamma correction, programmable sparse sample patterns, and centroid sampling
New Adaptive Anti-Aliasing feature with Performance and Quality modes
Temporal Anti-Aliasing mode
Lossless Color Compression (up to 6:1) at all resolutions, including widescreen HDTV resolutions

2x/4x/8x/16x Anisotropic Filtering modes

Up to 128-tap texture filtering
Adaptive algorithm with Performance and Quality options

High resolution texture support (up to 4k x 4k)
Avivo™ Video and Display Platform

High performance programmable video processor

Accelerated MPEG-2, MPEG-4, DivX, WMV9, VC-1, and H.264 decoding and transcoding
DXVA support
De-blocking and noise reduction filtering
Motion compensation, IDCT, DCT and color space conversion
Vector adaptive per-pixel de-interlacing
3:2 pulldown (frame rate conversion)

Seamless integration of pixel shaders with video in real time
HDR tone mapping acceleration

Maps any input format to 10 bit per channel output

Flexible display support

Dual integrated dual-link DVI transmitters

DVI 1.0 compliant / HDMI interoperable and HDCP ready

Dual integrated 10 bit per channel 400 MHz DACs
16 bit per channel floating point HDR and 10 bit per channel DVI output
Programmable piecewise linear gamma correction, color correction, and color space conversion (10 bits per color)
Complete, independent color controls and video overlays for each display
High quality pre- and post-scaling engines, with underscan support for all outputs
Content-adaptive de-flicker filtering for interlaced displays
Xilleon™ TV encoder for high quality analog output
YPrPb component output for direct drive of HDTV displays
Spatial/temporal dithering enables 10-bit color quality on 8-bit and 6-bit displays
Fast, glitch-free mode switching
VGA mode support on all outputs
Drive two displays simultaneously with independent resolutions and refresh rates

Compatible with ATI TV/Video encoder products, including Theater 550
CrossFire™

Multi-GPU technology


Four modes of operation:

Alternate Frame Rendering (maximum performance)
Supertiling (optimal load-balancing)
Scissor (compatibility)
Super AA 8x/10x/12x/14x (maximum image quality)
Radeon® X1900 Series Product Comparison:
Core
Speed

Memory
Speed

Pixel Shader
Processors

Vertex
Shader

Radeon X1900 XTX

650 MHz

1.55 GHz

48

8

Radeon X1900 XT

625 MHz

1.45 GHz

48

8
System Setup
For this review we're using 2 different PC's each running 2GB Crucial Ballistics Memory, 180 GB Western Digital Hard Drives 7200RPM, 8mb Cache, SoundBlaster X-Fi and Windows XP SP2. The only difference in each pc is the processors, we're running AMD FX-60 and 4000+, reason for this is to spread out the benchmarks across the kind of PC's our readers are using right now. Each benchmark was ran twice to ensure a fair mark and to make sure that every texture was loaded perfectly.
The software we are using is as follows:
As always with graphics cards right now, installation of the X1900 XTX was easy. The boards we are reviewing are all ATI reference boards and are basically what most manufacturers are shipping with right now. As you can see from the photo below (one is the XTX and the other is the crossfire board, although you wouldn't notice the difference) a large heat sink and fan is situated on top of the graphics card and you will need an additional PCI slot free next door to your PCI Express card as the fan and heatsink requires it. Once the boards are installed it is a simple case of running the drivers off of the CD, or downloading the latest ones from the ATI website. After a reboot you are ready to go.