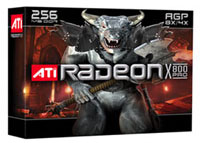 Product: ATI X800 Pro 256mb
Company: ATI
Website:
Estimated Street Price: £200
Review By: Byron Hinson
Introduction
This is our first review of a new graphics card for some time, we're starting afresh here with benchmarks and games so bare with me as I'm trying to get every possible piece of information I can for what you readers of ActiveWin will want out of a graphics card.
The RADEON® X800 graphics technology set a new standard in graphics performance and visual realism. With up to 16 pipelines, higher clock speeds and breakthrough image enhancement technology, RADEON® X800 Graphics Technology introduced a whole new gaming category called High-Definition Gaming.
Ground-Breaking Speed
RADEON® X800 Graphics Technology delivers frame rates that surpass all previous graphics processors and up to two times the performance of the acclaimed RADEON® 9800 PRO. RADEON® X800 graphics technology provides an extremely smooth, responsive HD gaming experience, putting capable gamers in complete control of even the most demanding game titles. A new architecture based on the latest .13 micron, low-k manufacturing process with ultra fast and efficient GDDR3 memory combine to produce extreme data rates and unbelievable acceleration in a quiet, cool, single-slot solution.
Breakthrough Image Quality
RADEON® X800 Graphics Technology defined a totally new High-Definition Gaming experience for the avid gamer by maximizing performance and image quality in higher detail and at higher resolutions than ever before. ATI's new and revolutionary 3Dc™ image enhancement technology brings characters to life and scenery to greater realism by enabling significant improvements to the image detail of character art with increased performance and lower memory usage.3Dc™ is slated to become the industry standard to support more complex high-definition visual effects in real time.
Technologically Advanced 3D Architecture
RADEON® X800 graphics technology features SMARTSHADER™ HD, the most advanced pixel shader engine with up to 16 parallel pixel pipelines capable of an incredible 6 gigapixels/second fill rate in full precision! With six programmable vertex shader pipelines, capable of up to 700 million vertices per second and an overall capability of over 200 billion floating point operations per second(Giga FLOPS), RADEON® X800 Graphics Technology delivers beautifully rendered high-definition 3D animation for intense, interactive game play.
Cutting Edge Video Technology
RADEON® X800 graphics technology gives you more than just a great gaming experience. It also has sophisticated video processing, filtering and acceleration features that make multimedia applications more efficient, inspiring and fun. With VIDEOSHADER™ HD, RADEON® X800 graphics technology takes advantage of its advanced shader processing engine for user programmable video effects, video quality enhancement, and encoding and decoding of many video standards, including MPEG1/2/4, Real Media, DivX and WMV9. RADEON® X800 Graphics Technology also supports the latest high-definition and wide display formats, giving users bigger and more vivid movie, gaming and Internet experiences.
DirectX® 9.0 Leadership Continues
Over the past several years ATI has established a legacy of providing the highest performing Microsoft® DirectX® graphics card solutions. RADEON® X800 graphics technology offers unparalleled DirectX® 9.0 and OpenGL® 2.0 shader support to ensure that current and upcoming games look and play brilliantly, especially in high-definition.
Stability is the foundation of the RADEON® X800 Graphics Technology
Acclaimed by industry leaders, ATI's award winning CATALYST™ software driver suite optimizes the graphics processor performance of ATI's desktop products while ensuring maximum stability and user control. CATALYST™ provides frequent driver updates backed by ATI customer support, to ensure complete satisfaction.
The package came with the following:
HDTV cables
S-video cables
Analog to Digital converter
PowerDVD 5
Demo Disc
Driver Disc
Installation Guide

Benchmarks
Doom 3 has become one of the more used benchmarks for graphics cards since its recent release, it shows off the great power that the graphics engine has, although the gameplay leaves a little to be desired. Once more ID has used OpenGL in the game, this is where ATI lacks a bit of power, although most gamers won't really notice it, those that want the increased FPS will.
Doom 3 1280x1024 High Detail
| | |
| --- | --- |
| CPU | FPS |
| AMD Athlon 64 3000+ | 51 |
| AMD Athlon 64 3800+, 2.4 Ghz | 53 |
Doom 3 1600x1200 High Detail
| | |
| --- | --- |
| CPU | FPS |
| AMD Athlon 64 3000+ | 32 |
| AMD Athlon 64 3800+, 2.4 Ghz | 40 |
Farcry is easily one of the best titles released this year, and that is saying something when you consider it has been up against the likes of Doom 3 and Half Life 2. Graphically in my personal view this is the 2nd best looking game out right now, just one behind Half Life 2 and Farcry is so good looking on an ATI card you'll be well happy with the results.
Farcry 1280x1024 Ultra Detail - Athlon 64 3800+
| | |
| --- | --- |
| Level | FPS |
| Volcano | 67 |
| Research | 74 |
| Training | 55 |
| Steam | 47 |
Farcry 1280x1024 Ultra Detail - Athlon 64 3000+
| | |
| --- | --- |
| Level | FPS |
| Volcano | 67 |
| Research | 74 |
| Training | 55 |
| Steam | 47 |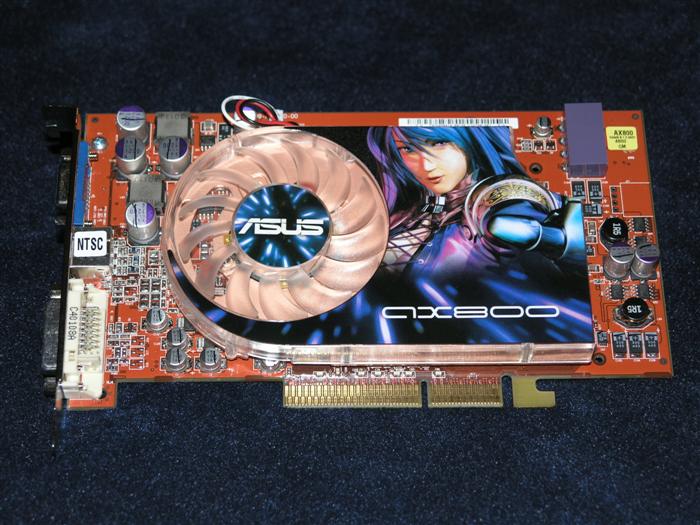 Half Life 2 was one of the most sought after titles ever released when it came out last month and I am glad to say I don't think anyone was disappointed with the game (maybe Steam, but not the game). The graphical performance is as good as I hoped it would be, there are some areas in the game where it does slow down, but not enough to distract from the excellent gameplay on show here. Half Life 2 is probably the best looking title out right now, and with the excellent graphic effects and some great physics on show, it has to be the title you buy to show off a spanking new PC.
Half Life 2 1280x1024 6x Anisotropic 4xAA
| | |
| --- | --- |
| CPU | FPS |
| AMD Athlon 64 3000+ | 62 |
| AMD Athlon 64 3800+, 2.4 Ghz | 81 |
X2: The Threat is a great space simulator with a heck of a lot of depth to it, but not only that - it also has some fantastic graphics to boot. The ATI card handles this game really well even when there is a lot of action on the screen at one time.
X2: The Threat Patch 4, With Shadows Enabled at 1280x1024x32
| | |
| --- | --- |
| CPU | FPS |
| AMD Athlon 64 3000+ | 58 |
| AMD Athlon 64 3800+, 2.4 Ghz | 75.76 |
While I don't think much of 3D Mark as a benchmarking tool, nearly ever site that reviews graphics cards seems to included it. As you can see the ATI card does extremely well in the tests.
3D Mark 2003 at 1280x1024x32 - 3D Mark Overall Score
| | |
| --- | --- |
| CPU | Mark |
| AMD Athlon 64 3000+ | 9737 |
| AMD Athlon 64 3800+, 2.4 Ghz | 10,075 |
ATI has slowly but shorely taken over Nvidia's reign with their last two card releases and I don't think that anyone can argue that they deserve it. With the release of the X800 GPU they once again moved ahead of the pack in a vast array of games compared to the latest Nvidia Chip and the lack of Pixel Shader version 3 hasn't made the difference that Nvidia stated it would do.
There are many reasons we liked the X800 Pro, the card performs really well and is quite a big upgrade over previous generations of ATI products. It's really fast too even compared to the GeForce 6 range. The card can be overclocked quite easily too which is a big plus for a lot of users. The in-game image quality was excellent and thanks to the excellent Drivers that ATI have been releasing over the last few months the card is really really stable to use.
How It Grades
Installation: 91%
Ease Of Use: 89%
Speed: 93%
Features: 92%
Drivers: 90%
Design: 85%
Manual: 90%
Price: 80%
Overall: 91%
While the Pro version of the X800 is a slight step down from the excellent XT model, it does very well across most of the tests we have done here at ActiveWin. The Windows performance has been excellent throughout and colors are vivid and clear across both DVI and plain CRT connections. The drivers have been great too, especially thanks to the monthly releases that ATI do and with the excellent VPU recover facility working to stop as many GPU driver crashes as possible (I haven't had a graphical related crash for ages)
Although we have reviewed the AGP version of the card, there are PCI Express versions released too which offer a slightly improved performance, but not as good as anyone expected they could be. I have become a real fan of ATI graphics cards over the past year and hopefully their next release will be as good as this one, while it is a shame that OpenGL performance is not as good as Nvidia cards, it is easy for most of us to overlook as 95% of games are now run through Direct3D and it is here where the ATI cards excel.
Conclusion
So overall we have yet another excellent graphics card from ATI, how long they can lead the field I don't know but competition in this sector of the PC industry is good news for the consumer. While it doesn't have the edge in games like Doom 3 over Nvidia cards, that doesn't really matter as in my opinion that was a highly overrated title that got more coverage than it deserved once more.

Feel free to comment on the review here.
Specs & Package
Overall Score
91%
Version Reviewed
ATI X800 Pro 256mb
Release Date
Out Now
In The Box?
1 ATI X800 Pro 256mb Graphics Card
Drivers CD
The Good Points
Fast for the price
Stable
Great in Direct3D titles
The Bad Points
Open GL still lacks
Pricey when compared to better ATI Cards
Reviewers PC Setup
AMD Athlon 64 3000+
MSI KT800 Neo Motherboard
1280 MB DDR PC2700
ATI X800 Pro 256mb Graphics Card
Creative Labs Audigy 2 Sound Card (OEM)
180 GB Western Digital Hard Drive 7200 RPM, 8mb Cache
Sony 16x DVD-RW
Sony CD-RW (40x12x48x)
Creative Inspire 5.1 5300 Speakers
Viewsonic VP171s LCD Monitor