DirectX
ActiveMac
Downloads
Forums
Interviews
News
MS Games & Hardware
Reviews
Support Center
Windows 2000
Windows Me
Windows Server 2003
Windows Vista
Windows XP



News Centers
Windows/Microsoft
DVD
Apple/Mac
Xbox
News Search



ActiveXBox
Xbox News
Box Shots
Inside The Xbox
Released Titles
Announced Titles
Screenshots/Videos
History Of The Xbox
Links
Forum
FAQ



Windows XP
Introduction
System Requirements
Home Features
Pro Features
Upgrade Checklists
History
FAQ
Links
TopTechTips



FAQ's
Windows Vista
Windows 98/98 SE
Windows 2000
Windows Me
Windows Server 2002
Windows "Whistler" XP
Windows CE
Internet Explorer 6
Internet Explorer 5
Xbox
Xbox 360
DirectX
DVD's



TopTechTips
Registry Tips
Windows 95/98
Windows 2000
Internet Explorer 5
Program Tips
Easter Eggs
Hardware
DVD



ActiveDVD
DVD News
DVD Forum
Glossary
Tips
Articles
Reviews
News Archive
Links
Drivers



Latest Reviews
Xbox/Games
Fallout 3

Applications
Windows Server 2008 R2
Windows 7

Hardware
iPod Touch 32GB



Latest Interviews
Steve Ballmer
Jim Allchin



Site News/Info
About This Site
Affiliates
Contact Us
Default Home Page
Link To Us
Links

News Archive
Site Search
Awards



Credits
©1997-2012, Active Network, Inc. All Rights Reserved.
Please click here for full terms of use and restrictions or read our Light Tower Privacy Statement.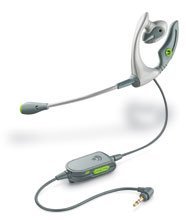 Product: Plantronics GameCom X30 Headset for Xbox 360
Company: Plantronics
Website: Official Web Site
Estimated Street Price: $29.99
Review By: Brian Kvalheim
Introduction
The Xbox 360 has brought out a flurry of new accessories to satisfy the hardcore and casual gamer. Plantronics has always done really well with their gaming headsets in the past. Their newest entry, the GameCom X30 is no exception. Gamers are never satisfied with a single headset fashion. Some like them resting on top of their head (aka Xbox 360 headset), and some like it behind their head (aka Xbox 1). The X30 gives you yet another choice, and a far more subtle one. A single light weight accessory that rests on your ear.
Package Contents:
1 Plantronics GameCom X30 Headset for Xbox 360
System Requirements:
Features:
Industrial-strength hipness separates gaming titans from mere mortals
Noise-canceling mic lets you verbally devastate foes with cutting precision
Extended boom flexes to fit your trash-talking maw
Supple, ear-melding design thwarts the chaffing of all-night kill fests
Single-ear coverage lets you roast online enemies while rapping with your fridge-raiding buddies
Inline volume and mute put you in the driver's seat
Plantronics quality backed by a one year warranty


setup
No setup is required. One you remove the headset from the packaging, it's all about plug and play. You will find that the Plantronics headset has elected to go without the standard "puck" that connects to the Xbox 360 controller. The connection is a standard headset connection, which essentially allows you to use this headset for any entertainment device supporting this male output.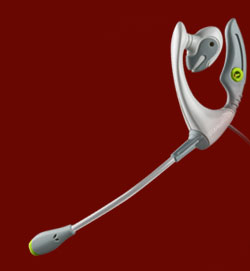 using the GAMECOM X30
The first thing you will notice with the X30 one you remove it from the packaging is that it is extremely lightweight. The materials are rubber and plastic, all of which retain a very solid feel. Placing the set on your ear can be confusing the first couple times in use (as it was for me). Once you have it figured out, it's as easy as tying your shoes.
The rotating ear piece is a nice feature for those who have a preference for left or right ear placement. Even better yet, it's a great accessibility feature for someone who doesn't have any (or limited) hearing in one ear or the other. Once the set is seated around your ear, you will wonder if this thing is defying gravity. For the first few rounds of use, I thought the headset was going to fall off my ear, only because of it's lightweight design and size. Slight tugs on the connecting wire proved that the set was in no hurry to leave my head. After a short time of gaming, you don't even notice it's there.
The mouth piece sits about an inch and half to two inches away from my mouth. My concern was that gamers would not be able to hear me properly unless I pushed the piece closer to my mouth throughout gaming. That was not the case. Leaving the mouth piece in it's default position gave excellent voice communication to my fellow gamers. During testing, I asked numerous gamers how I sounded, and there was a unanimous vote of clarity and no problems with the volume of my voice. I found that the actual sound I heard was much more crisp, clear and clean than the Microsoft Xbox 360 headset. The issue I did find however, is that it's not as loud as the Microsoft's version. I prefer the better quality sound over loud.
Microsoft has made some excellent "pucks" (accessory connectors) for the Xbox 1 controllers as well as the Xbox 360. The Xbox 360 headset made by Microsoft includes a puck that contains the volume switch as well as the mute switch integrated. The X30 also has included the volume and mute feature on it's headset, but in a less prominent spot. This, in my opinion, is the only downfall in this new headset (wireless would be nice though). The wire that connects the set to the controller has a small dongle in the center that contains these switches. This makes for difficult access for immediate muting or volume changes. You will find your hand sliding up and down the wire looking for the dongle while in the middle of a heated battle. Fumbling around at times trying to twist it in the proper direction so that you can change your settings. With the Microsoft "puck" connection, you never have to remove your hands from the controller to change settings. This is a downfall that would prevent me from using this headset full time. Of note, the back of the dongle switch on the X30 does have a clip that allows you to possibly mount it to your shirt (say a button up/polo shirt).
Conclusion
How It Grades
Ease Of Use: 80%
Setup: 100%
Features: 95%
Design: 85%
Quality: 90%
Price: 90%
Overall: 90%
Gamers will be delighted with another choice for trash talking their friends and family on Xbox Live. Excellent build quality, with impeccable sound, and the almost invisible lightweight packaging, this would be a hard product to avoid. With the noise cancelling technology and comfort, Plantronics has a winner on their hands. While I am not the kind of gamer who wants to fiddle with a dongle during gaming, it may be more natural for others, making this the perfect accessory for your newly purchased Xbox 360.
Feel free to comment on the review here.
Specs & Package
Overall Score
90%
Version Reviewed
Plantroncs GameCom X30 for Xbox 360
Release Date
Out Now
In The Box?

Plantroncs GameCom X30 for Xbox 360


The Good Points
Lightweight, Crisp/Clear Sound, Quality Materials
The Bad Points
Mute/Volume switch, Not very loud