DirectX
ActiveMac
Downloads
Forums
Interviews
News
MS Games & Hardware
Reviews
Support Center
Windows 2000
Windows Me
Windows Server 2003
Windows Vista
Windows XP



News Centers
Windows/Microsoft
DVD
Apple/Mac
Xbox
News Search



ActiveXBox
Xbox News
Box Shots
Inside The Xbox
Released Titles
Announced Titles
Screenshots/Videos
History Of The Xbox
Links
Forum
FAQ



Windows XP
Introduction
System Requirements
Home Features
Pro Features
Upgrade Checklists
History
FAQ
Links
TopTechTips



FAQ's
Windows Vista
Windows 98/98 SE
Windows 2000
Windows Me
Windows Server 2002
Windows "Whistler" XP
Windows CE
Internet Explorer 6
Internet Explorer 5
Xbox
Xbox 360
DirectX
DVD's



TopTechTips
Registry Tips
Windows 95/98
Windows 2000
Internet Explorer 5
Program Tips
Easter Eggs
Hardware
DVD



ActiveDVD
DVD News
DVD Forum
Glossary
Tips
Articles
Reviews
News Archive
Links
Drivers



Latest Reviews
Xbox/Games
Fallout 3

Applications
Windows Server 2008 R2
Windows 7

Hardware
iPod Touch 32GB



Latest Interviews
Steve Ballmer
Jim Allchin



Site News/Info
About This Site
Affiliates
Contact Us
Default Home Page
Link To Us
Links

News Archive
Site Search
Awards



Credits
©1997-2012, Active Network, Inc. All Rights Reserved.
Please click here for full terms of use and restrictions or read our Light Tower Privacy Statement.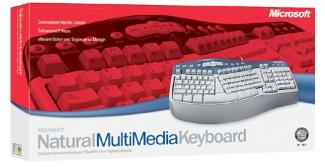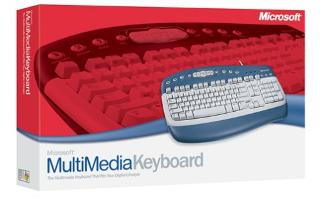 Sticking to the hip color scheme which debuted in the Optical Mouse Blue, Microsoft has released two complementary products designed to add flair to the desktop and to bring innovative features to consumers. As shown by their names, the Microsoft MultiMedia and Natural MultiMedia keyboards have convenient, yet functional, features for multimedia savvy users. Do the Microsoft MultiMedia keyboards live up to its promises? Read on to find out.
Multimedia Center - Just press a button to start your favorite media programs, navigate music and video clips, or pump up the volume. It's the easiest way to enjoy your multimedia experience.
Enhanced F Keys - Experience a faster way to perform common tasks. Just press a key to open, close, save, and print documents, send and forward e-mails, and more.
F Key Lock - Switch between standard and enhanced function key commands, giving you more flexibility.
Hot Keys - With the press of a button, you get instant access to Messenger, Mail, Internet, and Calculator commands. Hot Keys for My Documents, My Pictures, and My Music put the files you use most within easy reach.
Setup & Installation
As with most other Microsoft hardware devices, the setup of either Microsoft MultiMedia keyboards is a breeze. Just plug the PS/2 connector into the proper port and you are all set to begin. Note: this keyboard does not use a USB connection. These keyboards are not Macintosh compatible.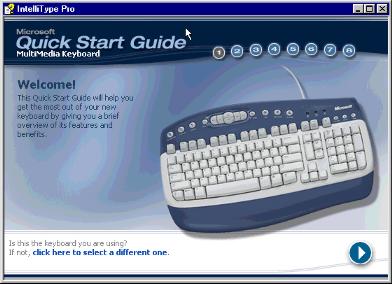 Microsoft IntelliType 2.2 Software
If you would like to adjust your keyboard settings, i.e. reprogram its hotkeys, then you'll want to install Microsoft IntelliType Pro 2.2 software. Installation of the IntelliType Pro 2.2 software (although not needed) is a breeze. Just pop in the CD included or download the software (about 10 MB) from Microsoft's website. After a restart, the setup asks which keyboard you are using and thus finalizes the installation. A "quick start guide" is displayed which walks you through the keyboard highlights, help resources, healthy computing guide, etc.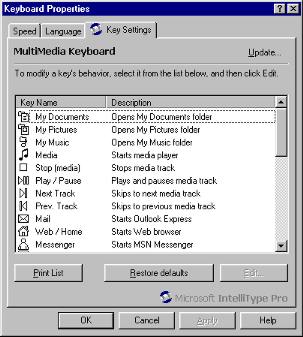 To customize your keys, select either "Keyboard" from the Control Panel or "Microsoft Keyboard" from the Program menu. On the Key Settings tab, you'll see a list of thirty hot key defaults, which you can reprogram if you like. Another nice feature is you can print out a list of the key assignments, which is good for those who like to reprogram a significant amount of keys. From here you can edit your key assignments from a list of fifty-five available commands. Options include disabling, programming to open a webpage or file, and reprogramming to fit Microsoft's available commands. Some keys, however, such as the Caps Lock, you can only disable the key, not reprogram it.
Design
As stated earlier, the Microsoft MultiMedia keyboards are designed to complement the Optical Mouse Blue (at least to the extent of the same aesthetically looking Astral blue finish). Only a few differences exist between the Natural MultiMedia and MultiMedia keyboards. The Microsoft Natural MultiMedia keyboard has Microsoft's distinct, ergonomic shape which large quantities of consumers enjoy in addition to an integrated palm rest. For those who do not, however, the Multimedia keyboard has a traditional flat design and also includes a detachable palm rest. Both keyboards weigh in a just under 2 pounds with a length of about 12 inches and a width of 6 inches. The keyboards are raised slightly at the top end to give easier access to the main hotkeys.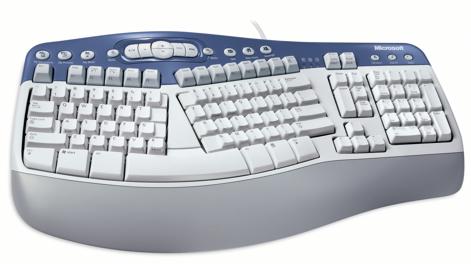 The Multimedia center at the top center of the keyboard gives one-touch access to frequently used multimedia commands; play, pause, stop, mute and more are all included. All of these commands, of course, can be reprogrammed using the IntelliType Pro software. In addition, you have access to twelve other hotkeys (on the function keys), when the Function light is turned off. When the F Lock light is on, the keys turn back into regular function keys. Finally, the keyboard lights (Caps Lock, etc.) are a little bigger and better looking than normal.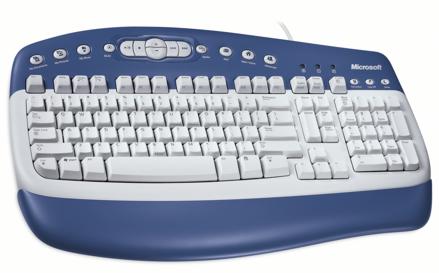 Final Comments
How

They

Grade
Installation: 88%
Performance: 92%
Design: 90%
Price/Value: 85%
Overall: 88.75%
These keyboards are perfect for those who like a ton of customizable hotkeys and/or use multimedia functions extensively. The keyboards feature an aesthetically appealing and functional design which is useful to users. In addition, consumers can choose between their favorites: either the traditional flat or Natural ergonomic designs. The traditional flat keyboard is competitively priced as compared to the Internet Keyboard and Office keyboards; the Natural Multimedia keyboard is about 28% more expensive than the Natural Keyboard Elite, then again you aren't getting the same features to compare. As far as the competition goes, the Logitech Elite keyboard has a black design and some multimedia features, but it is about as expensive as the Natural Multimedia model and doesn't have the Natural design.
Specs & Package
Overall Score
88.75%
Version Reviewed
Multimedia/Natural MultiMedia Keyboards
Release Date
Out Now
The Good Points
Tons of Hotkeys
Nice Color
Nice Lights
The Bad Points
No USB Connector
Similar Product
Logitech Elite Keyboard
System Requirements
Windows 98, Me, NT 4 SP6, 2000, XP
PS/2
35 MB of Disk Space
32 up to 128 MB of RAM