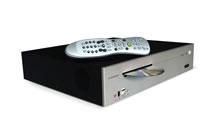 Product: Evesham Ebox S
Company: Evesham Technology
Website: Ebox Website
Estimated Street Price: £999
Review By: Byron Hinson
The Ebox Review
It has taken me quite some time to get on the Microsoft Media Center bandwagon that so many others have been talking up over the last year or so. The first versions of Media Center PCís didnít impress me and neither did the software all that much, but since the release of Microsoft Windows Media Center 2005 my views have changed for the better.
Gone is the buggy software of the past and in come some rather excellent looking and really easy to use programs and computers. The Evesham Ebox is one of the best looking Media Centers on the market right now; it looks like a stylish DVD recorder but does a lot more than just that. The Ebox does not ship with a monitor, which is a good thing considering a lot of buyers will attach it to their TV be it a Plasma, LCD or plain CRT screen. For the majority of my review I have connected the Ebox up to a Viewsonic VX912 19Ē TFT monitor through a DVI connection on the ATI X300 SE Graphics card.
The first thing to mention is that when it was confirmed that I was to receive an Ebox from Evesham for review on ActiveWin, it took about 8 days for it to be built up and sent out to us, this is excellent news as a lot of Media Centers right now are stating times that they cannot meet yet Evesham said they would get it out within their 9 days they state on their website and they did so.
So what does the Ebox S ship with? Well for £999 Inc VAT you get the following:
Microsoftģ Windowsģ XP Media Centre Edition 2005
Pentium 4 530 3.0 GHz
Dual Digital TV Cards (Blackgold)
MSI 915G mATX DDR1, RT GB LAN Motherboard
DVD/CD-RW/DVD-RW (Slot Loading)
512 MB PC3200 Memory
200 GB S-ATA 7200rpm with 8mb Cache Hard Drive
Wireless G Card
v92 56k Internet ready modem
ATI Radeon X300 SE 128mb PCI-Express Graphics Card
On board 7.1 surround Sound
Microsoft cordless keyboard and cordless optical mouse
Microsoft Works 8.0 OEM
Media Center remote control
Aerial Signal Booster and Dual Tuner Pack
WinDVD
As I have already mentioned, the Ebox looks great in your front room, but that isnít to say itís perfect. It is very large, it even surprised me and I have seen shots of it over the past few months, itís a slimmer version of a desktop PC and thatís really the best way to describe it. On the front of the Ebox you have a slot loading DVD-RW drive, this looks great and works really well. One worry people have about Slot Loading DVD players is that it will scratch their DVDís, well there have been no problems with the Ebox and I have used loads of DVDs and CDs with it so far. Other additions to the front of the Ebox are a couple of USB 2.0 ports, a firewire port, a microphone port and a headphone socket.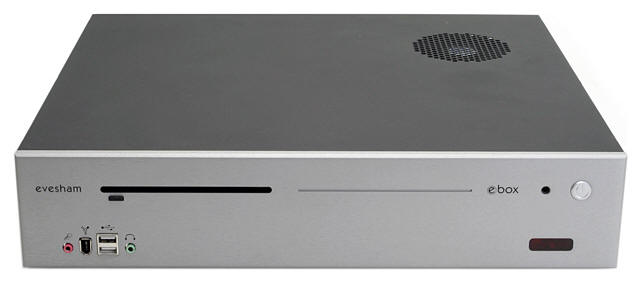 On the back of the Ebox you have what is basically the backend of a PC, you have the onboard soundcard, graphics card, wireless LAN, ATI X300 SE Graphics card with DVI and VGA Out. Finally we have the Dual TV Cards, thankfully Evesham provide a booster which allows you to connect your aerial to the plug and it is then split into the two Arial ports on the TV cards on the back of the Ebox. Having Dual Tuner TV cards allows you to record two channels at once, or record one while watching another, you donít realise how useful this is until you start to use a single to record channels.
Recording quality and playback quality on the Dual TV Cards from Blackgold is excellent; I havenít had any problem with them other than reception problems in bad weather on my end through Digital Freeview (UK service). As with all Media Center 2005 PCís you get a choice about the quality of recording, changing to a lower quality saves on drive space and allows you to record a lot more programs/films onto your hard drive and if you just drop down by one quality level, unless you are recording HDTV then you wonít notice much of a difference. The Ebox came with a 200 GB hard drive, this is more than adequate for recording television as most of us tend to watch what we have recorded and then delete it anyway.

As is the case with smaller sized media center based PCís, they aim to be as quiet as possible when running so that they donít interfere with viewing of movies, TV or video. The Ebox is one of the louder Media Centers right now, although no where near as loud as some people have been talking about on the internet. The case has two openings where the fan blows out hot air, these make the noise. The graphics card the Ebox ships with is only a basic ATI X300 SE so there isnít a high temperature coming there so Iím unsure why it is as noisy as it can get.
Seeing as I have mentioned the graphics card above, I thought I would state that this is the only downside I see for all media center based PCís and not just the Ebox. The graphics cards are not the best, so gaming on your TV (Except for older titles) is a no no. Donít expect to run Half Life 2 or Doom 3 with this card and get a good frame rate. One thing the card does well, even with the X300 card, is display HDTV based video, I have had no problems playing back video in 720p mode, although 1080 isnít as smooth as it could have been, but this isnít too much of an issue right now here in the United Kingdom as HDTV based TV is still 2 years away.
How It Grades
Installation: 92%
Ease Of Use: 93%
Speed: 87%
Features: 92%
Drivers: 90%
Design: 85%
Manual: 85%
Price: 88%
Overall: 91%
As is the norm with most media center based PCís at the moment, the Ebox comes with a wireless internet connection, this is important not only for the TV guide to stay updated, but also for the online spotlight section Media Center 2005 and for Windows Update to download critical updates in the background for you. The Wireless card inside the Ebox was a D-Link AirPlus G card which ran with no problems at all. Next we have the sound card, this is a realtek on-board 7.1 capable card, and it is perfect for the Media Center. As most people will be using it for watching TV and playing basic games, there was little need to go out and add a Creative Labs card to the Ebox especially as it would have increased the cost.
The Ebox itself can be configured to what you want it to contain online, you can change the hard drive size, speakers and memory or even add a plasma screen to the whole package if you wanted to do so, but the upgradeability on all small form media center based PCís is low anyway so it is better to make sure you order the type you want instead of wishing you had bought something else for it later.
Conclusion
I have always been a fan of Eveshamís PCís. They are built well, have good support and nearly always contain top of the range parts and pieces. The Ebox is no exception; it is one of the best media centerís on the market right now, even with the fan noise problems. When a PC works right out of the box and records fine, runs exactly how it should do, and doesnít even crash during a full weekís work out of updating and recording then that is a very good sign. If you are into Media Centerís, you canít go wrong with the Evesham Ebox.
You can purchase the Ebox directly from Evesham at http://www.evesham.com

Feel free to comment on the review here.
Specs & Package
Overall Score
91%
Version Reviewed
Evesham Ebox S
Release Date
Out Now
In The Box?
1 Evesham Ebox S
1 Plug
1 Aerial Booster
2 Aerial Cables
1 Sejin Wireless Keyboard with Built-In Trackball
1 Manual
Pack Of CD's and User Guids
The Good Points
Good Design
Hi-Specs
Easy To Setup
Good Components
Dual Tuners
The Bad Points
A little noisy
No scart out of the box
Reviewers PC Setup

AMD Athlon 64 3800+
Asus AV8 Deluxe 949 Motherboard
1024 MB Crucial Dual Channel DDR PC3200 Memory
ATI X800 Pro 256mb Graphics Card
Creative Labs Audigy 2 Sound Card (OEM)
80 GB Western Digital Hard Drive 7200 RPM, 8mb Cache
Sony DRU-710A 16x DVD-RW Dual Layer Drive
Sony CD-RW (40x12x48x)
Creative Inspire 5.1 P580 Speakers
Viewsonic VP171s LCD Monitor