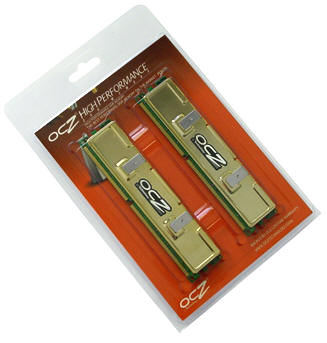 OCZ Technology EL-DDR PC3500 Gold GX Memory
Company: OCZ
Website: http://www.ocz.com
Estimated Street Price: Ł80
Part Number: 1GB (2x512) D/C Kit PN - OCZ4331024ELDCGEGX-K
Review By: Byron Hinson
Introduction
OCZ are not the most well known of memory companies on the market today, but they do produce some of the highest quality products you can get memory wise right now. Today we are posting our first OCZ review, this is based on the EL-DDR PC3500 Gold GX Memory in Dual Channel format.
OCZ PC-3500 Gold Gamer eXtreme Series is the latest addition to the extreme-speed Gold Series family. As part of the award winning OCZ Gold series, PC-3500 Gold is built with leading edge technology designed to provide users with unwavering performance features capable of excelling in even the most demanding gaming environments. With the slightly above average voltage of 2.8V, these high-speed modules run at DDR433 and turn out heart-pounding 2-2-2-5 timings with flawless performance and stability—a necessity for today's PC gamers.
OCZ PC-3500 Gold GX products are 100% hand-tested to ensure compliance with stringent quality standards. In addition, each member of the OCZ Gold GX family is encased in a gold layered copper heatspreader for efficient heat dissipation and is backed by an industry-leading lifetime warranty, toll-free technical support and the exclusive EVP® (Extended Voltage Protection) coverage, a feature allowing performance enthusiasts to tweak their systems up to a VDIMM of 3.1V ± 5% without invalidating their OCZ Lifetime Warranty!
With its ultra-fast performance, high quality and reliability, the OCZ PC-3500 Gold GX edition is the perfect memory upgrade for memory-hungry gaming rigs.
System Setup
As always we are using our main review system for the memory tests, in addition to the machine are using the following drivers.
The Hardware
AMD Athlon 64 4000+ Processor

ATI X850 XT PCI Express Graphics Card

Sapphire Axion RS480AS9-A58S Socket 939 Motherboard

Creative Labs Audigy 2 Sound Card (OEM)

180 GB Western Digital Hard Drive 7200 RPM, 8mb Cache

Sony 16x DVD-RW

Apple 20" Cinema Display
The software we are using is as follows:
Windows XP Service Pack 2

ATI Catalyst Drivers 5.10

Via Hyperion 4.51

DirectX 9.0c

3D Mark 2005

Half Life 2

X2: The Threat

Far Cry 1.3

Doom 3
Benchmarks & Information
As always when it comes down to it, if you are using Athlon64 Based Processors, you are better off using low latency memory sticks. The OCZ PC3500 EL Gold Edition GX Memory both run in 2-2-2-5 timings, on default the memory runs up to 216mhz (DDR433). In this review we are going with the Dual Channel Kit from OCZ as the PC3500 EL Gold Edition GX DIMMs are supposed to be optimised for dual channel based configurations.
So what's so special about these chips? Well the OCZ PC3500 EL Gold Edition GX memory comes wrapped up in gold plated copper heatspreaders, this not only makes them heavier to hold than other memory, but it helps to insulate the DRAM from any physical damage that may come up. As you can tell, the OCZ PC3500 EL Gold Edition GX Memory flies by the other memory we tested when over clocked, and this memory is built for overclocking at higher speeds. I ran a number of tests before hand to make sure that I ran the memory at the most stable overclocked speed that I could possibly get with our board. This means we raised the voltage to 3.2V and kept the memory running at 2-2-2-5 timings. Personally I recommend running the memory at around 215MHz around 2.7V
The OCZ PC 3500 Gold GX does very well in the low latency tests that we ran and getting it to run at 500 MHz with 2-2-2-5 timings is a great achievement. Lowering the timings does not allow the OCZ memory to clock much higher.
PC Mark 05 Memory Test
| | |
| --- | --- |
| CPU | Mark |
| 2x 512MB Patriot PEP5125600ELK PC5600 (200/400) | 4230 |
| 2x 512MB OCZ PC3500 Gold GX DC (200/400) | 4281 |
| 2x 512MB OCZ PC3500 Gold GX DC (250/500) | 4560 |
3D Mark 05 CPU Test
| | |
| --- | --- |
| CPU | Mark |
| 2x 512MB Patriot PEP5125600ELK PC5600 (200/400) | 5439 |
| 2x 512MB OCZ PC3500 Gold GX DC (200/400) | 5429 |
| 2x 512MB OCZ PC3500 Gold GX DC (250/500) | 5713 |
Doom 3 Test
| | |
| --- | --- |
| CPU | Frames Per Second |
| 2x 512MB Patriot PEP5125600ELK PC5600 (200/400) | 125.5 |
| 2x 512MB OCZ PC3500 Gold GX DC (200/400) | 124.0 |
| 2x 512MB OCZ PC3500 Gold GX DC (250/500) | 130.5 |
Conclusion
How It Grades
Installation: 93%
Ease Of Use: 93%
Speed: 94%
Features: 92%
Drivers: N/A
Design: 92%
Manual: N/A
Price: 88%
Overall: 91%
The OCZ PC3500 Gold GX Edition memory is perfect for those of you who play a lot of games and don't really want to worry about tweaking your times. The memory is already rated to run at 217 MHz with 2-2-2-5 timings. The memory comes with a life time warranty and offer a free phone number for any problems that you have with the memory. The memory as stated runs perfectly with the Athlon64 System that we ran the review with and those of you out there who want to overclock their memory will be pleased to know that there is a good performance increase when the memory is overclocked.

Feel free to comment on the review here.
Specs & Package
Overall Score
91%
Version Reviewed
2x 512MB OCZ Technology EL-DDR PC3500 Gold GX Memory
Release Date
Out Now
In The Box?

2x 512MB OCZ Technology EL-DDR PC3500 Gold GX Memory

The Good Points
Great when overclocked
Excellent out of the box
Great for games
Good design
The Bad Points
Slightly expensive
Reviewers PC Setup
AMD Athlon 64 4000+
Sapphire Axion RS480AS9-A58S Socket 939 Motherboard
Crucial 1280 MB DDR PC2700
ATI X850 XT 256mb Graphics Card
Creative Labs Audigy 2 Sound Card (OEM)
180 GB Western Digital Hard Drive 7200 RPM, 8mb Cache
Sony 16x DVD-RW
Sony CD-RW (40x12x48x)
Creative Inspire 5.1 5300 Speakers
Viewsonic VP171s LCD Monitor