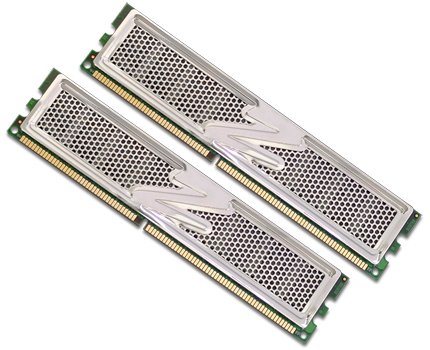 OCZ Technology EL DDR PC-4000 2x1024MB Dual Channel Platinum XTC Memory
Company: OCZ
Website: http://www.ocz.com
Estimated Street Price: £160
Part Number: 2GB (2x1024) D/C Kit PN – OCZP5002GXTC-K
Review By: Byron Hinson
Introduction
OCZ are rather surprisingly not the most well known of memory companies on the market today, but they do produce some of the highest quality products you can get memory wise right now. Today we are posting another of our OCZ reviews, this is based on the PC-4000 EL DDR Platinum XTC 2G Memory in Dual Channel format. Our previous OCZ reviews have praised both performance and the support you receive from the company, lets hope it continues on with this product.
As always, the technical support that has been offered up by OCZ has been fantastic and their lifetime warranty still carries on, which helps the company maintain themselves at the top of the performance memory ladder.
The new OCZ PC-4000 1GB Platinum Edition was developed for the unique needs of gamers and enthusiasts. The PC-4000 Platinum XTC is the ultimate memory solution for contemporary graphic-intensive PC titles and provides unsurpassed reliability and performance to unleash every graphic possibility.

The new OCZ EL PC-4000 1024MB Platinum Edition utilizes the latest OCZ heatspreader design. XTC (Xtreme Thermal Convection) Heatspreaders allow increased ventilation and heat dissipation due to an innovative honeycomb design providing more direct access to the actual memory ICs.

As part of the award winning OCZ Platinum series, the PC-4000 1024MB XTC edition is built with leading edge technology designed and qualified with special selection of premium components to maximize performance when playing even the most demanding graphics intensive games. At DDR500, these 1GB modules turn out heart-pounding 3-3-3 timings with flawless performance and stability.

OCZ PC-4000 products are 100% hand-tested to ensure compliance with stringent quality standards. In addition, each member of the OCZ Platinum XTC PC-4000 family is backed by an industry-leading lifetime warranty, toll-free technical support and the exclusive EVP (Extended Voltage Protection) coverage.

With its ultra-fast performance, high quality and reliability, the OCZ PC-4000 1024MB Platinum XTC edition is a perfect memory upgrade for memory-hungry enthusiast and gaming rigs.
System Setup
As always we are using our main review system for the memory tests, in addition to the machine are using the following drivers.
The Hardware
AMD Athlon 64 4000+ Processor

Connect3D X1900 XTX PCI Express Graphics Card

Sapphire Axion RS480AS9-A58S Socket 939 Motherboard

Creative Labs X-Fi

180 GB Western Digital Hard Drive 7200 RPM, 8mb Cache

Sony 16x DVD-RW

Apple 20" Cinema Display
Benchmarks & Information
As i continually mention, the technical support is excellent with OCZ products thanks to a 1-800 number on the back and a number of active areas in forums designed to help do technical support of OCZ products. So what differences do we have with this memory compared to the last set of OCZ memory we reviewed? Well the change here is that the XTC heatspreaders are now platinum instead of gold, though you wouldn't know it from some of our photos. On the heatspreaders you get the stickers stating what type of memory it is etc, this is the only problem I have found with the memory, adding stickers over the spreaders means it is stopping them doing the full job they are supposed to do. The design of the heatspreaders on the OCZ memory is great, with just the right amount of gap at the top to allow heat to rise out into the case rather than stay around the memory itself.
Now onto the memory specifications:
500MHZ DDR
CL 3-3-3-8 (CAS-TRCD-TRP-TRAS)
2GB (2x1024) Dual Channel Kit
Also available in a 1GB Module
Unbuffered
Mirrored Platinum XTC Heatspreader
Lifetime Warranty
2.8 Volts
184 Pin DIMM
Special Features
As you can see, these are DDR500 modules that are rated to run at 3-3-3-8 timings with 2.8v. While 2.8v seems to be a bit high for DDR500, this may indicate to us that more voltage will be needed to get higher clock rates than the others. As with all memory tests here at ActiveWin, we start off with the well versed Memtest86, this allows us to make sure that the memory kit is running at the press advertised speeds and also to check for any faults before we start off the full tests. As expected, there was no problem what so ever.
Next up we have a test to see how high we could manage to get the frequency. As always, I fiddled with the timings a bit to see how we went but no matter what I did the memory seemed to only respond to voltage increases to run faster. I stopped at the moment the OCZ warrenty would end for most users.

Frequency Test
| Frequency | Timings | Command Rate | Voltage |
| --- | --- | --- | --- |
| 200 | 2.5-3-3-0 | 1T | 2.90v |
| 230 | 2.5-3-3-7 | 1T | 3.00v |
| 250 | 3-3-3-8 | 1T | 2.60v |
| 260 | 3-3-3-8 | 1T | 2.80v |
| 265 | 3-3-3-8 | 1T | 2.90v |
| 271 | 3-3-3-8 | 1T | 3.10v |
Here are the rest of the benchmark tests
SiSoft Sandra Pro Int ALU Tests (Higher Is Better)
| | |
| --- | --- |
| CPU | Mark |
| 200 /2.5-3-3-8/ 1T | 5398 |
| 230 / 2.5-3-3-8 / 1T | 6185 |
| 250 / 3-3-3-8 / 1T | 6680 |
SiSoft Sandra Pro Float FPU Tests (Higher Is Better)
| | |
| --- | --- |
| CPU | Mark |
| 200 /2.5-3-3-8/ 1T | 5285 |
| 230 / 2.5-3-3-8 / 1T | 6098 |
| 250 / 3-3-3-8 / 1T | 6608 |
Half Life 2 Test (1024x768) - Higher Is Better)
| | |
| --- | --- |
| CPU | Frames Per Second |
| 200 /2.5-3-3-8/ 1T | 112 |
| 230 / 2.5-3-3-8 / 1T | 129 |
| 250 / 3-3-3-8 / 1T | 138 |
Conclusion
How It Grades
Installation: 93%
Ease Of Use: 93%
Speed: 94%
Features: 92%
Drivers: N/A
Design: 92%
Manual: N/A
Price: 87%
Overall: 91%
The PC-4000 EL DDR Platinum XTC 2G Memory is once again great. There are so many modules around for DDR based motherboards that I find it easy to recommend the OCZ hardware quicker than most thanks the the great after service. The days of massive amounts of overclocking are generally gone especially as plenty of voltage is needed to maximize the memory. Gaming performance with this memory was excellent too, not just in the Half Life 2 test I ran for this review, but generally I noticed a difference.The memory comes with a life time warranty and offer a free phone number for any problems that you have with the memory. The memory as stated runs perfectly with the Athlon 64 System that we ran the review with.

Feel free to comment on the review here.
Specs & Package
Overall Score
91%
Version Reviewed
2x 1GB OCZ Technology PC-4000 EL DDR Platinum XTC 2G Memory
Release Date
Out Now
The Good Points
Excellent out of the box
Excellent XTC Heatspreaders
Overclocking Room
The Bad Points
Slightly expensive
Needs higher voltages to maximize promise
Reviewers PC Setup

AMD Athlon 64 4000+ Processor
Connect3D X1900 XTX PCI Express Graphics Card
Sapphire Axion RS480AS9-A58S Socket 939 Motherboard
Creative Labs X-Fi
180 GB Western Digital Hard Drive 7200 RPM, 8mb Cache
Sony 16x DVD-RW
Apple 20" Cinema Display