DirectX
ActiveMac
Downloads
Forums
Interviews
News
MS Games & Hardware
Reviews
Support Center
Windows 2000
Windows Me
Windows Server 2003
Windows Vista
Windows XP



News Centers
Windows/Microsoft
DVD
Apple/Mac
Xbox
News Search



ActiveXBox
Xbox News
Box Shots
Inside The Xbox
Released Titles
Announced Titles
Screenshots/Videos
History Of The Xbox
Links
Forum
FAQ



Windows XP
Introduction
System Requirements
Home Features
Pro Features
Upgrade Checklists
History
FAQ
Links
TopTechTips



FAQ's
Windows Vista
Windows 98/98 SE
Windows 2000
Windows Me
Windows Server 2002
Windows "Whistler" XP
Windows CE
Internet Explorer 6
Internet Explorer 5
Xbox
Xbox 360
DirectX
DVD's



TopTechTips
Registry Tips
Windows 95/98
Windows 2000
Internet Explorer 5
Program Tips
Easter Eggs
Hardware
DVD



ActiveDVD
DVD News
DVD Forum
Glossary
Tips
Articles
Reviews
News Archive
Links
Drivers



Latest Reviews
Xbox/Games
Fallout 3

Applications
Windows Server 2008 R2
Windows 7

Hardware
iPod Touch 32GB



Latest Interviews
Steve Ballmer
Jim Allchin



Site News/Info
About This Site
Affiliates
Contact Us
Default Home Page
Link To Us
Links

News Archive
Site Search
Awards



Credits
©1997-2012, Active Network, Inc. All Rights Reserved.
Please click here for full terms of use and restrictions or read our Light Tower Privacy Statement.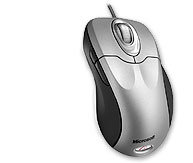 When Microsoft released the first optical mouse in 1998 the Microsoft IntelliMouse Explorer was a clear best seller with more than 5.5 million units sold worldwide. Now, Microsoft has released a new version of this long time favorite focusing on simplicity and style. This product follows a long line of stylish devices Microsoft has released this season and last (and actually includes variations of some of these devices). Using patented Optical Technology and sporting a silver/dark grey, hip design; Microsoft is trying to set a groove with people who want something sleek and stylish, yet functional, on their desktop. Does the mouse live up to its promises? Read on to find out.
New! Mouse scroll wheel with proprietary Tilt Wheel Technology delivers revolutionary capabilities. For the first time, users can scroll vertically and horizontally, which is perfect for navigating long Web pages or spreadsheets. They can depress the wheel to toggle among open windows; this is especially useful because research shows the average user has three applications running simultaneously.* The unique wheel also scrolls smoothly, enabling users to see the results on the screen as the wheel rolls under their fingers.

New! Exclusive, enhanced Microsoft Optical Technology delivers more accuracy and precision than ever before. Also, the glowing optical sensor replaces the mouse ball, so there are no moving parts to keep clean and no need for a mouse pad.

Accelerated Scrolling, Move through documents quickly without having to click on the scroll bar. Accelerated scrolling reacts to how quickly users roll the wheel, allowing for faster movement through Web pages and comptuer applications. This increases scrolling speed on average 28 percent (on three or more pages).

Ergonomic Design, Allows the userís hand to rest naturally on the mouse for maximum comfort. The shape of the Intellimouse Explorer supports the entire hand and fingers, while the slope helps keep the hand and forearm naturally aligned.

Customizable Buttons, The wheel button can easily be reprogrammed to perform popular commands with a single touch. For example, the same button can be programmed to "Cut" in Microsoft Word and "Insert Comment" in Microsoft Excel. The side buttons are set by default for easy forward and backward navigation.
Setup & Installation
The setup of this mouse is decisively simple; just plug it into a USB port, do a quick software setup and you are ready to go. Like its predecessors, this mouse works with USB and PS/2 ports. Installation of the IntelliPoint software is a breeze and has not changed from previous versions. This mouse also supports some Macintosh platforms (see below). Note: software setup is not necessary.
Mouse Design
The Microsoft IntelliMouse Explorer is not available in the variety of colors/texture that the Wireless version offers. The mouse is also about the same size as previous models, sizing up at 3 inches long, 1.5 inches wide and an inch high. The mouse has a silver finish around the top, with a sleek black design on the bottom. The black has a very "tech" feel, it is very subtle and appeasing to look at. As you can see in the image below, there is a nice silver Microsoft "Optical Technology" logo on the front of the mouse. It seems Microsoft has cut away from the red translucent plastic bottoms which used to be on older models.
The Microsoft IntelliMouse Explorer has five buttons and a scroll wheel (which also services as a button), so if you depend on a ton of programmable buttons this one has the most of available from Microsoft (the optical mouse included in the standard wireless desktop does not have five). The scroll wheel is a transparent white, but unlike the Notebook Optical Mouse the wheel doesnít light up (a light would be cool!). The wheel, unlike previous models, has a nice tight grip to it. New for this version is the proprietary ďtilt wheel technology.Ē The first of its kind, users can now scroll vertically and horizontally. I found this feature most useful for toggling between open windows. Nice touch! Unlike the Optical Mouse, the IntelliMouse is not ambidextrous, so only right hand users will prefer to use this model. The size makes this mouse easy to use for long periods of times, without irritating the wrist (something I particularly find important). The cord is a nice standard length which will suffice for most users. And, of course, no batteries are necessary!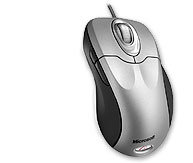 Letís not forget the Optical Technology. The technology is 6,000 frames per second and works smoothly on most surfaces. It has been broken-in well with previous mice, so you know you wonít have any problem. The optical technology has been enhanced over previous models to last much longer than before.
Final Comments
How It Grades
Installation: 100%
Performance: 95%
Design: 86%
Price/Value: 90%
Overall: 92.75%
Itís unfortunate with all the new options available in the mouse line that only metallic grey/silver finish was available, but this color probably appeases a larger crowd then the rest. The IntelliMouse Explorer is good looking; and for those of you who have older versions or who did not want to go wireless, I definitely recommend you try this product. The mouse has five buttons, not to mention the tilting scroll will, so I feel those who seek the most functionality will enjoy this product. Additionally, this product is competitively priced compared to competition.
Specs & Package
Overall Score
92.75%
Version Reviewed
IntelliMouse Explorer (5.0)
Release Date
Out Now
The Good Points
Enhanced Optical Technology
Nice Color/Design
Tilt Wheel
The Bad Points
Only one color available
Similar Product
Previous IntelliMouse versions, Wireless
System Requirements
Windows 98, Me, 2000, XP, 2003
USB or PS/2
30-60 MB of Disk Space
32 up to 128 MB of RAM
Mac OS 10.1 to 10.2.X (OS X not supported)