DirectX
ActiveMac
Downloads
Forums
Interviews
News
MS Games & Hardware
Reviews
Support Center
Windows 2000
Windows Me
Windows Server 2003
Windows Vista
Windows XP



News Centers
Windows/Microsoft
DVD
Apple/Mac
Xbox
News Search



ActiveXBox
Xbox News
Box Shots
Inside The Xbox
Released Titles
Announced Titles
Screenshots/Videos
History Of The Xbox
Links
Forum
FAQ



Windows XP
Introduction
System Requirements
Home Features
Pro Features
Upgrade Checklists
History
FAQ
Links
TopTechTips



FAQ's
Windows Vista
Windows 98/98 SE
Windows 2000
Windows Me
Windows Server 2002
Windows "Whistler" XP
Windows CE
Internet Explorer 6
Internet Explorer 5
Xbox
Xbox 360
DirectX
DVD's



TopTechTips
Registry Tips
Windows 95/98
Windows 2000
Internet Explorer 5
Program Tips
Easter Eggs
Hardware
DVD



ActiveDVD
DVD News
DVD Forum
Glossary
Tips
Articles
Reviews
News Archive
Links
Drivers



Latest Reviews
Xbox/Games
Fallout 3

Applications
Windows Server 2008 R2
Windows 7

Hardware
iPod Touch 32GB



Latest Interviews
Steve Ballmer
Jim Allchin



Site News/Info
About This Site
Affiliates
Contact Us
Default Home Page
Link To Us
Links

News Archive
Site Search
Awards



Credits
©1997-2012, Active Network, Inc. All Rights Reserved.
Please click here for full terms of use and restrictions or read our Light Tower Privacy Statement.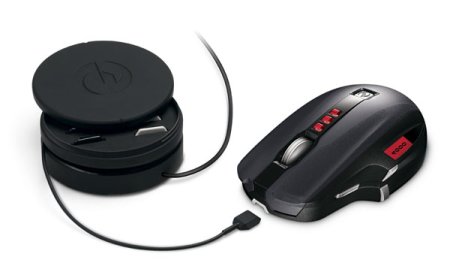 Sidewinder X8 Mouse
Company: Microsoft
Estimated Street Price: £60
Review By: Byron Hinson
Introduction
Gaming mice have been released over the past few years to little fanfare, most of them are overly complicated as well as pretty ugly looking. Most of the decent ones have all been wired (Which isn't a bad thing) with very few attempts at Wireless connections simply due to the lag that still develops even nowadays as well as the interference from other networking around you. Well after the success of the excellent SideWinder X5 mouse Microsoft have returned with the Sidewinder X8 - their top of the range gaming mouse with 2.4 GHz Wireless connection and Bluetrack technology.
Introducing the ultimate wireless gaming mouse. The SideWinder™ X8 Mouse offers the world's most advanced tracking with Microsoft BlueTrack™ Technology, as well as the convenience of a wireless mouse with wired gaming performance
2.4 GHz Wireless connection
Reliable wireless connection built for lag-free play.
BlueTrack Technology
World's most advanced tracking technology for gaming with image processing of 13,000 frames per second.
Play and Charge
Up to 30 hours of active gaming on a single charge, or use the play-and-charge cable for non-stop action.
Twelve Buttons – Seven are programmable
Customize the five programmable main buttons, plus left/right tilt wheel—seven programmable buttons— to customize your gaming experience.
Scroll Wheel with Tilt
Better feel and response with detents for precise control.
Full-Speed USB Reporting
Full-speed, 500 Hz USB reporting is built for lag-free play.
Engineered for Speed
Shape designed for quick, balanced, precision gaming action.
Vertical side buttons
Don't make mistakes. The top/bottom design makes locating the side buttons easier and reduces the inadvertent actuation risk.
LCD Display
Quickly view DPI settings and macro-recording.
Quick Launch Button
One-touch access to Microsoft PC Gaming features.
DPI Switching
Instantly switch sensitivity between high, medium, and low with one click.
Replaceable Mouse Feet
Choice of three different materials for glide preference.
Macro Record
Easily record macros while in game with the dedicated button.
3-Year Limited Warranty
» Limited Warranty and License Agreement available here.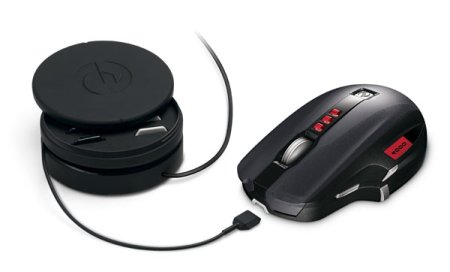 As quite an avid gamer on both the PC and consoles I was looking forward to reviewing the SideWinder X8 - I'm pleased to say that I wasn't disappointed but it isn't perfect. Setup is a breeze, you install the Microsoft IntelliPoint 6.3 software and then plug in the USB connection - the USB connection is linked to the round box that contains both the replaceable mouse feet for different gliding and smoothness preferences as well as the 2.4 Ghz Wireless Connection - not only that, from the box comes another small lead - this is used to connect your mouse up so you can charge it - it is small and can stay connected up to the mouse if you wanted to carry on playing while it charges, a good option and one that I'm pleased to say works well. Without making a big deal about this setup - its probably the best charging solution I have seen and used, it connects via a magnet and is similar to what Apple do with their excellent charging setup for laptops. If you wanted to, you can even remove the batteries and have the mouse connected directly up to the charger so that you play wired, it means a lighter mouse too.
First lets talk about the design, well the good news here is that the SideWinder X8 is a much more ergonomic design, it is smoother and fits into your hand far better than any of the models that have gone before it, this also means that prolonged use of it doesn't cause both hand and wrist ache, depending what you are browsing anyway. The vertical navigation buttons are also now flat and have been angled inwards towards your thumb, this is a far better design than the early SideWinders where you would get an ugly design and weird clickable rounded buttons to press, they were just awkward (Yes they are still there on the X5 too!)
Next we have the scroll where, this time it can go in four directions and offers far better grip than the previous models, though sideways movement doesn't feel as good as I hoped it would and it isn't something I'd want to use. Also while some may finding clicking from a mouse wheel a good thing, to me it is too noisy on the X8, it doesn't need to be and when I'm playing a game it is something else that can distract me when I don't want or need it too. The three dpi-adjusting buttons are one again placed just below the scroll where. When you press them they light up and show which one is selected out of the three, you can select the sensitivity via the IntelliPoint software.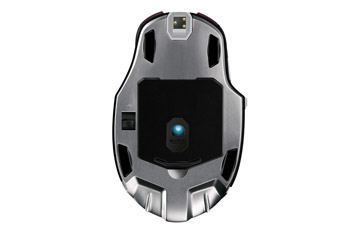 Wireless performance has been good throughout my reviewing time, the main benefit is that with the wireless receiver being so close to you thanks to the charging pack it shouldn't have so much interference coming to it. In saying that, I did notice a skipping problem on some mousemats - it seems to me that the blue laser is the cause of this as I've noticed it on some other blue-track mice and cloth mousepads - something I have always preferred to use in the past. Take note that this is a retail X8 - so it isn't any different to one you will be buying.
The Macro setup once again works perfectly, even if it is a bit of a strange setup. You have to set a mouse button up as the macro editor, then edit your macros and finally whatever one you have selected will become the assigned macro. Not the most graceful of setups but it works. It is just a shame that there are not decent instructions for it with the mouse itself.
Finally let us talk about BlueTrack. The BlueTrack blue LED light has a shorter wavelength compared to a red light, this means that it can resolve detail to a greater degree over other designs. The blue light is also diffused and larger which means it can illuminate more of the surface as well as notice better contrast between textures. This should mean that the BlueTrack LED is more accurate. The simple fact is that the 4,000dpi sensitivity that it produces is more than what anyone will ever need, it is so precise I certainly have to tone it done!
Gaming on the SideWinder X8 is excellent, I haven't used a more accurate mouse before and the charging pack is one of the best I have ever seen for any hardware, let alone a mouse. The only problem I have come across as I stated before is that when using the X8 with a cloth mousemat it seems to have problems, this as I stated, seems to be about the BlueTrack - for some reason it struggles to cope with cloth, something many gamers and many users will use as a surface. But one you use a different service the mouse is 2nd to none for gaming and the macro and on the fly dpi options are excellent. If Microsoft can sort out the BlueTrack problems then we'll have the best gaming mouse ever here.
Feel free to comment on the review here.
Specs & Package
Overall Score
91%
Version Reviewed
Microsoft SideWinder X8 Mouse
Release Date
Out Now
In The Box?
1x X8 Gaming Mouse
1x CD-ROM Driver Setu
1 Set Of Instructions
The Good Points
Excellent Speed
Easy to setup
Great charger pack
Better design
The Bad Points
Struggles on Cloth
Some sligh i

nterference in Dual-Band wi-fi setups.