DirectX
ActiveMac
Downloads
Forums
Interviews
News
MS Games & Hardware
Reviews
Support Center
Windows 2000
Windows Me
Windows Server 2003
Windows Vista
Windows XP



News Centers
Windows/Microsoft
DVD
Apple/Mac
Xbox
News Search



ActiveXBox
Xbox News
Box Shots
Inside The Xbox
Released Titles
Announced Titles
Screenshots/Videos
History Of The Xbox
Links
Forum
FAQ



Windows XP
Introduction
System Requirements
Home Features
Pro Features
Upgrade Checklists
History
FAQ
Links
TopTechTips



FAQ's
Windows Vista
Windows 98/98 SE
Windows 2000
Windows Me
Windows Server 2002
Windows "Whistler" XP
Windows CE
Internet Explorer 6
Internet Explorer 5
Xbox
Xbox 360
DirectX
DVD's



TopTechTips
Registry Tips
Windows 95/98
Windows 2000
Internet Explorer 5
Program Tips
Easter Eggs
Hardware
DVD



ActiveDVD
DVD News
DVD Forum
Glossary
Tips
Articles
Reviews
News Archive
Links
Drivers



Latest Reviews
Xbox/Games
Fallout 3

Applications
Windows Server 2008 R2
Windows 7

Hardware
iPod Touch 32GB



Latest Interviews
Steve Ballmer
Jim Allchin



Site News/Info
About This Site
Affiliates
Contact Us
Default Home Page
Link To Us
Links

News Archive
Site Search
Awards



Credits
©1997-2012, Active Network, Inc. All Rights Reserved.
Please click here for full terms of use and restrictions or read our Light Tower Privacy Statement.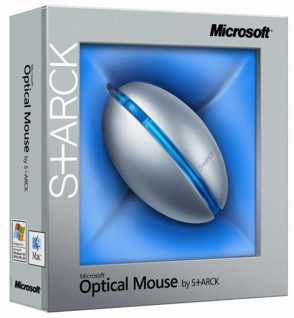 One of the latest hardware releases coming out of Redmond is not only about simplicity and style, but also is a functional piece of art as well. Microsoft has released the wired Optical Mouse by S+ARCK in Blue and Orange in its attempt to break into new territory by bringing art on to your desktop. This product is the culmination of a long line of stylish mice Microsoft has released this season and last. Using patented Optical Technology and sporting a orange or blue metallic, one-of-a-kind design, Microsoft is trying to set a groove with people who want something sleek and stylish, yet functional, on their desktop. Does this revolutionary mouse live up to its promises? Read on to find out.
Mouse
Hemisphere Design: S+ARCK designed this mouse with a unique, curving hemisphere, which makes it feel natural and puts left and right clicking in the palm of your hand.

Scroll Wheel: Navigate documents and Web pages effortlessly without using the on-screen scroll bar, saving time and effort.

Left- or Right-Handed: Ambidextrous design makes working more comfortable, whether you mouse with your left or right hand.
About the Designer
Starck is one of the most famous contemporary designers in the world. He is best known for his expressionist architecture and remarkable building interiors, such as the Paramount hotels in New York and Tokyo's La Flamme building. But Starck has made major contributions in virtually every type of design—from furniture to lamps, kayaks, and motorcycles.
Setup & Installation
The setup of this mouse is decisively simple; just plug the plug into your USB hub and you are ready to go. This mouse only works with USB ports. Installation of the IntelliPoint software is a breeze. This mouse also supports some Macintosh platforms (see below). As the mouse is wired, no batteries for the mouse are needed.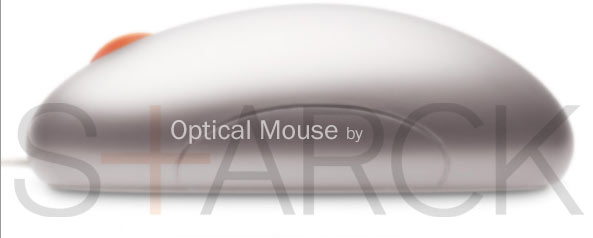 If you would like to adjust your mouse settings, i.e. reprogram its buttons, then you'll want to install Microsoft IntelliPoint 5.0 software. Installation of the IntelliType Pro 5.0 software (although not needed) is a breeze. Just pop in the CD included or download the software (about 10 MB) from Microsoft's website. After a restart, the setup asks which mouse you are using and thus finalizes the installation. From here you can program your buttons, and more. The IntelliPoint setup of this mouse is similar to the standard Microsoft Optical Mouse.
Mouse Design
The Microsoft Optical Mouse by S+ARCK . The mouse has a similar length as the IntelliMouse Explorer, sizing up at 4.5 inches long, 2.5 inches wide and about 1.5 inches high. The mouse has a silver metallic coating, and a blue (or orange) line .25 inches wide down the middle and continuing down on the bottom side of the mouse. One of the coolest things about this mouse is the line illuminates when plugged in (see picture below). The colors have a very "tech" and "sleek" feel, and are eye-catching and appeasing to look at when lit up. There is a very slight embossed S+ARCK logo on the top right side of the mouse, but surprisingly, no Microsoft logo. The bottom is silver metallic with the illuminated line cut through, with the red optical sensor in the middle.
The Microsoft Optical Mouse by S+ARCK has the standard two buttons and a scroll wheel (which also services as a button), so if you depend on a ton of programmable buttons this mouse is not the one for you. The scroll wheel is a transparent blue, and like the Notebook Optical Mouse the wheel lights up. The wheel, unlike previous models, has a nice tight grip to it, but is smooth and not ribbed. This mouse does not use the proprietary "tilt wheel technology." Like previous versions of the Optical Mouse, this mouse is ambidextrous, so both left and right hand users can use this model. The size makes this mouse easy to use for long periods of times, without irritating the wrist (something I particularly find important). The side design of the mouse has the appearance of a circular cutout on each side, which would make one think there are two additional buttons. However, these are for decoration only. The cord is silver semi transparent covered at usual length of about four feet. Another note worth mentioning is the box. The box is by far the coolest box ever used at Microsoft. The box, square, is actually plastic with the top part opening up. The mouse is enclosed by a plastic covering, which, to our dismay, is not permanently fixed to the upper lid. To make a great reusable and permanent storage case we glued the plastic cover to upper lid. :-)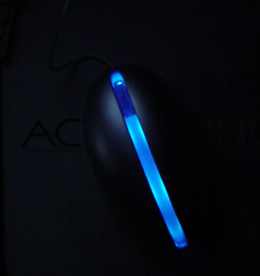 Final Comments
How It Grades
Installation: 90%
Performance: 90%
Design: 97%
Price/Value: 93%
Overall: 92.5%
This product is perfect for those who want the slickest, coolest looking hardware for their

desktop. Microsoft is definitely making strides by debuting this unique, one-of-a-kind, artistic mouse. The mouse has two buttons, with a standard scroll will, so I feel those who seek the most functionality should not purchase this product. At the low debut price matching the other optical mice, I would recommended this product for those who desire something out of the norm and need a simple solution for an everyday mouse. We look forward to more revolutionary hardware products in the future.
Specs & Package
Overall Score
92.5%
Version Reviewed
Optical Mouse by

S+ARCK (Blue)

Release Date
August 2004
The Good Points
Enhanced Optical Technology
Nice Color/Design
Lights Up
The Bad Points
Only two buttons
No Tilt Wheel
Give us more bells & whistles
Similar Product
Microsoft Wireless Optical Mouse
System Requirements
Windows 98, Me, 2000, XP, 2003
USB
35 MB of Disk Space
32 up to 128 MB of RAM
Mac OS 10.1 to 10.2.X (OS X not supported)