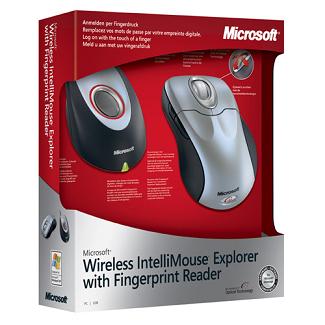 One of the latest hardware devices coming out of Redmond is all about adding simplicity, style and the latest technology to your desktop. Microsoft is attempting to set the bar with the debut of the new biometric fingerprint reader available. The device is also available in other combinations in addition to the Wireless IntelliMouse Explorer version reviewed here. Does this device live up to its promises? Read on to find out.
Fingerprint Reader Technology
Now you can log on to your computer and your favorite Web sites with the touch of your finger, without having to remember all those passwords—simply place your finger on the receiver whenever a password or username is required.
Scroll every which way. Now you can scroll horizontally as well as vertically through documents and Web pages. The entire wheel tilts, acts as a button, and reacts smoothly to your speed.
Finally, a solution to the top wireless hassle now you can work longer without interruption. Many users experience six months of battery life!
Work wirelessly without intrusion. Take advantage of smart technology that automatically detects interference, so you don't have to worry about interruptions.
Setup & Installation
Setup: The installation is quite simple. First, just insert the CD which comes with the fingerprint reader combo. You will install the Digital Persona Password Manager 1.0(required) software. The base is USB only. After everything is installed you will be asked to restart (this time, you actually have to restart!). Note: to install the Digital Persona Password Manager, you have to agree to the following disclosure:
The biometric (fingerprint reader) feature in this device is not a security feature and is intended to be used for convenience only. It should not be used to access corporate networks or protect sensitive data, such as financial information. Instead, you should protect your sensitive data with another method, such as a strong password that you either memorize or store in a physically secure place.
A strong password contains all of the following:
Seven or more characters (the longer, the better

Uppercase and lowercase letters

Numerals

Symbols (at least one of which in the second through sixth position)

At least four different characters (no repeats)

Looks like a sequence of random letters and numbers
A strong password must not contain any of the following:
Any part of your logon name

Actual words or names in any language

Numbers that are used in place of similar letters, such as "5" for "S"

Consecutive letters, such as "abcdefg"

Consecutive numbers, such as "234567"

Adjacent keys on your keyboard, such as "qwerty"
In addition; you can install the IntelliMouse software to customize the keys on your IntelliMouse Explorer. However, this is not necessary for the mouse to work.
Biometric Fingerprint Reader
The Microsoft Fingerprint Reader is combined with the wireless base of the IntelliMouse Explorer, therefore making it larger overall than the standalone Fingerprint Reader. The base device is almost four and half inches long, and about 2.5 inches average width, and about an inch or so high with a weight of slightly more than an small mouse. The reader screen itself is a little over an inch long, and slightly less than inch wide. A split red/silver circle encompasses the plastic reader screen on top. The reader itself is a slightly sticky plastic material. When the device is on, the reader lights up in the same way the bottom of the optical mouse do.
When Windows XP loads, there is a new icon the upper left hand corner that shows Windows is equipped with the biometric reader, however this first time you still have to log-in with your windows password. When Windows completely boots, the Fingerprint Registration Wizard prompts you to begin the process of associating your fingerprints with Windows passwords. For security reasons, you are prompted to reenter your Windows password.
Next, you are shown two hands, and you have the option to choose which finger you would like for the password. They recommend your index finger, but I chose the pointer finger. Now, you are directed to put your selected finger on the fingerprint reader until the print is recognized. When you put your finger on the reader, it lights up red, and you can see your fingerprint on the wizard box. Quite Cool! You have to scan your fingerprint three more times to complete the process. After you register a finger print, you can do another finger, or all your fingers. In addition, you can delete your fingerprint once it's registered.
Once you have the fingerprints registered the registration is finished. Now to access the program, just put on of your fingers on reader and a new dialog menu will appear. Note: this menu is not available from the start menu, there you can only access the program properties and the registration wizard. There is also a fingerprint reader icon that is put in the icon tray.
To associate your fingerprint login with website, simply go to the login page of whatever website you want (in this case I used Outlook Web Access) and then open the one touch menu (by pressing your fingerprint to the reader). A dialog box will come up, where you enter your login information. The next time you go to the page the dialog box will still come up but the information will be automatically entered by pressing your finger to the biometric reader.
The fingerprint login also works with Windows programs. I tested the login on Remote Desktop connection, and that worked for logging into the ActiveWin.com server just fine. This biometric reader is quite helpful, just as long as you do not forget your passwords!
To change the login information for a website browse to the website in question and click the hand icon in the title bar. Then, when you see the biometric hands appear press your finger to the reader. This will bring up the Fingerprint logon manager where you can add, delete or change the password for the website.
The biometric reader supports fast user switching for Windows logins, just as long as you have registered fingerprints for the different user accounts and have the welcome screen and fast user switching options turned on in Windows. There is no delay in logging into Windows, and you even can save a few seconds off of the entry. Of course, you can still choose to login via your password. If your computer is a member of a domain, you still have to use your password for the initial Windows login.
To clean the Fingerprint reader, Microsoft recommends you apply the sticky side of a piece of adhesive tape (Scotch tape) to the fingerprint reader window and peel it away. Otherwise, wipe the window with a small piece of cloth (not a paper towel) with Windex or similar cleaner. If cleaned properly, you should have no problems with your device.
Some websites and programs successfully tested: Amazon, EBay, ActiveWin.com, Hotmail Passport Login, Outlook Express Password prompt, Betaplace, MSN POP3 Login, Outlook Web Access, Lotus Notes Web Access, MSN Messenger Login. The fingerprint reader does not work with AOL/AOL IM.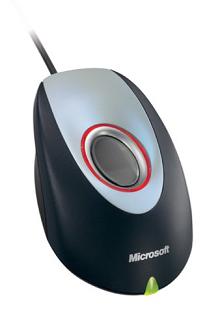 Mouse Design
The mouse has the exact same shape as the other Microsoft Wireless IntelliMouse Explorers released this season. The Wireless IntelliMouse Explorer is about 5 inches long, 3 inches wide, 1.5 inches high and weighs just a few ounces. The mouse includes all five buttons (two on top, the wheel and two side). Of course, the mouse has the Tilt will technology included, which allows you to scroll left and right as well as having the additional button. On the bottom there is a small compartment for the two AA batteries, which once placed in promptly light up the optical sensor. The mouse has a silver, and black color design and is very aesthetically appealing. The mouse employs the power saving features as the Wireless IntelliMouse Explorer, such as: automatically going into sleep mode with lifted off of a surface or not in use and different illumination brightness depending on a light or dark surface. With all of this, you can expect your mouse to last ninety days or longer before you need new batteries (Microsoft claims up to 6 months is possible). You can extend this life by using "Ultra Life" batteries which generally last longer. Additionally, a pop up window will be displayed when you are running low on battery life.
Let's not forget the Optical Technology. The technology is now up to 6,000 frames per second and works smoothly on most surfaces (except glass and highly reflective surfaces). The technology has been broken-in well with previous mice since 1999, so you know you will not have any problems.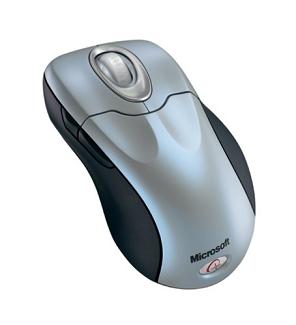 Final Comments
How It Grades
Installation: 95%
Performance: 92%
Design: 87%
Price/Value: 92%
Overall: 91.5%
This hardware combination is quite interesting and innovative. If you are in the need for a new Wireless IntelliMouse Explorer and want to try the biometric reader technology, I would definitely go for it. I feel the reader added simplicity and ease-of-use in logging into websites which you do not want to save the password, etc. Those of you who do not use Internet Explorer should think twice as the software does not work on other browsers. However, Digital Persona is only version one of the software and the features can only be improved from here on out. I just hope Microsoft sticks with this device and continues to support it as time goes on. With all the different Microsoft hardware combinations to try, choosing this product will be hardware, especially if you want to get the new Bluetooth desktop. The IntelliMouse Explorer is a great product, and so is the Fingerprint Reader, so if this combo fits - definitely get it.
Specs & Package
Overall Score
91.5%
Version Reviewed
Wireless IntelliMouse Explorer with Fingerprint Reader
Release Date
Out Now
The Good Points
Integrated Nicely with Windows
The Bad Points
Doesn't work with firefox, other browsers
The base is a little large
Similar Product
Wireless IntelliMouse Explorer
Fingerprint Reader
System Requirements
Windows XP (all editions)
Pentium 233 MHz or higher
45 MB free space
Microsoft Internet Explorer 6 or higher or MSN Explorer 8 or higher