DirectX
ActiveMac
Downloads
Forums
Interviews
News
MS Games & Hardware
Reviews
Support Center
Windows 2000
Windows Me
Windows Server 2003
Windows Vista
Windows XP



News Centers
Windows/Microsoft
DVD
Apple/Mac
Xbox
News Search



ActiveXBox
Xbox News
Box Shots
Inside The Xbox
Released Titles
Announced Titles
Screenshots/Videos
History Of The Xbox
Links
Forum
FAQ



Windows XP
Introduction
System Requirements
Home Features
Pro Features
Upgrade Checklists
History
FAQ
Links
TopTechTips



FAQ's
Windows Vista
Windows 98/98 SE
Windows 2000
Windows Me
Windows Server 2002
Windows "Whistler" XP
Windows CE
Internet Explorer 6
Internet Explorer 5
Xbox
Xbox 360
DirectX
DVD's



TopTechTips
Registry Tips
Windows 95/98
Windows 2000
Internet Explorer 5
Program Tips
Easter Eggs
Hardware
DVD



ActiveDVD
DVD News
DVD Forum
Glossary
Tips
Articles
Reviews
News Archive
Links
Drivers



Latest Reviews
Xbox/Games
Fallout 3

Applications
Windows Server 2008 R2
Windows 7

Hardware
iPod Touch 32GB



Latest Interviews
Steve Ballmer
Jim Allchin



Site News/Info
About This Site
Affiliates
Contact Us
Default Home Page
Link To Us
Links

News Archive
Site Search
Awards



Credits
©1997-2012, Active Network, Inc. All Rights Reserved.
Please click here for full terms of use and restrictions or read our Light Tower Privacy Statement.




One of the latest hardware devices coming out of Redmond is all about releasing a stylish top-of-the-line mouse with all new, long-awaited features and the latest technology. Not only does the Microsoft Wireless Laser Mouse 8000 have a new ambidextrous and brushed aluminum design, but also includes a second-generation laser optical technology, stronger Bluetooth connection and is rechargeable. Does this mouse live up to its promises? Read on to find out.

Horizontal charging station provides a sturdy way to recharge a mouse, and the blinking green light offers charge confirmation.
New!
Quick-charging capabilities let users fully recharge their mouse swiftly — and the best part is that, with average use, they need to charge their mouse only about once a week.
New!
Two-color battery life indicator warns users when it is time to recharge. Red means the battery is running low on power, blinking green means the mouse is charging, and solid green means the mouse is fully charged.
New!
Customizable performance slider in the software lets advanced users increase performance for intense PC tasks or lower it to extend battery life.
New!
Instant Viewer tool displays all open windows at once so users can see each project they are working on and easily switch between applications for added productivity.
New!
Faster than wired. Users will experience virtually no latency with Microsoft 2.4GHz mouse products.
New!
Brushed aluminum metal casing brings eye-catching style to the desktop, whether in the office or at home. And it feels as good as it looks.
Proprietary High Definition Laser Technology puts ultimate performance in the palm of users' hands. Microsoft's line of High Definition mice uses technology that is two generations ahead of standard optical and laser mice. These mice are equipped with the exclusive Microsoft Intelligent Tracking System for smoother tracking, a resolution of 1,000 dots per inch for more responsiveness and 6,000 frames per second for better precision.
Magnifier tool enlarges any section of the screen, enabling real-time magnified viewing and editing of images, documents, Web sites and more. Users can simply push the Magnifier button and move the cursor over any portion of the screen they want to enlarge.
Tilt Wheel delivers revolutionary four-way scrolling capabilities for smooth vertical and horizontal control and ease when navigating long Web pages or spreadsheets.
Five buttons, including the Tilt Wheel and Magnifier, can be easily customized to perform popular commands with a single touch. The left-side button is set by default for easy backward Internet navigation.

A Better Bluetooth Experience

Microsoft's 2.4GHz Bluetooth technology delivers the ultimate wireless experience with cutting-edge performance and enhanced security. It is also easy to set up and use.
New!
First Connect Technology means the Bluetooth device and receiver are paired together at the factory, so the mouse will work right out of the box.
Compatibility for versatility. Microsoft's transceiver supports a variety of Bluetooth profiles, including personal area network (PAN), so users can connect the mouse to most Bluetooth devices.
Virtually no interference. Intelligent technology "hops" frequency when it encounters interference and is ideal for home or corporate environments with multiple computers.

Setup & Installation

Setup: The installation is simple. You have to insert the rechargeable battery NiMH (included) into the mouse. At this point, the battery indicator is flashing red, so we have to charge it first. You plug the base in and set the mouse on the base, to charge at least for an hour before using first. Once the mouse is fully charged the light will turn to green on the mouse. Now, insert the USB transceiver into the computer and because of the new FirstConnect technology the mouse works right away. Nothing has to be setup at all if you do not want to use the IntelliPoint features. If you have a separate Bluetooth receiver, you need to make a new connection. To use the additional programmable buttons, you must install Microsoft IntelliPoint software (see below).

Microsoft IntelliPoint 6.0 Software

If you want to customize your mouse, you will have to install the new IntelliPoint 6.0 (about 45 MB), which does not require a restart. To customize your mouse keys, select either "Mouse" for the Control Panel or "Microsoft Mouse" from the program menu. On the buttons tab you can click on the different buttons and reassign the keys to a variety of functions. You must use this software to assign the performance slider and instant viewer. In this software you can also change your pointers, other pointer options, view which hardware is connected, change scrolling options, etc. The software is easy to use and is required for advanced functionality of the mouse. The instant viewer feature is pretty cool - you click the tilt wheel and all the windows you have home are brought into one easy view (see below). The magnify tool is the right button, and is the same as previous versions. Of course, you can reprogram these as necessary. Another feature is the performance slider, where you can choose between longer battery life and greater accuracy.

Mouse Design & Use

The Microsoft Wireless Laser Mouse 8000 is about 5 inches long, 2.5 inches wide, 1.5 inches high and weighs just a few ounces. The mouse includes five buttons (two on top, the wheel and two sides) in ambidextrous form, so both left and right hand people can use the mouse with ease. The mouse has a three-tone dark silver and grey design with silver buttons and is very aesthetically appealing, with a brushed aluminum front. I must admit, the aluminum is cool looking! I believe this is the first time Microsoft has used metal in the design of a mouse. The scroll wheel is the standard translucent tilt wheel with scroll wheel detents. The mouse has a grey bottom, with a single battery compartment for the rechargeable battery, a "Microsoft Laser Technology" sensor, an on/off switch, Bluetooth connect button, and two recessed prongs to connect to the rechargeable base. There is a light at the top of the mouse which flashes red when it needs charged and green when is fully charged. The integration of the light is quite nice.
In addition, Microsoft has provided an updated 3rd generation transceiver for the mouse, measuring 1.5 inches by .5 inches. The rechargeable base is very light, with a small plug in the back, at 5.5 by 3.25 inches. There is a raised ball to rest the mouse on, and raised and covered prongs to hook the unit into. The mouse fits very nicely on the unit. Finally, there is a small plug with a grey cord of ample length to connect to the base. The Bluetooth technology is now at 2.4 GHz, which is stronger than previous versions. Microsoft is assuring there is little-to-no latency on the mouse, which should be good news for gamers! To learn more about Bluetooth technology, visit this website.
Overall, I think the mouse has a very well thought out design and feels very comfortable during use. The rechargeable base is small and won't get in the way, on/off switch is nice, plus the brushed aluminum makes the mouse very sleek looking!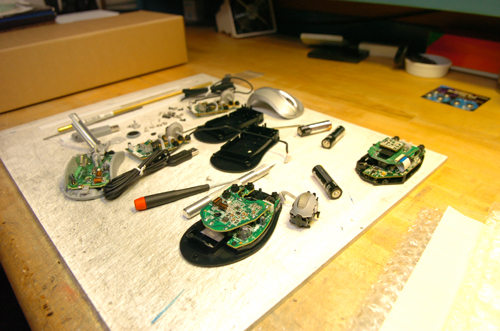 Microsoft Optical Technology
Microsoft has provided a well deserved update to an already great optical technology. This product includes the new Microsoft Laser Technology which aims to improve performance at much higher levels than the previous optical technology, including the High Definition Optical Technology on other Microsoft mice. The technology is 6000 frames per second (FPS) - an improvement over the 2500 FPS of most of the previous optical mice. Other technology improvements that have been made include 1000 dots per inch (DPI) resolution (responsiveness), 85 million operations per second (MOPS), .18 CMOS technology (preciseness) and the Microsoft Intelligent Tracking System (smoother tracking). The Wireless Laser Mouse 8000 has a second-generation 850 nm laser providing optical input. Microsoft optical technologies have been well tested for many years now and work smoothly on most surfaces. It has been broken-in well with previous mice, so you know you won't have any problem.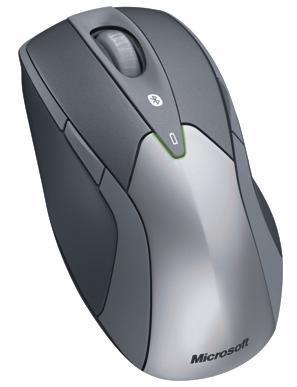 Final Comments
How It Grades
Installation: 100%
Performance: 98%
Design: 97%
Price/Value: 92%
Overall: 96.75%
The Microsoft Wireless Laser Mouse 8000 is the must have desktop mouse of the season. Microsoft has finally listened to customers and has provided an easier-to-setup, stronger connected and rechargeable product that is built to last the duration. Finally, we can have a Microsoft mouse without constantly wasting batteries all the time - which is allows for a great sigh of relief! The stronger 2.4 GHz Bluetooth connection and the second-general laser optical technology really reinforce the strong backbone of this product. The much-needed, updated IntelliPoint 6.0 software has provided additional features which add to the overall functionality of the mouse. The price may be a little high, but overall I think it is worth it considering the new features.

Specs & Package
Overall Score
96.75%
Version Reviewed
Microsoft Wireless Laser Mouse 8000
Release Date
September/October 2006
The Good Points
Style
Laser Technology
Updated IntelliPoint
The Bad Points
Price
In The Box

Mouse
1 Bluetooth Receiver
1 NiMH Rechargeable Battery
1 Recharger Base
1 IntelliPoint 6.0 CD
1 Set of Instructions
1 Plug

Similar Product
Microsoft Wireless Laser Mouse 5000
System Requirements

For a Windows-based PC:

Microsoft Wiindows XP Service Pack 2 or Windows Vista

128 MB of RAM

233 MHz or Higher Processor

1 AA NiMH Rechargeable Battery

45 MB of available hard disk space (install 100 MB)

CD-ROM drive

USB port on the PC